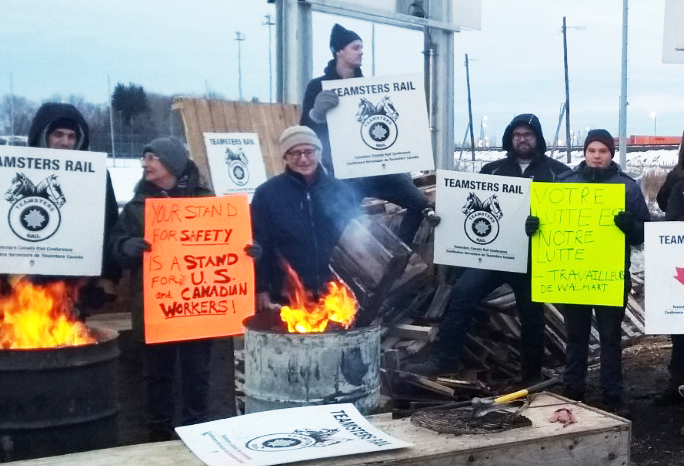 CHICAGO — Rail bosses in North America have slashed thousands of jobs — from engineers and conductors to track maintenance and equipment repair workers — in recent months, with more cuts in the works. At the same time they brag they're raking in soaring profits, despite a decline in freight volume. They're imposing more stringent schedules on shippers and putting engines and other equipment out of service.
For rail workers, this means speedup, intensified work and increasingly unsafe conditions for those still on the job, while others confront the uncertainty of indefinite furloughs.
According to U.S. Labor Department figures, more than 20,000 rail jobs have been cut in the last year, nearly 10 percent of the workforce. Norfolk Southern has furloughed over 3,500 train crew, maintenance and other workers. BNSF Railway also has a growing number of workers on furlough. Union Pacific has closed several rail yards and says it plans to continue cuts through 2020.
"How do you expect to move the same freight with less people," Travis Williams, a conductor with 18 years' experience in Chicago, told the Militant. "They have to cut corners somewhere. We know it is going to affect safety in an industry that's already dangerous."
The biggest cuts have been in maintenance of equipment and stores, down 15% from a year earlier, and in train and engine crews, down 13.7%. The seven largest railroads in North America have idled nearly 30% of their locomotives over the last year, the Washington Post reported Jan. 3. It described how hundreds of mothballed engines are now parked in Norfolk Southern's once-bustling hub in Roanoke, Virginia.
Overall, freight traffic is down compared to a year ago, but the job cuts go much deeper than the decline in trade, because of what the Post calls "an aggressive push across the railroad industry to slash costs." Norfolk Southern chief marketing officer Alan Shaw boasted to investors in November they were able to cut "crew costs" by 13%. He said the company was "accelerating" cuts heading into the new year.
In July Union Pacific bosses announced that while it had transported 4% fewer rail carloads than a year earlier, its "operating ratio" — that is, expenses relative to net sales  — fell to an all-time low and earnings per share rose 12%. In other words, they squeezed more profits out of fewer workers' labor.
The same news release notes in passing that the "first half reportable injury rate" rose 14% over 2018.
Union Pacific is one of the latest carriers to begin implementing "precision scheduled railroading," or PSR, a profit-boosting scheme initiated by bosses at Canadian National Railway a decade ago. Under this banner, the rail bosses are reducing the number of conductors, engineers and track and maintenance workers as a way to reduce operating costs. They're running less trains, pressing manufacturers and other shippers to have loads ready when they're scheduled or face high late fees, aiming to move cars faster with fewer crews. And train crews are increasingly tasked with more work than before.
On top of all this, rail bosses are pushing hard for the one-person "crew," eliminating the conductor position. They're getting help from the pro-boss Federal Railroad Administration in Washington, which scuttled earlier support for two-person crews.
New technology does "virtually all of the work that a conductor does," Union Pacific CEO Lance Fritz insists.
'I'm tired of being tired'
The effects on workers of this profit drive led 3,200 conductors, members of the Teamsters union, to strike for eight days at Canadian National  last November, halting 90% of freight on Canada's largest railroad. "On strike for safety" and "I'm tired of being tired" were popular slogans.
"Mass layoffs have been a disturbing and central component of PSR operations," the Transportation Trades Department of the AFL-CIO said Oct. 29. "In just the first two years after CSX implemented this model, the carrier fired 22% of its equipment maintenance workers, 16% of its train crews and 11% of its maintenance-of-way employees."
"A carman wrote that at his yard, management now demands brake inspections be performed at the extraordinary and unsafe pace of just 60 seconds per car," the labor group reported.
Lance Anton, 42, a conductor and SMART-TD union member, told the Militant that where he works in Lincoln, Nebraska, 30% of the yard switcher engines and remote pack jobs have been cut back. "The company is pushing workers to do the same amount of work as the winter weather conditions are getting harsher," he said.
Some 170 union members picketed in Kansas City, Missouri, Nov. 5 to protest Union Pacific's closure of its Neff Yard there. Workers were given just two days' notice of the closure. "What would have been two guys inspecting both sides of a train and doing a thorough job, taking however much time it takes," Matt Sweeney, a laid-off Neff Yard carman, told a TV crew that asked him about company claims the cuts don't affect safety.  "Now they've got one guy doing it, and he's doing one side."
While rail bosses are running fewer trains, the ones they schedule get longer and longer. The average train length has increased 25% since 2008. "We're seeing trains that are 2½ miles long on a daily basis," Jeremy Ferguson, president of the SMART-TD union, which organizes rail conductors, told the Post.
"It's a huge issue," Ferguson said. "It's very difficult for the operating crews and the towns and cities we operate through."
Derailments and workers' deaths on the job are reported to be up. There were close to 50 Class One railroad derailments in 2019, with at least four rail workers killed. Over 20 rail workers overall died on the job last year.
The Socialist Workers Party raises the need for a fight to cut the trains down to a maximum length of 50 cars, and to return to a crew of four — two on the front and two on the rear. That would make freight transportation safer for workers and for those who live near the tracks, as well as address the layoffs hitting thousands of rail workers today.
Naomi Craine is a furloughed member of SMART-TD and the Socialist Workers Party candidate for U.S. Senate in Illinois. Joe Swanson, a retired member of SMART-TD in Lincoln, Nebraska, contributed to this article.