Around the country and worldwide, more and more workers are organizing on the job to fight callous insistence by the bosses that they work without protective equipment in hazardous environments. They are also resisting other attacks on their jobs, wages and working conditions.
Thousands of skirmishes are taking place in factories, mines, retail outlets and other workplaces that are open, amid the burgeoning lockdown and curfews being imposed by the rulers. Socialist Workers Party members have been part of a number of these fights.
And millions more workers have been tossed out of work as the employers prioritize defending their plants, stores and profits above all else.
On March 26 an assistant manager at a sizable Walmart in the northern New Jersey area told Tetri Boodhoo that she had to take off the mask she had decided to wear, saying it was against company policy. The boss said she and any other workers not happy with this could take leave without any penalty — and without any pay.
Two days later, Boodhoo and fellow worker Joanne Kuniansky went to the store manager with a letter signed by a number of co-workers saying the company had the responsibility to make available not just masks, but gloves and sanitizer as well.
After rejecting their demands, the boss consulted with higher-ups and backed down. Many workers — and customers too — considered this a victory. "You see, when we speak out together we can win," Boodhoo told the Militant.
Walmart bosses nationally have now reversed their position. They told the press March 31 that they intend to make available "high-quality masks" for any employee who wishes to wear them.
There have been a series of similar actions at workplaces across the country. About 100 sanitation workers in Pittsburgh, largely African American, stopped work March 25 to demand protective gloves and masks. After parking their garbage trucks in front of the city's Bureau of Environmental Services, scores rallied outside for two hours. We made our point about "how important our job is," Derrick McClinton told the Militant. "Nobody respected the garbage men till we didn't pick up the garbage."
Nurses across the country have been demonstrating to demand hospital bosses provide them with masks and other life-saving equipment. At the large Kaiser Medical Center in Antioch, California, nurses couldn't get enough N95 masks from management, so they began to bring in masks they collected themselves.  But the bosses took them away, saying they weren't "official." After the public protest, the hospital reversed its decision.
"Absolutely, it was the protest that got the policy reversed," hospital lab worker Glenda Carreira told the Militant. After the victory, workers at a nearby power plant made a collection of masks that the nurses were able to use.
In fact, working people have shown ourselves to be the only truly "essential" class, as we produce everything needed today.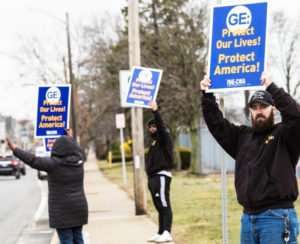 In Oakland, California, dockworkers organized by the International Longshore and Warehouse Union insisted — and threatened a strike — that the bosses clean the equipment before they have to use it. SSA Marine Inc., which runs one of the terminals on the dock, tried to force workers to do the cleaning themselves. The union protested and won.
"It's not good what they wanted us to do," ILWU member Warren Robinson told the Militant on his lunch break, "wipe everything down while we do our regular jobs."
Other workers there are fighting similar challenges. The boss "told me to wipe down my whole truck," port trucker Razah Kahn said. "With handiwipes?"
Many of these fights tie into workers' treatment by the bosses, who for decades have fought wage increase demands, pushed speedup that makes workplaces less safe, and cut health care, all in order to boost their profits at the expense of the workers. The economic crisis facing the capitalist bosses today, kicked into high gear by the outbreak of coronavirus, just drives them to attack workers harder. This builds the pressure for broader battles.
Some bosses profit, others crushed
Business is booming for Walmart, Amazon, and other retail behemoths, designated as "essential" businesses, while many of their competitors are not. As workers rush to buy home essentials, food and other goods, these capitalists smell profits. Walmart says it is taking on 150,000 new workers — all temporary so they can be shed when things are "normal." Amazon says it needs 100,000 more hands for its warehouses, also temps.
Meanwhile, not-so-lucky competitors, like Macy's, Kohl's and others, face disaster. Already just skirting closure from the big boys' pressures, the future is grim. Macy's furloughed 125,000 workers from stores already closed March 18. Overall, some 630,000 retail outlets — big and especially small — have been shuttered nationwide by government edicts.
And the retail closures ripple back, idling workers in garment and other industries. The number of workers tossed out on the street in the week ending March 21 is estimated to be some 3.4 million, an unprecedented number for one week. And that doesn't count many more, including immigrant workers without papers, temporary workers and others. Most live paycheck to paycheck and no longer have a paycheck.
Family farmers face calamity
"It's been a tumultuous period these four or five years in agriculture. It has pushed many smaller farmers to the brink of bankruptcy," Bob Thompson, a farmer and head of the Michigan Farmers Union, told the New Republic magazine. This year, he said, "will be the straw that broke the camel's back."
Fruit and vegetable production in the U.S. is highly dependent on immigrant workers, most from Mexico, many on restrictive short-term H-2A visas. But all U.S. consulates are shut in Mexico and the border is sealed.
Many farmers depend on contracts with city school lunch programs, and the schools are all closed. Restaurants are shuttered. If you don't already have a contract with a grocery chain, it's hard to break in. And 17% of all U.S. farmers' meat and poultry sales were abroad last year, with borders now closed.
School closures also mean a crisis for milk producers. Dairy farmers in Wisconsin and the Upper Midwest have begun getting letters from dairy co-ops warning them they may have to dump all their milk.
Thompson explained that he had been helping organize a program for local farmers — some of whom he knows struggle with depression, drugs or questions about the future — to do a relaxed monthly lunch together. With government restrictions on meetings, he said, "Now we can't provide that human touch physically that some desperately need."
Reserves unprofitable for capital
The working of the bosses' dog-eat-dog capitalist system and their government means there is no preparation for depressions or other social crises like the one unfolding today. The state government in California had built up medical reserves in the wake of the avian flu threat in 2006, including three 200-bed football-field-sized mobile hospitals, transportable on flatbed trucks, with a surgery ward, intensive care unit and X-ray equipment. Stockpiles included 50 million N95 respirators, 2,400 portable ventilators, other medicines and gear, as well as 21,000 extra hospital beds.
Yet as time wore on, and the global financial crisis exploded two years later, these stockpiles were simply dismantled. Other states with reserves did likewise. No capitalist likes to keep reserves — it means their capital isn't working to rake in more profits. That's why every major capitalist believes deeply in a globalist system of "just-in-time" deliveries, a disaster today.
This law of capitalism applies to hospital bosses and their approach to supplies of medical equipment and gear. Anything that can't be used today to turn a profit is dead weight.
The coronavirus is rapidly spreading through the jails and prisons across the country. Inmate Sean Hernandez told Reuters that conditions in New York's notorious Rikers Island jail mean no access to gloves or masks and no hot water for hand washing, critical to avoid coronavirus. Pointing to prison authorities' disregard for their lives, Hernandez said, "We are like livestock."
Just like job actions spreading in the plants and retail outlets, the conditions for protest are growing for all those who are exploited and oppressed by the rule of capital.
Tony Lane from Pittsburgh; Betsey Stone and Eric Simpson from Oakland, California; and Joanne Kuniansky from northern New Jersey contributed to this article.