Socialist Workers Party members and supporters are stepping up efforts to use the Militant  to discuss what we face today with fellow working people and to join with them to fight the bosses' attempts to make us pay for the crisis of the capitalist system. 
Along with participating in struggles on the job for better working conditions, for union rights and for higher pay, this involves exchanging views with workers, farmers, owner-operators and self-employed storekeepers — all those exploited by capital — in cities and towns and rural areas across the country.
That's why the Militant  has begun a six-week drive to win new readers and to get books by leaders of the Socialist Workers Party and other revolutionaries into the hands of those who can use them, as well as win contributions to the $115,000 Militant Fighting Fund. The drive ends May 19. 
The Militant  tells the truth about why capitalism needs to be replaced. The SWP candidates for president and vice president, Alyson Kennedy and Malcolm Jarrett, point a way forward to defend our wages and working conditions on the road to fighting to take political power. (See platform) 
"The bosses and their government want us to believe that what we face is caused by a virus," Kennedy told campaign supporters in Minneapolis. "This is not a health crisis but a social crisis caused by their capitalist system."
Struggle builds workers' confidence
More than 10 million have been thrown out of work. "They want us to believe that all we can do is wait it out and stay home," Kennedy said. "We say we need to be at work with fellow workers, in order to multiply resistance. 
"Through fights on the job we gain more confidence in our ability to push the bosses back," she added. "This is the road to building a workers' movement that can fight for the demands we raise on our campaign button: 'For workers control of production' and 'Build a labor party.'" 
As well as participating in these fights, campaign supporters introduce the Militant, which speaks out about workers' struggles, police violence, attacks on women's rights, Washington's violation of the sovereignty of other nations and government restrictions on democratic rights.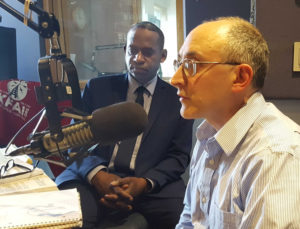 While in Plymouth, just west of Minneapolis, Kennedy and campaign supporter Kevin Dwire spoke with Chase Bryan Hendrickson, who works at the Amazon fulfillment center in Shakopee. He got a subscription to the Militant.
"They have us working 10-hour shifts with staggered start times to distance workers at entrances," Hendrickson said. "Amazon is taking workers' temperatures."
Kennedy noted that other bosses have taken similar measures. "The bosses want us to fall into the trap of blaming each other for the spread of coronavirus instead of their system," she said. "Workers shouldn't look to the bosses, like asking them to test all the workers. We need to organize and fight together for better conditions like higher wages and control of the pace of production." 
Kennedy joined Helen Meyers, SWP candidate for Congress in the 4th District, to speak with Damario Armstrong, who is laid off from his shipping job. "They only talk about the virus, and then they prioritize some people over others for treatment," Armstrong said, referring to the government. 
"I don't agree with what those who say race is the main problem today," added Armstrong, who is a young African American. "It's money." 
"The capitalists use race to divide us and keep our wages down," Kennedy said. "The capitalist system is the problem. The working class needs to organize and build solidarity." She showed Armstrong, who got an introductory subscription to the Militant, the book Tribunes of the People and the Trade Unions, which explains that by fighting together workers gain confidence in ourselves. The book's introduction describes how the mass struggles that brought down Jim Crow segregation in the South transformed those who participated in them and strengthened the whole working class.  
Victor Brooks told Malcolm Jarrett and David Rosenfeld, SWP candidate for U.S. Senate in Minnesota, that with living costs so high, "How can I retire? I pay $1,300 for rent. I'd rather go back home to Liberia." Brooks, an assembler at a medical equipment manufacturer, moved to the U.S. in the 1980s. "When you get old, you get nothing."
Jarrett said, "What they value is what you can produce for them, what profits they can make from you. When the capitalists think you are no longer of use to them, they throw you away."
Brooks said he thought the Socialist Workers Party "should be global. I want to know how I can help when I return to Liberia."
Rosenfeld said, "You are part of the working class in the U.S. The best way to prepare to return to your birth country is to join us in building the workers' movement here today."
Brooks subscribed to the Militant and bought Tribunes of the People and Malcolm X, Black Liberation, and the Road to Workers Power, by SWP National Secretary Jack Barnes. Both titles along with The Turn to Industry: Forging a Proletarian Party, also by Barnes, are available together for only $30. 
Response to Militant Fighting Fund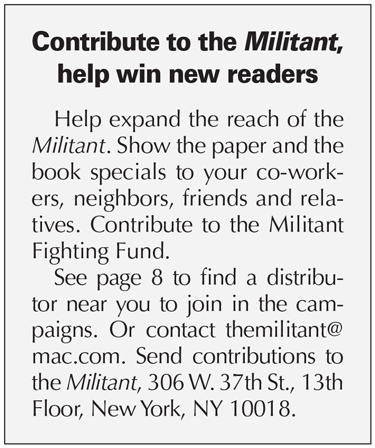 Unlike other papers, which depend on advertising revenue, the Militant  is entirely funded by working people attracted to the working-class struggles it reports and the revolutionary perspective it presents. "People have responded really rapidly," said Valerie Johnson, the paper's business manager, noting that as of April 7, 18 people have already sent in contributions totaling over $3,115. 
Rachele Fruit, SWP candidate for U.S. Senate in Georgia, went to talk with working people in Perry, a town of 17,000, where Perdue poultry plant workers walked off the job to protest job conditions and pay March 23. 
Fruit and campaign supporters spoke with hospital, government and poultry workers there. They sold eight copies of the Militant  and a subscription. "One Perdue worker told me, 'The line is too fast. There's chicken all over the floor,'" Fruit said. "I told him that's exactly why workers need to fight for control of production, including line speed."