"Our favorite paper just arrived, el Militante," Ramón Torres, president of Familias Unidas union, announced when Henry Dennison got to the picket line at Monson Fruit May 13, where striking workers are battling bosses attacks.
The company in Selah, Washington, is one of six across the state where hundreds of fruit packinghouse workers have struck. Their demands include a 40-hour workweek, higher wages, safer working conditions and ending the bosses' abusive treatment. The Militant is "covering everything that is going on here," Torres told strikers, encouraging them to subscribe. Familias Unidas has helped the workers organize to win broad support from working people in the area.
Since the stoppage began, at least 16 strikers have gotten subscriptions to the socialist newsweekly and purchased nine books by leaders of the Socialist Workers Party and other revolutionaries. Several more workers in the area signed up for subscriptions when campaigners came by their homes.
Dennison is on the ballot as the SWP's candidate for governor of Washington. He returned to the picket lines May 19-20 with Alyson Kennedy, the party's candidate for president.
"The Democratic and Republican parties do not represent working people, they represent the rich," Kennedy told strikers when she was invited to address the Columbia Reach Pack picket line in Yakima. She told them she joined with truck drivers protesting in Washington, D.C., against attacks on their livelihoods by brokers who dictate the rates they receive for moving freight, and against government regulations.
"What you are doing is the only way to change things for working people. We've got to do more of this," Kennedy said.
Angelina Lara, one of the strikers at Allan Brothers packinghouse in Naches, described conditions to SWP congressional candidate Rebecca Williamson. "When the supervisors tell older workers or a pregnant woman to do the physically harder jobs, I offer to swap with them. The supervisor gets mad and says that he told them to do the job, not me."
To counter these abuses "working people need to be in control of production," Williamson said. "Workers control would ensure both safe working conditions and safe products."
Lara subscribed to the Militant and got the book Tribunes of the People and the Trade Unions. A week later she also got The Turn to Industry: Forging a Proletarian Party by Socialist Workers Party National Secretary Jack Barnes.
Working-class road forward
The response to the Militant and the SWP campaign by the strikers is not unique. It reflects that growing numbers of workers are looking for ways to stand up and fight for our interests.
The SWP and the Communist Leagues in other countries are poised to go over the goals for winning new readers to the Militant and books, and for contributions to the $115,000 Militant Fighting Fund.
Party branches are using the drive to expand the reach of the Militant to working people, including farmers and small proprietors, in rural areas as well as cities and towns, large and small.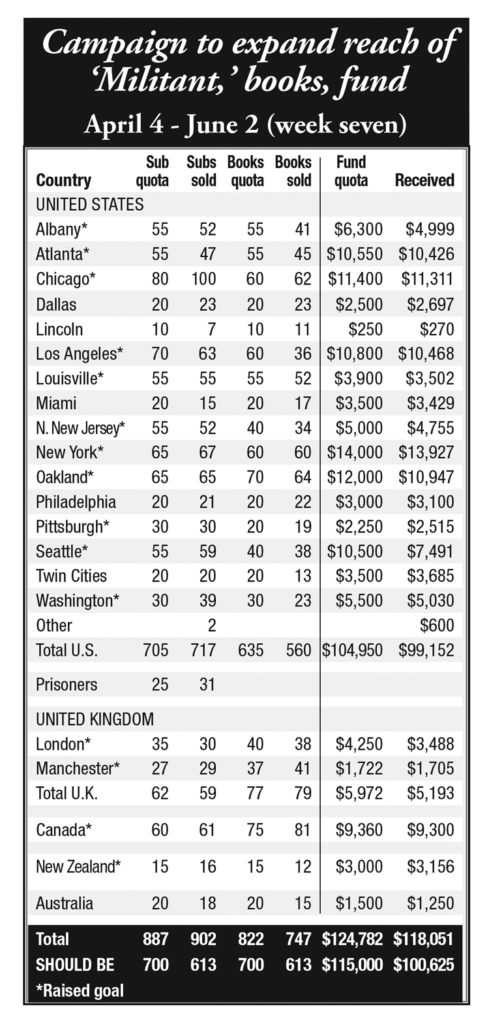 A two-day team of Socialist Workers Party campaigners in southern West Virginia sold 10 subscriptions to the Militant and seven books. "We saw the impact of the decline in coal-mining jobs," said Tony Lane. "One miner told us that the bosses 'looked at their piles of coal at the beginning of the crisis and furloughed us, blaming COVID-19. They called us back to work when the coal piles got small and said nothing about the virus.'"
Nursing home worker Neva Spaulding agreed. "There was a job crisis before this started," she said, including from hospital closings. "The problem is the wealthy few who worry about how rich they can get, but not what happens two years down the line." She bought In Defense of the US Working Class by SWP leader Mary-Alice Waters.
This worker-correspondent was part of a team in Staten Island, New York, that sold five subscriptions and four books May 24.
After buying a subscription, a retired teaching assistant, whose husband is a retired truck driver, saw the picture of independent truckers protesting in Washington, D.C. "That's going to make my husband's day," she told us.
The Militant has no paid advertising. It depends on funding from readers who appreciate a paper that tells the truth about working-class struggles and points a road forward to ending capitalist rule. It has become common for workers to hand campaigners $5, $10 or $20, saying, "I like what you are doing." This has boosted the fund effort.
'Not all in this together'
"They tell us we are all in this together, but it's not true," Samir Hazboun, a Walmart worker who is the SWP congressional candidate in Kentucky's 3rd District, told Kevin Kennedy in Louisville May 23.
"I had some hope for the governor when he was first elected," Kennedy, a utility worker, replied. "He said he was for working people. But I think differently about him now, and I sure don't agree with all these restrictions."
"We need to break with the bosses' parties," Hazboun said. "We need our own party, a labor party."
"That sounds good," Kennedy said. "But the unions aren't like they used to be."
The top union officials "tell us what's good for the company is good for the workers," said campaigner Jacquie Henderson, who accompanied Hazboun. These officials tie workers fate to voting for the lesser evil of the capitalists' twin parties, which they say is the Democrats.
"We can rebuild the unions as we stand together against the bosses," Henderson said. "We need to organize immigrants together with workers born here."
"I am not an open borders person," Kennedy said. "But I sure don't agree with denying millions of people their rights. If they are working here give them amnesty." He got two issues of the Militant and invited Hazboun and Henderson to come back to talk some more.
Fighting speedup on the job
Hazboun told mechanic Scott Blair down the street that the bosses will use the tens of millions of unemployed to divide workers and force down wages and speed up the pace of work.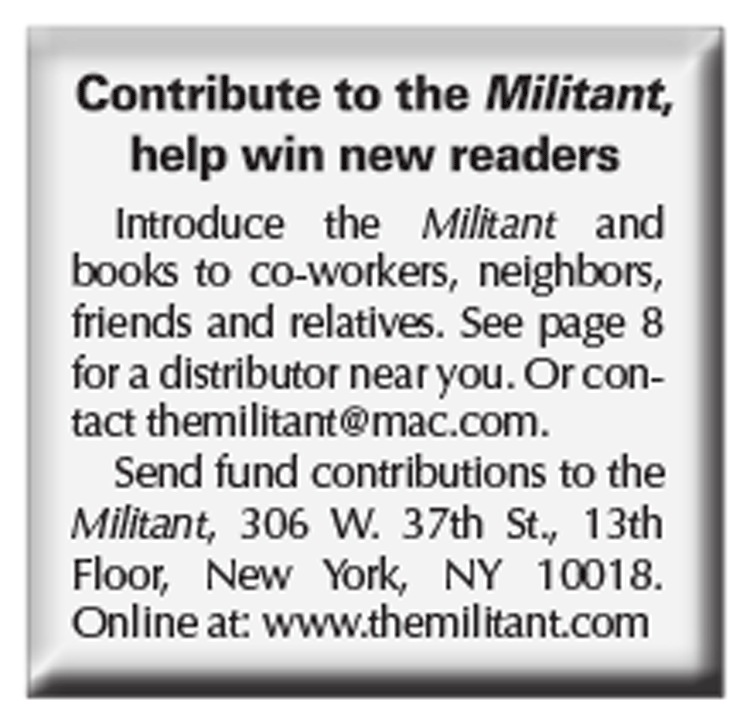 "I know what you are saying. We get paid a flat rate for repairing cars. So there's always pressure to go faster," said Blair. "I'm not against the rich. But if you've got $6 billion, what's another $6 billion to you. They just can't stop. It's about profits and power."
"The capitalist class is incapable of organizing society in the interests of humanity," Hazboun said. "As working people organize together we begin to see what we are capable of and that we can replace the rule of the exploiters with a workers and farmers government."
Blair and his wife Amy subscribed and picked up two other books by Barnes, The Clintons' Anti-Working-Class Record: Why Washington Fears Working People and Are They Rich Because They're Smart?
Working people in the United Kingdom are facing lockdowns and restrictions on workers' rights — just like in the U.S. Members of the Communist League there campaigned in Broughton, North Wales, where bosses at aircraft manufacturer Airbus have just furloughed 3,200 workers.
Scott Hughes, who used to work at the plant, told CL member Hugo Wils that cops "broke up a family birthday event and even tried, but failed, to stop me from laying flowers at a grave."
"The rulers want us to police each other," Wils replied. "Meanwhile the bosses are cutting wages, working conditions and the standard of living." Hughes got a subscription.