As we go to press . . .

Minnesota Attorney General Keith Ellison filed more charges against cop Derek Chauvin. Three other cops involved in killing George Floyd have also been charged.
The scope and breadth of mass demonstrations in response to the cop killing of George Floyd in Minneapolis have not been seen for decades. Outraged by the killing, which followed on the heels of the vigilante killing of Ahmaud Arbery in Georgia, hundreds of thousands of working people have turned out in more than 250 marches, rallies and vigils in all 50 U.S. states, Washington, D.C., the U.S. colony of Puerto Rico and around the world.
Floyd's family joined some 60,000 demonstrators June 2 in Houston, where he grew up. Marching through the city demonstrators chanted his name and "no justice, no peace."
Floyd, a 46-year-old African American, was killed when cop Derek Chauvin, who is Caucasian, handcuffed him and put his knee on Floyd's neck for over eight minutes.
"I'm here to support the family of George Floyd and their fight for justice," construction worker Ricky Harless told Alyson Kennedy, Socialist Workers Party candidate for president, at the Houston march. "I have had problems with the cops too," said Harless, who spent two years in prison. "I plea-bargained because I was facing 20 years for a crime I didn't do."
"This is peaceful pressure to change the system," Houston city worker Everett Neal told Kennedy. "It can't continue the way it is. The police union, the DA's, the whole system backs the cops up when they are wrong."
Thousands marched in other cities the same day. In Bronzville, on Chicago's South Side, Jourdain Gant, a young public school worker, was at his first protest. "I had to come down here and show my support," Gant told the Militant. "It's been eight days since George Floyd was killed and the protests have been continuous."
Those joining the actions around the country include Black and Caucasian, native- and foreign-born and people from all generations. Some came with homemade signs that read, "I can't breathe" — Floyd's final words as Chauvin put his knee on Floyd's neck. Others chanted the names of some of the thousands of other victims of police brutality over many years.
In New York, Gwen Carr demonstrated May 29. She has been a tireless fighter against police brutality since cops killed her son, Eric Garner, in Staten Island in 2014. Garner said over and over, "I can't breathe," trying to make officer Daniel Pantaleo let go of the chokehold he had put Garner in. In protests against police brutality since then demonstrators chant "I can't breathe" while holding their arms in the air.
Numerous unions have spoken out against the killing, including the Amalgamated Transit Union, United Auto Workers, United Steelworkers, Service Employees International Union, International Longshore and Warehouse Union, AFL-CIO President Richard Trumka and many more. The National Farmers Union also denounced the killing.
Sizeable actions have taken place in cities across the world. Some 10,000 marched in Auckland, New Zealand, June 1.
The large daily protests in the U.S. have put the spotlight on how the capitalist rulers use cop brutality to try to intimidate and punish working people.
"The mass protests forced the government to arrest and charge Derek Chauvin," David Rosenfeld, Socialist Workers Party candidate for U.S. Senate from Minnesota, said in a June 2 statement. Rosenfeld urged all those incensed by the killing to continue organizing disciplined actions and demand all four cops "be arrested and prosecuted."
Some demonstrators have stood up to the widespread burning of stores by groups of anarchists, provocateurs and looters who attached themselves to the protests, adding to the devastation many communities already face.
When some looters smashed the windows of a New York Aldo shoe store, protesters rushed forward to pull them away and stop them. In Brooklyn protesters made a human chain around a Target store to prevent looters from breaking into it. Demonstrators in Los Angeles stopped them from ransacking a Walgreens pharmacy.
The destructive assaults "are a deadly obstacle to building the fight to end police violence and the struggle to defend working people," Rosenfeld noted. He pointed out they unnecessarily "give the government a handle to blame protesters, not the cops and their ruthless brutality." President Donald Trump seized on the looting to threaten to send the military to occupy cities across the country.
The killing of Floyd came on the heels of cops shooting Breonna Taylor in Louisville, Kentucky, and the vigilante killing of Ahmaud Arbery in Brunswick, Georgia. Protests against all these killings take place as growing numbers of workers are finding ways to stand up to the bosses' attacks on wages, hours and working conditions.
Below are some reports from around the country.
❖
BY HELEN MEYERS
AND DAVID ROSENFELD
MINNEAPOLIS — Daily marches and rallies of thousands in Minneapolis and St. Paul demanding the prosecution of all four of the Minneapolis cops involved in the killing of George Floyd have continued since cop Derek Chauvin was charged with third-degree murder.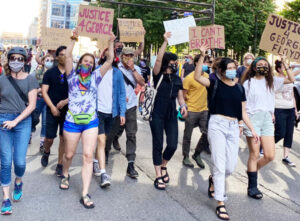 "Bus drivers are not transporting one more police officer. It is not our duty to move racist police," Doni Jones, a bus driver and president of the Black Caucus of Amalgamated Transit Union Local 1005, told the rally on Minneapolis' Lake Street. Union bus drivers are also refusing to assist cops transport protesters they arrest to jail. Bus drivers in New York have done the same in solidarity with fellow unionists.
"More than ever we need a new civil rights movement," the local said in a statement, "that is joined with the labor movement and independent of the corporate establishment's political parties so all workers from every religion, race and sexual identity can struggle together for a better future for people of color and for our collective liberation as working people."
After four days of sizable protests and nights of looting and destruction organized by groups of anarchists, provocateurs and opportunists, Gov. Tim Walz imposed a curfew on both cities and organized the largest mobilization of the state's National Guard since the second imperialist World War, along with State Police and other area cops.
Thousands joined several demonstrations May 30, marching and rallying for hours.
As night fell the combined military and police forces assembled by the city and state began to enforce the curfew, breaking up nonviolent demonstrations, patrolling working-class neighborhoods and forcing people inside their homes.
Carnage, cleanup, more protests
Hundreds of businesses and other buildings in the Twin Cities have been burned, looted or damaged. The government shut down all public transport. Many gas stations, grocery stores, banks and pharmacies are closed, imposing serious hardships on working people needing medicines, food and public transportation for work.
Pat Rottach, a member of the National Association of Letter Carriers, joined some fellow union members at the smoldering remains of the post office where he worked.
"The killing of George Floyd was horrific," Rottach told the Militant. "But to have people stripped of the service the post office provides, that hurts the community."
On May 31 rallies and marches continued outside the state Capitol in St. Paul and in Minneapolis. More than 5,000 protesters marched from U.S. Bank Stadium, home of the Minnesota Vikings football team. After taking a knee on the Hennepin Avenue Bridge — like former San Francisco 49ers quarterback Colin Kaepernick did — they marched towards Interstate 35W.
State officials closed all interstates as the marchers approached the highway. An 18-wheel oil tanker came toward the crowd and protesters scrambled out of the way. The driver was then pulled out of the cab by some demonstrators who began roughing him up. Other protesters intervened to save him.
The cops then swarmed onto the highway, forcing protesters off the bridge. The driver was arrested.
Several dozen peaceful protesters spent the night at the site where George Floyd was killed, which has turned into a growing memorial.
Zena Jasper contributed to this article.
❖
BY JACQUIE HENDERSON
LOUISVILLE, Ky. — Daily demonstrations protesting the killing of Breonna Taylor by Louisville police, reinforced by outrage at the killings of Ahmaud Arbery and George Floyd, have continued here.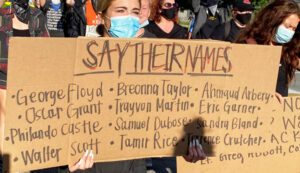 Taylor, a 26-year-old African American emergency room technician, was killed by plainclothes cops March 13. They broke down her apartment door with a battering ram as she and her boyfriend, Kenneth Walker, slept. The cops fired dozens of bullets — at least eight hit her. Walker, who has a permit to carry a gun, fired a single shot at those bursting into the apartment, hitting an officer in the leg. Walker was charged with attempted murder, a charge later dropped.
The cops tried to cover up the killing, in the face of continuing efforts by Taylor's family members to press for justice. They launched a lawsuit against the police and in May began organizing public protests.
On Memorial Day Tamika Palmer, Taylor's mother, led a wreath-laying protest that drew more than 100 people to her daughter's bullet-riddled apartment.
The next day the family organized a protest rally of 200 at the mayor's office holding homemade signs saying, "Prosecute police who killed Breonna" and "Justice for Breonna."
Later that day, after the release of the video seen by millions showing George Floyd dying at the hands of Minneapolis cops, workers and youth started going downtown to protest.
After hours of growing marches and rallies May 28, some forces bent on provocation set out to attack police, vandalize and loot. Someone fired some shots; seven people were injured.
"The last thing Breonna would want right now is any more violence," Palmer said in a May 29 statement. "Changes are being made, but it's not enough. Please keep demanding justice and accountability, but let's do it the right way without hurting each other. We can, and we will, make some real change here."
That day marches took place across the city, with more than 1,000 people ending up in front of the city courthouse. Many left as the sun went down, but some stayed, intending mayhem.
As demonstrations continue many people are trying to figure out how to move their struggle forward effectively.
❖
BY ARLENE RUBENSTEIN
WASHINGTON — Hundreds of protesters joined a May 29 protest that assembled at 14th and U Street, marching to the White House and then to the U.S. Capitol demanding justice for George Floyd. The action grew to several thousand as others joined along the route.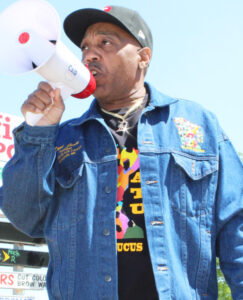 Protests have taken place throughout the region from Baltimore to Hagerstown in Maryland and from Manassas to Richmond in Virginia, and in Martinsburg, West Virginia. Some 400 people turned out in Easton, on Maryland's Eastern Shore.
Hospital worker Liz Galati, 31, told the Militant that 200 turned out for a May 31 protest in Fredericksburg, Virginia. "When it seemed nothing was being organized, a friend and I put out a call and posted up leaflets. People of all ages, and nationalities came," she said.
Three young people from Martinsburg carried a sign at the May 29 protest here that read, "Let me kneel on your neck for seven minutes and see if you can breathe." A few at the action taunted these youth, saying because they are Caucasian they didn't have a place at the march. Undeterred, they replied that police brutality is their fight as well, winning support from many others who had joined the protest. They stayed.