Florida prison authorities continue to ban issue after issue of the Militant, most recently for articles that report on these impoundments and the efforts of supporters of political rights to get them to reverse this.
They banned four of the five issues dated in August — nos. 30, 31, 33 and 34 — preventing 61 subscribers in 24 state prisons in Florida from getting the paper. If the impoundment of an issue is not overturned, the paper then will be banned in all of the state's 143 prison facilities.
The prisoners want their Militant. "I need you to help me, I need my paper," one subscriber wrote from the Santa Rosa Correctional Institute.
Readers of the Militant can help defend the constitutional rights of the Militant as well as its subscribers behind bars by getting co-workers, church groups, union officials and locals, and other organizations to send letters to the Florida prison system's Literature Review Committee, calling for them to lift the bans.
Officials at the Florida State Prison in Raiford say the reason they banned issue no. 34 is because of the article headlined "Fight to Overturn Florida Prison Officials' 'Militant' Impoundment." It describes growing support for overturning the ban and reports on letters being sent to the Literature Review Committee in defense of prisoners' rights.
The American Civil Liberties Foundation Florida, Amnesty International USA, Florida Press Association, Reporters Committee on Freedom of the Press, and PEN America are among the organizations that have sent letters to the Literature Review Committee calling for lifting the ban on the Militant. A growing number of individuals have done so as well.
Similarly, issue no. 33 was impounded for an article headlined "After Pennsylvania Prison Ban Is Revoked, Florida Prison Bars 'Militant.'"
Prison authorities erroneously claim that all four of the issues were impounded because they contain reporting that is "dangerously inflammatory" and "advocates or encourages riot insurrection, rebellion, organized prison protest, disruption of the institution, or the violation of the federal law, state law, or Department rules."
The first in this series of banned issues, no. 30, was impounded for an article "Prisoners Demand Release from Overcrowded Jails." It describes the protests to alleviate dangerously overcrowded prison conditions in California amid the COVID-19 pandemic. The topic has been widely covered by the media.
Issue no. 31 was barred because Florida state prison authorities found objectionable the article, "Workers Oppose Federal Cops, Antifa Violence in Portland." What prison officials find "dangerously inflammatory" in this article, which opposes looting and violent attacks by groups like antifa in Portland, Oregon, and explains how this is an obstacle to building a broad-based movement to press for prosecution of cops who brutalize and shoot working people, is impossible to grasp.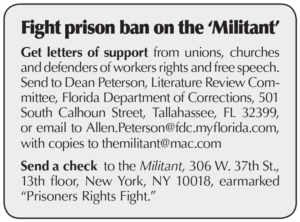 "Prison officials are targeting the Militant because of its political viewpoints," Militant attorney David Goldstein explained in the paper's appeal of the banning of issue no. 30, "in violation of the First Amendment rights of both subscribers and publishers." The Literature Review Committee has initially upheld the bans on issues no. 30, 31, and 33. Goldstein is preparing to file appeals for issues 31, 33 and 34, on top of the appeal of issue 30 already filed.
"They are fabricating up stories to cause the Militant not to be able to enter into the prison system," writes another inmate in Florida. "This judicial system down here in Florida is so corrupted and doesn't like the truth to be exposed about anything. They try and deny the prisoners their constitutional rights to the First Amendment.
"Thanks to organizations like yours that stand up for the prisoners' rights and don't look down on us like we are the barbarian outcast of society," he wrote. "Your newspaper has opened my eyes to a lot of things that were hidden from me due to lack of information."
"In most cases where the Militant has been impounded, we've fought successfully to have them overturned by the Literature Review Committee," said Militant editor John Studer.
"The deepening capitalist economic, political, health care and moral crisis of capitalism today is as much of concern to workers behind bars as to workers anywhere else," Studer said. "Inmates have the right to read different viewpoints, to think for themselves and form their own opinions on political questions."
Send letters to Dean Peterson, Literature Review Committee, Florida Department of Corrections, 501 South Calhoun Street, Tallahassee, FL 32399 or via email at Allen.Peterson@fdc.myflorida.com, with a copy to the Militant.