Demanding the resignation of President Alexander Lukashenko, some 200,000 people took to the streets of Minsk, Belarus, Oct. 25, the largest protest against the regime in several weeks. Strikes by workers around the country the following day kept up the pressure, despite Lukashenko's efforts to suppress the workers' actions.
The workplace walkouts were backing a "national strike" call by Sviatlana Tsikhanouskaya, the exiled head of the bourgeois-led opposition and widely recognized winner of the Aug. 9 presidential elections. Protesters have been demanding Lukashenko quit after he rigged the vote, saying his 26-year run as president would continue. They are also calling for the release of all those detained by authorities and a halt to the violence meted out by the regime's forces to its political opponents.
"Resign!" "Strike!" and "New election!" shouted those taking to the streets Oct. 25. Almost daily, smaller protests continue to be organized, with demonstrators defying new threats by police to use lethal fire against them.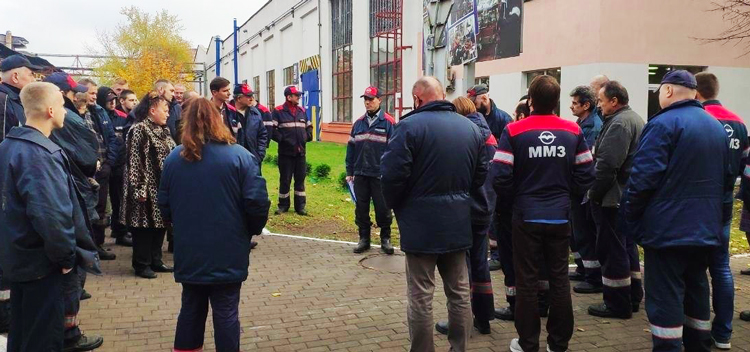 Over 500 protesters were arrested around the country Oct. 25, many picked up after dark when marches in several cities had ended. The total number detained has now reached 15,000. While most of those have been released, hundreds have faced violent abuse in jails. Several have been killed.
Local media showed some empty factories as workers didn't show up for morning shift Oct. 26. Construction sites and many smaller shops shut down for the day. Students staged sit-ins or marched from university campuses despite threats of expulsion.
Workers held mass meetings to discuss whether to take strike action at some state-owned enterprises. About 200 workers gathered outside Grodno Azot, one of the country's largest chemical plants. Security forces arrested and beat more than 50 of them after they refused to move when ordered to do so.
Lukashenko first won office in 1994, promising to prevent "oligarchs" from taking over state-run factories. Instead, his government introduced capitalist methods into the state factories, raking off profits and attacking workers' rights and conditions. This included replacing permanent jobs with short-term contracts in 1999.
Recognizing the breadth of support among workers for strikes against the government's attacks on protesters, like the ones that took place two months ago, Lukashenko's security forces tried to prevent the Oct. 26 walkouts, arresting more than 300 people that day.
He has ordered authorities to punish workers and students who take strike action.
Regime acting against strike leaders
Even before the Oct. 26 strike, authorities detained union leaders at the Belaruskali potash mining complex, where nearly 20,000 people work.
Four workers from the Belaruskali strike committee, Anatol Bokun, Siarhei Charkasau, Yury Korzun and Pavel Puchenia, have been held in jail in Soligorsk for the past two months. Authorities keep extending their detentions. They had helped lead walkouts in August against the rigged election and the regime's brutal response to those who refused to accept the "result." The four are leaders of the Belarusian Independent Trade Union.
Authorities promised to release them if they publicly admitted "guilt" and remorse for their part in the strike actions. When they refused, they were moved to new, undisclosed prisons. In an attempt to break his will to fight, Bokun has been subjected to loud, nonstop recordings depriving him of sleep.
Russian President Vladimir Putin backs Lukashenko. He views the movement aimed at bringing down Lukashenko's regime as a threat to Moscow's interests. Like the Stalinist regime before it imploded in 1991, Putin has long aimed to draw Belarus into economic and political integration with Russia. He hopes to avert another revolt like the Maidan uprising in Ukraine that toppled the pro-Moscow government there in 2014.