Once again, the Socialist Workers Party and its presidential ticket — this year, Alyson Kennedy for president and Malcolm Jarrett for vice president — are setting an example for all working people in defense of political rights and free expression.
On Oct. 19 the secretary of state's office in Washington state informed Socialist Workers Party campaign leaders of a request by a person to release names and addresses of 2020 SWP electors.
"We do not believe that there is a public records exemption that clearly allows us to withhold this information," wrote Public Disclosure Officer Brenda Galarza. The state, she said, would release the names and addresses on election day, Nov. 3, short of a court order not to do so.
The facts show the opposite. There is a long and well-documented public record of harassment and threats against SWP supporters, both in Washington and nationwide. They've been revealed, among other ways, in hard-fought battles against the disclosure of names and personal information. Victories have been won before the Seattle Ethics and Election Commission, Washington Public Disclosure Commission, Federal Election Commission and federal benches up to the Supreme Court.
These rulings document hundreds of threats, physical assaults, firebombings and other attacks on SWP candidates, supporters and campaign offices, as well as government spying and disruption.
In the last few months alone, party campaigners in Washington have received several serious death threats.
To make public the electors' personal information opens them to being targeted by government political police, employers and right-wing goons. It exposes them to middle-class radicals who resort to "cancel culture" to shut down those they disagree with by public lynching on social media, thuggery and harassment outside their homes and apartment buildings.
The SWP campaign has retained the well-known labor and political rights law firm of Barnard Iglitzin & Lavitt to help meet this challenge. In response to initial steps by the party's lawyers, the state government has agreed not to release information until at least Nov. 9 to facilitate court proceedings and negotiations.
The Socialist Workers National Campaign Committee has launched an immediate campaign to raise $20,000 to help cover the legal and associated costs.
"For decades — since our party was formed out of the 1917 Bolshevik Revolution in Russia — we've been active in working-class struggles, fights to build and strengthen unions and to defend the rights of all those who challenge the dog-eat-dog capitalist system," Mary Martin, an SWP leader in Seattle, told the Militant. "For that reason, we've all too often been targeted by those who fear the working class and seek to block moves toward independent labor political action.
"This fight is part of defending that working-class tradition against all who seek to attack it," she said.
Death threats
The SWP has gotten a good response from working people in Washington to its political activity — campaigning and putting the SWP ticket on the ballot there; participating in battles to win unions by fruit packers and farmworkers in the Skagit and Yakima valleys; and other efforts to advance struggles by workers and farmers.
But the party has also faced threats.
In July, for example, Dean Peoples was talking with workers coming out of a Walmart in Renton, including getting signatures to put the SWP ticket on the ballot. One person, however, "looked at me coldly and said, 'Somebody should shoot three or four of them,'" Peoples reports.
"F–k antifa socialists!" a caller said in a message left on the SWP phone Aug. 28. "And you motherf–kers better watch your back, because I'm coming to burn your f–king place down and kill all of you!" A similar phone threat had been left a month earlier. SWP members acted on these threats, informing other tenants in the building and increasing security measures there and at forums and other meetings.
So when they learned of the secretary of state's threat to turn over names and addresses of party electors to anyone who wants them, socialist workers were determined to take it on.
Front lines defending rights
The party has fought to defend workers' rights from its origins in 1919. Its founders, as leaders of the young Communist Party in the 1920s, helped lead the International Labor Defense, organizing working-class campaigns in defense of victims of frame-ups and other capitalist injustice.
As leaders of the Teamsters union in Minneapolis and the Upper Midwest in the 1930s, SWP members were deeply involved in labor battles, including building working-class opposition to Washington's imperialist aims in the Second World War. The SWP headquarters there was raided by the FBI. Party and Teamster leaders were framed up, tried and imprisoned for "conspiracy to advocate the overthrow of the U.S. government" under the thought-control Smith Act.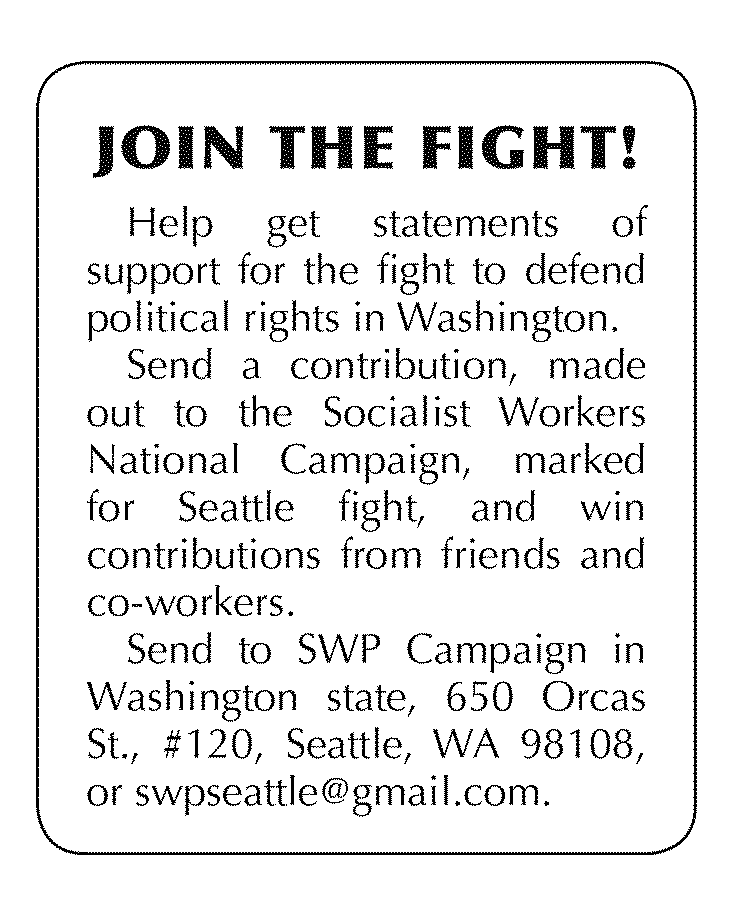 The SWP has taken the lead in exposing decades of FBI infiltration and disruption of the labor movement. In the 1970s and '80s the party organized a successful decade-and-a-half political campaign and federal lawsuit against FBI spying, harassment and disruption. The SWP's suit was upheld in federal court, and millions learned more about the true face of the capitalist rulers' criminal "justice" system.
It was a victory that advanced the space for political activity for all working people.
When liberal political forces, largely in the Democratic Party, began winning adoption of "campaign reform" legislation in the 1970s — on the false claim this would clean up capitalist politics — these laws were put to use to target the Socialist Workers Party and other working-class groups.
In response, the SWP filed for exemption from turning over to the government the names, workplaces and home addresses of campaign contributors. The fight built on victories won by the NAACP in the 1950s and '60s against moves by Alabama state authorities to force the civil rights group to turn over its membership lists.
The party succeeded in winning the right not to disclose this information through political fights on federal, state, and local levels — victories used by others to defend their rights, as well. In 2016, for the first time in decades, the Federal Election Commission refused such an exemption.
But the fight goes on, including in Washington right now.
Fighting lawyers
The Barnard Iglitzin & Lavitt law firm representing the SWP in this fight has an earned reputation in the fight for workers' rights. They trace their history back to George Vanderveer, the attorney for militants in the Industrial Workers of the World victimized in Everett, Washington, in 1916, and then in Centralia a few years later.
Kathy Barnard has fought legal battles to defend the Familias Unidas por la Justicia union and its right to organize and defend farmworkers from boss surveillance and attack in Skagit Valley. She won a case defending the right of participants in a union-organized action to rally in a Walmart parking lot.
She has also successfully fought for protection of victims of sexual harassment and domestic violence from having their addresses made public by government agencies.
An important case in which Dmitri Iglitzin was the attorney ended with a ruling that all employees in Washington state have a legally enforceable right to a paid 10-minute rest period after every three hours of work.
Join the fight!
There is a growing threat to free speech and workers' rights in the U.S. today. It comes not only from government spies, cop informers, rightists and stepped-up efforts by the bosses to make workers pay for the crisis of capitalism. There are also mounting assaults on political rights from those seeking to impose their version of "politically correct" speech. As part of imposing their views, they support government efforts to force the disclosure of names and personal information of those engaged in political activity.
The SWP's current fight in Washington against such undemocratic government measures — a frontal assault on the Bill of Rights and other constitutional protections won by toilers over centuries — is in the interests of all working people and the labor movement. Your help is needed!