Nine months into a deadly pandemic, workers, farmers and small proprietors of all kinds face a deep and intertwined crisis of jobs, wages, safety and health.
Millions are without jobs. Food banks are overrun, especially heading into Thanksgiving. The few remaining supplemental government aid programs are set to run out by the end of the year. And state and city governments are moving to impose new lockdowns on production, trade, restaurants, retail and jobs.
Governments at all levels and the owners of the nation's hospitals, drug monopolies, nursing homes and the rest of the for-profit health industry are little better prepared for the current surge in coronavirus infections than they were in the spring. While a special treatment helped President Donald Trump when he got infected, no effort has been made to mass produce the doses needed, and hospitals are seeking to restrict its use. Eli Lilly, the manufacturer of a similar antibody drug that Trump received, is charging the government $1,250 for each dose. Washington bought 300,000 doses, enough for only one week of new infections.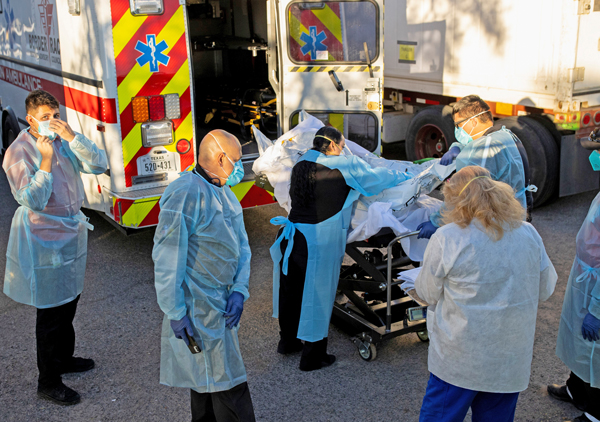 One thing is clear, working people will get as little protection from the pandemic, unemployment and rising prices from a Joe Biden administration as we do today from that of President Trump. This week Biden appointed oncologist Ezekiel Emanuel to his coronavirus task force. Emanuel expressed his callous disregard for health care for the elderly in an October 2014 article in The Atlantic  magazine, where he wrote that they are "feeble, ineffectual, even pathetic," and urged everyone over 75 to refuse medical treatment to prolong their life.
Workers and farmers need to join together to organize and fight to defend ourselves. The action program presented by the Socialist Workers Party candidates during the 2020 campaign remains as timely and necessary as ever.
The SWP says workers and our unions need to fight for a government-funded public works program to put millions back to work at union-scale wages to build the hospitals, schools, housing and other things we need. And for universal government-guaranteed health care for all from cradle to grave.
To carry this fight through to the end, we need our own party, a labor party, to speak out for all those exploited and oppressed by capitalism and to fight to take political power into our own hands.
Medical workers are inundated in El Paso, Texas, as hospitalization rates there soar. Nurses report COVID-19 patients are being left to die with minimal efforts to resuscitate the worst affected. "There's not enough nurses to take care of all the patients that are coming in," Idali Cooper, a nurse at Hospitals of Providence Memorial, told KFOX-TV.
'Health care' crisis under capitalism
After years of hospital closures, especially in rural areas, and the refusal of management to sacrifice profits to store equipment and medicine for a second wave, hospitals in many states are already close to capacity. The closest intensive care unit for anyone with COVID in Kearny County, Kansas, is now a six-hour drive to Kansas City.
In Idaho, patients who need joint replacements, hysterectomies and any elective surgery requiring an overnight stay are being turned away from hospitals. Patients suffering heart attacks have had to wait hours to get necessary treatments at hospitals in Utah.
Given the failure of hospital bosses to train and hire sufficient numbers of medical workers, North Dakota Gov. Doug Burgum has instructed medical personnel infected with COVID-19, but who are asymptomatic, to keep working, even though they are carrying the contagious disease and can spread it in hospital rooms, as well as in restrooms and cafeterias.
In Langhorne, Pennsylvania, some 800 nurses at St. Mary Medical Center went on strike Nov. 17, in an ongoing fight over inadequate staffing levels combined with inadequate pay.
Elderly residents, who are packed into some 15,000 nursing homes across the country, face the highest COVID infection rates since August, especially with the virus spreading to more rural areas where there are fewer medical services.
The capitalist rulers have long considered the elderly disposable, since they can no longer profit by exploiting them. In some states governments ordered nursing homes to take in COVID-19 patients.
Georgia state officials finally acknowledged this month that residents stricken with COVID in July at the Riverside Health Care Center in Covington had no hand soap, which was on "backorder for over a month." And the bosses at the nursing facility failed to separate those infected from those who weren't.
Workers face lockdowns, job cuts
For the first time since the beginning of the pandemic, the number of unemployed workers who have been permanently laid off exceeded those who are on temporary layoff.
Retail chains have shut down 47,000 stores and more closures are threatened. 
At the same time, new lockdown restrictions are being imposed by many state governments. In Philadelphia, Democratic Mayor Jim Kenney's health department announced Nov. 16 the barring of any  indoor gathering or event, public or private. All libraries, museums, colleges, high schools and gyms have been ordered to shut their doors.
Nurses at Einstein Medical Center and St. Christopher's Hospital for Children in Philadelphia are planning a strike vote over conditions similar to those facing fellow union members in Langhorne. Will city authorities try to shut down their picket lines?
In response to new lockdowns, bosses everywhere are cutting workers or slashing their hours and pay. More working people face plummeting incomes at the same time prices of gasoline, meat, eggs and other necessities are rising.
In Dallas, 8,500 families — 17 times that of previous years — waited for up to 12 hours on line to a city food bank to get a Thanksgiving food basket.
The capitalist media is full of news about Biden, Trump and what the 2020 elections mean. The liberal media, like the New York Times, are flabbergasted that larger numbers of workers — Caucasian, Black, Hispanic and Asian — voted for Trump than in 2016. They say it shows working people, as Hillary Clinton said, are "deplorables." The capitalist rulers see us as a dangerous class.
The Socialist Workers Party explains that workers and farmers are the only productive classes. We make everything  we consume and use. We are the future.
Workers need to fight for jobs, to be working side by side with fellow workers, to be able to fight together as a class. This is the only road forward to solve today's economic, social and health crises — all products of the workings of the dog-eat-dog capitalist system.