The key political question in the U.S. today is the ongoing social and economic crisis facing working people, as bosses and their government shore up their profits by attacking workers' jobs, wages, working conditions and political rights.
At the same time, the Democrats, liberal media outlets and middle-class radicals are driving a show-trial impeachment effort for partisan political gain. They're not out to convict Donald Trump, which appears virtually impossible, but to crush him, his family and his allies. Most importantly, they want to restrict the ability of working people who they consider "deplorable" to ever affect politics again.
This is part and parcel of their efforts to reinvigorate the FBI — the capitalist rulers' political police — and attack rights workers sorely need to defend themselves.
In the U.S., as well as worldwide, millions of workers have been thrown out of work. Only 57.5% of working-age people in the U.S. have a job today. At least 7 million people aren't even counted as unemployed because the government says they've been out of work too long! They haven't looked for work over the past four weeks. Bosses at American and United Airlines just sent furlough warnings to 13,000 and 14,000 workers respectively. And Heineken announced Feb. 10 it is slashing another 8,000 jobs.
The government's response under both Trump and Joseph Biden focuses on short-term relief measures. What workers need is jobs, to be at work, to organize alongside fellow workers as a class to fight to defend themselves.
Biden's $1.9 trillion package passed the Senate Feb. 5. It offers bailouts to many bosses and to indebted state and local governments, more one-time handouts to some of those thrown out of work, and measures to prevent undocumented workers from getting any "stimulus" payments.
Meanwhile, millions of workers face bosses using the jobs crisis to push wage cuts and slash hours of work, as prices for food and other necessities are rising. Housing prices rose 8% over the past year. Many new jobs bosses offered in January were temporary.
Under these conditions working families face growing debt. Some $53 billion is now owed by tenants for rent and utility bill arrears, according to Moody's Analytics. Despite a moratorium on evictions, landlords have found ways to throw 250,000 people out of their homes.
"A road out of these conditions requires a course of working-class struggle, not government handouts," Willie Cotton, Socialist Workers Party candidate for New York City public advocate, told the Militant.
Class struggle, not handouts
"Workers and our unions need to fight for a big federally funded public works program to put millions back to work at union-scale pay to build hospitals, houses, schools and other things we need," he said.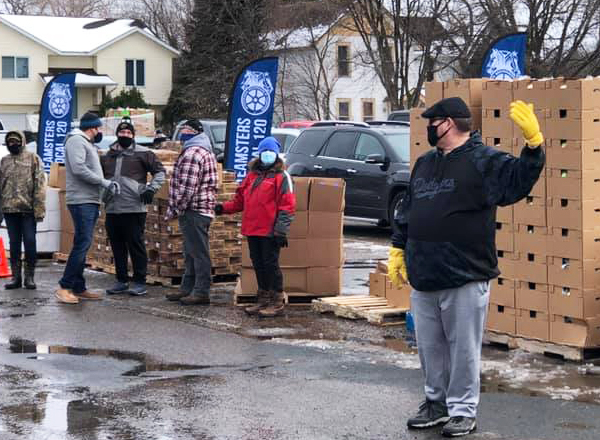 When former Treasury Secretary Larry Summers warned that Biden's "stimulus" package can eat away the funds needed for substantial government infrastructure spending to create jobs, other Democrats turned on him. People who listen to Summers are "nuts," Hawaii Sen. Brian Schatz snapped.
Cotton and Socialist Workers Party candidates around the country explain workers need to rely on our own class to force changes. They point to the example set by workers engaged in union fights like the produce workers in New York's Hunts Point market that struck and won wage gains, and Marathon refinery workers on strike in St. Paul Park, Minnesota, fighting for safer working conditions.
Any upturn in the capitalist economy — which is likely as more workers are vaccinated against COVID-19 and government lockdowns wind down — will open hiring, giving workers more confidence and willingness to fight boss attacks.
"Refusing to accept the bosses' dictates and fighting for what we need today requires workers and farmers defending our political rights to discuss, debate and organize free of interference from the government, its spy agencies and cops," Cotton said.
The capitalist rulers, Biden administration and some Never-Trump Republicans have seized upon the actions of a few wannabe paramilitaries and conspiracy theorists who temporarily disrupted Congress Jan. 6 to call for repressive legislation and new leeway for the FBI and other cop agencies to go after "domestic terrorism."
Secretary of Defense Lloyd Austin ordered the entire U.S. military to "stand down" over a 60-day period as the military brass conducts a witch hunt to ferret out those in the ranks they judge to have "extremist" views.
Democrats push assault on rights
The real aim of these moves is to target people for their political views. The history of the class struggle teaches that when the rulers and their political parties advance probes like this, they always turn them into attacks on the working class and its vanguard.
Justice Department officials say they're now considering filing charges against those they claim conspired to disrupt Congress under RICO racketeering laws. These laws, which carry sentences of up to 20 years imprisonment, have often been used to target the unions.
All these moves, and the new impeachment trial of Trump, even though he's out of office, are really aimed at the over 140 million working people who either voted for the former president or decided neither capitalist candidate was worth casting a ballot for.
Washington Post columnist Jennifer Rubin Feb. 4 called Trump's supporters "a social pathology" that infects growing parts of the country.
The capitalist rulers increasingly fear the working class, as they see the crisis of their system breeding new explosions of labor battles.
The Democrats' decision to push their second impeachment effort is part of their attack on the rights working people need.
They cynically pronounce plans to hold the fastest trial ever, less than a week, without any witnesses. Their goal has nothing to do with the Constitution. The whole operation is dangerous for working people.