Bernie Senter, Socialist Workers Party candidate for California State Senate, and his supporters campaigned at the Marathon Petroleum refinery shift change in Carson, California, Feb. 23, and urged workers to join in building support for locked-out Marathon refinery workers in Minnesota.
Some workers who pulled over commented that their Steelworkers local had contributed funds to the locked-out Teamsters. Fifteen workers bought copies of the paper with the headline "Solidarity with Marathon Oil Workers in Minnesota" to learn more about this important fight.
Socialist Workers Party candidates across the country are joining in struggles going on today — building solidarity with the locked-out Marathon workers and with Amazon workers fighting for union representation in Alabama, and joining protests against the military coup in Myanmar and car caravans protesting the U.S rulers' economic war against the Cuban people.
As they do so, they explain that workers need to learn to rely on themselves, to break with the bosses and their political parties — the Democrats and Republicans — and build their own party, a labor party based on a fighting union movement.
Maggie Trowe, Socialist Workers Party candidate for Louisville mayor, joined Dave Perry, a member of Teamsters Local 100 in Cincinnati, to campaign in Florence, Kentucky, where he used to live. Perry has been part of a fight against layoffs, pay cuts and unsafe working conditions at the factory run by the Cincinnati Association for the Blind and Visually Impaired where he works.
"Hi, I remember you. I'm glad to see you are as active as ever," Gary Fabre, 59, an information technology worker, told Perry when he and Trowe knocked on his door Feb. 27.
"I agree with you that the Democrats and Republicans are the parties of the rich," Fabre told the two SWP campaigners. "Millions are out of work and so many here in Kentucky aren't able to get unemployment benefits.
"It does seem that working people could do with their own party, but I'm not sure about this socialist thing," he said. "I'm not for big government ordering us around. And it seems like raising the minimum wage would cause even more small businesses to close."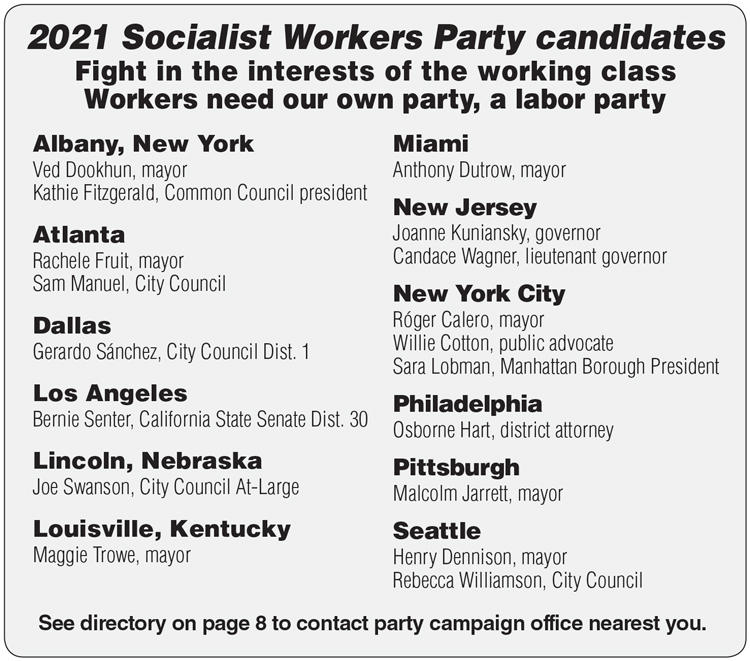 "Small-business owners are facing hard times," replied Trowe. "'Mom and pop' businesses, working farmers, truck owner-operators and other small proprietors are all being squeezed out by giant capitalist corporations and their government. My campaign says the labor movement has to fight in their defense."
"Many workers don't make enough money," Fabre said. "My wife has worked at the airport for years and she only gets $12 an hour."
"My campaign supports workers fighting for higher wages, I'm part of that fight at Walmart where I work," Trowe said.
"The 'socialist' wing of the Democratic Party has contempt for workers and thinks we have to be nudged and regulated into doing what they think is good for us. We have the opposite view," she added. "We have confidence in the capacity of working people to unite and fight for what we need and to build an alliance with working farmers and small proprietors. Only the working class can lead humanity forward."
"I don't agree with everything, but I think there is a lot to what you say," said Fabre. He gave $10 to the campaign, subscribed to the Militant and bought a copy of Are They Rich Because They're Smart? Class, Privilege, and Learning Under Capitalism by SWP National Secretary Jack Barnes.
'Back struggles in Myanmar, India'
"I had no idea about all this," 24-year-old Jalisa Joiner said when Atlanta SWP mayoral candidate Rachele Fruit knocked on her door Feb. 27 and explained how the party supports farmers in India fighting the government's attempt to drive them off their land, and workers, farmers and youth protesting the military coup in Myanmar.
"They don't talk much about these things in the news," Joiner said. "As you describe, these are people going through the same kinds of things as we are here."
"Our campaign encourages workers to join in solidarity with workers' struggles all over the world," Fruit said. "We raise demands to unite the working class so we can defend ourselves."
Joiner, who lost her motel clerk job when the pandemic hit, is trying to start a cleaning business. "People want to work, not depend on government resources."
"My campaign supports Amazon workers in Alabama organizing to get a union at their workplace," Fruit said. "That would put workers there in a better position to win higher wages and better job conditions, and inspire workers elsewhere. Through struggles like these, workers will see the need to forge our own party, a labor party.
"We're inviting workers we meet to go with us to Bessemer and meet some of these Amazon workers and bring our support," Fruit said.
"I'll try to get some of my neighbors to come to my house to meet you and talk more about these ideas," Joiner said. She added that when one of her neighbors saw an overdue rent warning on her door, they organized a fundraiser to help her pay the rent. "These are the kinds of people who would be interested in your campaign.  Give me some flyers so I can get them out." Joiner subscribed to the Militant.
Back Steelworkers on strike
Tony Lane and Ruth Robinett, supporters of Malcolm Jarrett, SWP candidate for mayor in Pittsburgh, met with Melinda Swartz in Sharon, Pennsylvania, Feb. 17. SWP campaigners have been visiting the area to win solidarity for the six-month strike by United Steelworkers members in nearby Farrell.
Swartz, who recently renewed her Militant subscription, described her experiences when workers at the plant where she works won a union almost 20 years ago. "Every day the bosses had us in the office watching an anti-union video," she said, "but we voted the union in."
Swartz said she would come to Pittsburgh to help with the SWP campaign. To join the SWP candidates building solidarity with workers' struggles and discussing their working-class program, contact the nearest party branch.