LOUISVILLE, Ky. — "Working people need a voice and a movement," Margaret Trowe told Rebekah Dow of WLKY-TV as she interviewed the Socialist Workers Party candidate for mayor at a press conference outside City Hall March 12.
"Like the 18 other SWP candidates across the country I will use my campaign vigorously to build solidarity with workers in struggle for unions, against racism, for women's rights," said Trowe.
"We traveled to Bessemer, Alabama, last weekend to support the Amazon workers' unionizing drive there," she said. "We joined others to build support for the Harlan County coal miners, who set up camp on the railroad tracks in 2019 after Blackjewel Coal, with the blessing of the bankruptcy court, clawed the last paychecks from their accounts. The success of those miners in getting their money back was a victory for all working people. They showed what we can do when we stand together."
Trowe's campaign was covered in a feature article March 15 in the online edition of Louisville's daily paper, the Courier Journal, headlined, "Socialist Workers Party Candidate Enters 2022 Louisville Mayor's Race."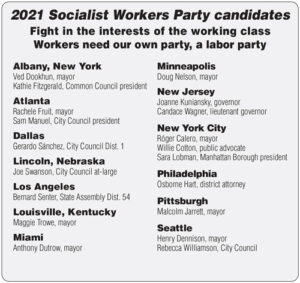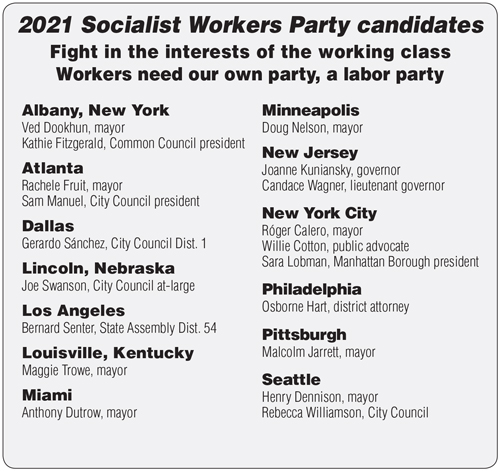 "As a teenager, Trowe said she became active in the movement to defeat Jim Crow segregation," the article said, "and now wants to see charges against officers involved in Breonna Taylor's killing on March 13, 2020."
"A year has passed since Louisville police knocked down Breonna Taylor's door in a midnight raid and killed her. No one has been charged for her death," Trowe said in her announcement. "I urge all working people to demand that all those responsible for her death be charged and prosecuted."
"We need broad, disciplined and sustained protests of unionists and other working people, churches and students to win this fight," she told the Courier Journal.
The article was accompanied by a picture from the Militant showing the Socialist Workers Party candidate in Harlan County speaking with Chris Rowe, a leader of the Blackjewel miners, during the miners' encampment on the train tracks.
"The parties of big business — the Democrats and Republicans — act in the interests of the billionaire families who rule the U.S. Workers and farmers need to break from these parties and organize in their own interests," Trowe said in the television interview. "In this way we will transform ourselves on the road to ending the dictatorship of capital and establishing a workers and farmers government."
"Is that really possible?" Dow asked. "Yes, it's possible and necessary," Trowe said, pointing to the example of the revolution made by workers and farmers in Cuba.