UNION CITY, N.J. — Supporters of the campaign of Joanne Kuniansky and Candace Wagner, the Socialist Workers Party candidates for governor and lieutenant governor of New Jersey, made steady progress during the second weekend of a six-week effort to put the SWP ticket on the ballot and introduce the party's activity and program to working people.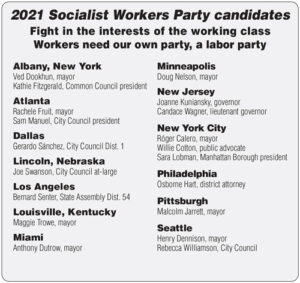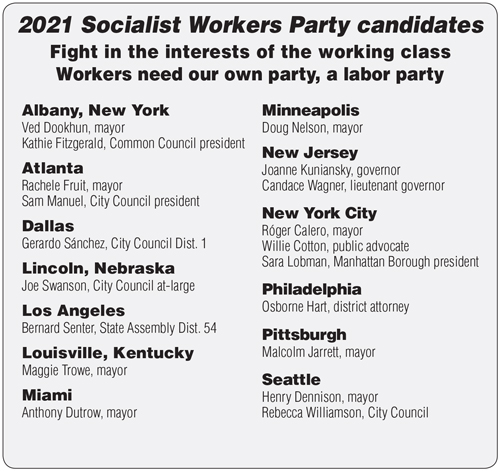 By March 15, 467 signatures were collected, just shy of a third of the 1,500 signatures campaign supporters plan to collect, almost double the 800 required.
One highlight of the weekend was a trip to Bridgeton, a city of 25,000 in a farming area in the southern part of the state. Each year 25,000 seasonal farmworkers come to South Jersey to harvest fruit and vegetables.
"Our strength is that we work," Lázaro Cornejo, a machine operator at a meatpacking plant told SWP campaigner Craig Honts on his doorstep. "The work we do binds us together, it's what makes us strong." But "many of us don't have any access to medical care, and when we are sick we still have to go to work. We don't have the option of staying home. The pandemic has hit us hard."
Honts pointed to Cuba's socialist revolution, where working people took power into their own hands. After the revolution, medical treatment ceased being a commodity to be sold at a profit, but became a right available to all free of charge. Cornejo liked that idea and got a subscription to the Militant.
SWP campaigner Janet Post discussed what working people could do to resist the impact of today's capitalist crisis with Herb Willis Jr., who works for a boat manufacturer. "The only way to win what we need is to fight for it together," Willis said. "If all the truck drivers across the country went out on strike, we could win almost anything."
Post described the huge labor battles that built the industrial unions in the 1930s. "Teamsters in Minneapolis organized to win support for their strikes from other workers, the unemployed and farmers. They became confident they could win," she said. In the course of those struggles they forged a leadership that showed what working people are capable of doing.
She showed Willis the 2021 Pathfinder catalogue with the four-volume Teamster series by Farrell Dobbs, a leader of the SWP and central organizer of the strikes and organizing drives that transformed the Teamsters union in the Midwest into a fighting social movement. Willis signed the petition and told Post he wants to order the books.
Workers need to fight for jobs
"If the government is going to offer help, it should help everyone. But we got nothing because both my husband and I are still working," Jennifer Martinez told SWP campaigners Gale Shangold and Terry Evans on her doorstep in Paterson.
Martinez described the mounting cost of utility bills, feeding their children at home with no school meals available, and the challenge of trying to do her job as an accountant at home and look after three children at the same time. "I've got a deadline to be back in work in June," she said. "But what if the schools aren't open then?"
"Workers don't need one-time handouts. We need jobs," Shangold said, referring to the government's most recent "stimulus" package. "That's why SWP candidates call on unions to wage a fight for a federally funded public works program to put millions back to work at union-scale pay building the things we need."
There is a special expanded ballot effort in New Jersey March 19-22. To join campaign teams there or anywhere else, contact the nearest party campaign office.