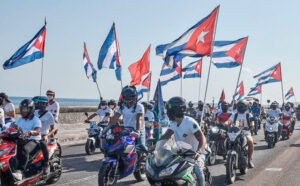 Thousands joined car caravans and rallies to protest the U.S. government's economic war against Cuba in at least 16 U.S. cities and 60 countries around the world March 28. In Cuba, hundreds of cyclists and carloads of people took to the Malecón, Havana's well-known seaside drive, chanting, "Down with the blockade!" as they passed by the U.S. Embassy. 
For the past six decades, the U.S. rulers have enforced a punishing economic, financial and commercial embargo of Cuba aimed at starving the Cuban people into submission and overturning their socialist revolution. Millions of working people, led by Fidel Castro and the July 26 Movement, ousted the U.S.-backed dictatorship of Fulgencio Batista in 1959 and established a workers and farmers government. 
Washington's efforts to overthrow the revolution have all failed because of the determination of Cuban workers and farmers to defend their revolution. But every successive U.S. administration has continued to enforce the embargo. 
On March 9, the White House declared, "A Cuba policy shift is not currently among President Biden's top priorities." Two weeks earlier, Biden renewed Washington's 1996 declaration of a "national emergency with respect to Cuba," authorizing U.S. forces to seize ships in U.S. waters that visit Cuba without Washington's permission. 
Many of the March 28 actions were initiated by Cuban-born immigrants, others were sponsored by Cuba solidarity committees and other groups. 
Washington "needs to leave Guantánamo Bay. It's our territory," Carelia Drake, a Cuban doctor who now lives in Chicago, told protesters gathered there. She was referring to the Cuban territory occupied by the U.S. military in violation of Cuba's sovereignty, where Washington maintains a notorious prison. 
Below are a few of the reports the Militant received from the international day of action. Special events are planned in April to mark the 60th anniversary of the defeat of the U.S.-backed mercenary assault at Playa Girón.
---
New York City
BY SETH GALINSKY
Some 45 people in more than a dozen cars joined the caravan here. It wound through Harlem, getting a friendly response from onlookers and ended in El Barrio with a picket and rally.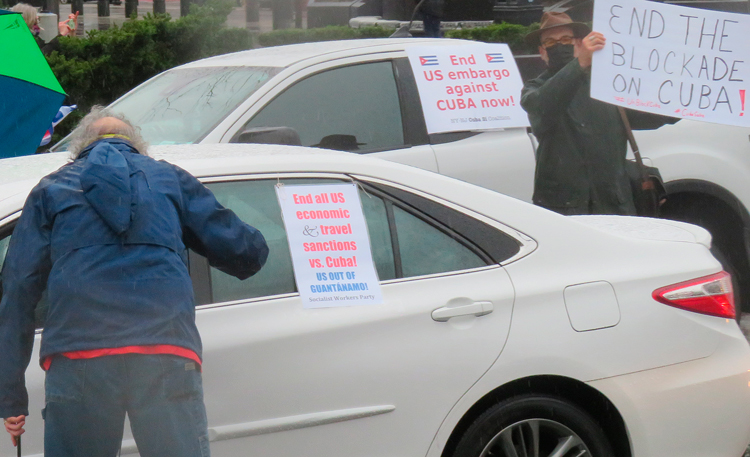 The action included about a dozen Cuban Americans, several participating for the first time. They had learned about it from Cubans in other U.S. and Canadian cities where similar caravans had taken place. 
Rev. Dorlimar Lebrón Malavé, the pastor at the First Spanish United Methodist Church just across the street from the rally, welcomed participants to the neighborhood, which historically is a center of the Puerto Rican community. It now includes many Mexicans, West Africans and African Americans. She read a special message from Pedro Luis Pedroso, Cuba's ambassador to the United Nations.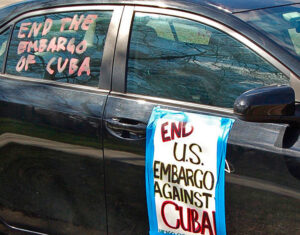 "Your just demand for the lifting of the criminal economic, commercial and financial blockade, which for 60 years has stymied the full development of the Cuban people and violated their most basic rights, resounds outside the States," Pedroso wrote. 
"On behalf of the people of Cuba I can tell you that we will not surrender," he wrote, "because there are friends like you, who encourage us in all circumstances." 
Jaime Mendieta, from Casa de las Américas, a Cuban American group in New York, noted that the U.S. economic war is causing hardships for the people of Cuba. "There is no limit to what the U.S. government will do," Mendieta said, in its attempts to overturn the Cuban Revolution. 
Fidel Gómez, one of the Cuban-born participants, told the crowd, "This is my first protest here since I moved to the U.S. from Canada. It won't be my last. The embargo has to be ended." He and several others came from New Jersey. 
"Every U.S. administration from Eisenhower to Biden has had the same goal of destroying Cuba's socialist revolution," Sara Lobman, Socialist Workers Party candidate for Manhattan Borough president, told the rally. She said the monthly caravans were growing and were a way to reach working people and win them to the fight to lift the U.S. embargo. 
---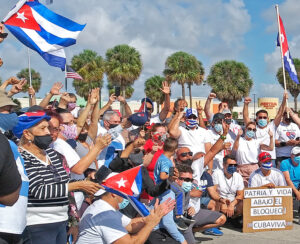 Miami
BY CHUCK GUERRA
AND NELSON GONZÁLEZ
A caravan of over 100 cars and bicycles with signs opposing the U.S. embargo against Cuba made its way through Coral Gables and the "Little Havana" area of Miami. Many onlookers showed approval by giving a thumbs-up with motorists honking their horns. A few passersby showed hostility but there were no attempts to disrupt the caravan. 
"Me and my family are one of the results of the blockade," Alina Velazquez told participants. "We are here in the U.S. not because we are against the government of Cuba but out of economic necessity. The blockade is inhumane and unjust." 
---
Washington DC
BY ARLENE RUBINSTEIN
"It's fitting to gather at the African American Civil War Museum," Thomas Blanton, a museum volunteer, told participants at a rally after the D.C. caravan. "Cuban soldiers were among the members of the United States Colored Troops who fought to end slavery. We have a debt to them." 
Over 25 people in 13 cars joined a spirited action organized by the D.C. Metro Coalition in Solidarity with the Cuban Revolution.
---
Canada
BY JOE YOUNG
MONTREAL — Caravans against the U.S. embargo of Cuba took place here as well as Toronto and Ottawa, Ontario; Calgary, Alberta; Winnipeg, Manitoba; and Vancouver and Victoria, British Columbia.
In Montreal, a caravan with more than 30 cars and over 60 people wound its way downtown, passing by the U.S. Consulate. 
Chrislène Charles, who works at a Cargill meatpacking plant, was attending her first protest. "I am here because of what the Cuban doctors have done in Haiti," she said. Thousands of Cuban medical volunteers have served there since the devastation of Hurricane Georges in 1998, responding to repeated outbreaks of cholera and helping to build a nationwide health system. 
---

---
Europe
BY JONATHAN SILBERMAN
LONDON — A cycle-cade protest here was organized by Miriam Palacios, a representative of Cubans resident in the U.K. "We're supporting the 'bridges of love' being promoted by Cubans in North America," she said. The action was broadcast on Cuban TV. Other actions took place in Sheffield, organized by the local Cuba Solidarity Campaign, and in Belfast, Northern Ireland. 
Across Europe, on the initiative of Cubans living in various countries, people took to the streets in cavalcades, cycle rides and rallies. 
"Hundreds of people in towns across Spain mobilized against the criminal blockade," including in over a dozen municipalities throughout Catalonia, Gustavo de la Torre told the Militant by phone from Barcelona. De la Torre is president of the José Martí Federation of Associations of Cubans Resident in Spain, the country with the largest concentration of Cuban immigrants in Europe. 
Similar demonstrations were held in Belgium, Denmark, France, Germany, Holland, Russia, Serbia, Sweden and elsewhere.