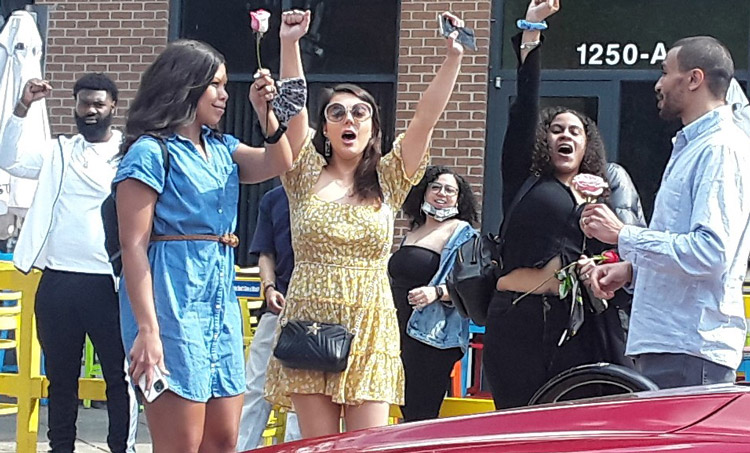 Opponents of Washington's over 60-year economic war against Cuba joined car caravans and rallies in at least 20 U.S. cities, and in Canada, the U.K. and other countries April 25. They demanded: End the U.S. embargo against Cuba! U.S. out of Guantánamo now! End U.S. travel restrictions against Cuba!
This month's caravans took place as supporters of the Cuban Revolution celebrated the 60th anniversary of two historic victories: the defeat in less than 72 hours of the U.S.-backed mercenary invasion of Cuba at the Bay of Pigs in April 1961, and the yearlong campaign that eliminated illiteracy throughout the country that year.
In Cuba, some 3,000 people rode in caravans in two cities: Santa Clara and Las Tunas. "Many young people could be seen on bicycles, motorcycles, skateboards and light vehicles," reported Granma. A regatta of boats sailed along the Havana coastline to join the protests.
The U.S. monthly caravans, initiated by the National Network on Cuba and local coalitions at the end of last year, have been growing. Below are reports on some of the April actions.
200 join caravan, rally in Miami
MIAMI — "¡Abajo el bloqueo! End the Blockade!" read the banner carried by cyclists  through Miami's Little Havana and neighboring Coral Gables April 25.
About 200 people, mostly Cuban Americans, joined in 89 cars and on 22 bicycles, the largest number since the monthly caravans began. Many people on the street gave a thumbs-up salute as it passed by. A small number of bystanders showed hostility, but there were no attempts to disrupt the caravan.
— Chuck Guerra
Chicago rally in Puerto Rican community
CHICAGO — Over 50 people gathered here to protest the U.S. economic embargo on Cuba. Among the speakers at a rally before the caravan set off were Jose Lopez, executive director of the Puerto Rican Cultural Center; 25th Ward Alderman Byron Sigcho-Lopez; Jesus Gomez, Justicia en Ayotzinapa Comité Chicago; and Mary-Alice Waters, a member of the National Committee of the Socialist Workers Party.
Welcoming participants to the Humboldt Park neighborhood where the Puerto Rican Cultural Center is located, Lopez said Cuba is the first and only country in the Americas truly independent of Washington. "Despite all the propaganda that said, 'When the Castros are gone, Cuba will be gone,'" Lopez said, "Cuba is alive and well and will continue in the spirit of resistance of the July 26 Movement."
"These caravans have been the most successful actions organized in years in defense of the Cuban people and in opposition to Washington's policy toward Cuba," said Waters. "Each month these caravans have grown with more cities across the U.S. and around the world participating and drawing in new forces.
"Washington's policy toward Cuba has had only one purpose, punishing the people of Cuba for making a socialist revolution on the doorstep of the U.S. That policy will continue because the Cuban Revolution was an affront to U.S. property rights that they will never forgive or forget."
As the 30-car caravan traveled through the Humboldt Park and Logan Square neighborhoods it received a warm response from many motorists and pedestrians.
— John Hawkins
First caravan held in Atlanta
ATLANTA — Forty-four people in 23 cars participated in the first caravan here through 10 miles of streets protesting the U.S. economic war against Cuba.
"Why is this island such a threat to the U.S. government?" asked Heather Ramirez, a Cuban American who is one of the organizers of the caravan and an owner of Havana Cigars. "I support the removal of the blockade so the Cuban people do not have to suffer, and so we can send money to our families."
"The blockade hurts the Cuban people in the street," said Cuban-born Aramis Pazos. "It helps to hear the voice of U.S. people who oppose the blockade."
— Janice Lynn
Harlem action attracts Cuban Americans
NEW YORK — Over 40 people joined the protest here. Nine cars and three bicycles from New York and New Jersey, adorned with Cuban flags and protest signs, wound their way through Harlem with horns blaring.
The bike riders often pulled over to hand out flyers to interested onlookers. One Cuban American said he was "astounded to find people here against the blockade." He came over to join the rally. "What are they afraid of? Cuba has the right to be a socialist country," he said, asking that his name not be used since he is applying for U.S. citizenship.
María Kercado, an 1199SEIU United Healthcare East executive vice president, was at the caravan gathering spot to speak to a march protesting anti-Asian violence the same day. "I am so glad to be here," she told caravan participants. "This is our fight too."
— Tamar Rosenfeld
'US aggression is inhumane'
MANCHESTER, England — Caravans took place here, as well as in London, Birmingham, Sheffield, and Glasgow, Scotland, April 24 opposing U.K. government complicity with the U.S. economic war against Cuba.
"The aggression of the U.S. to Cuba is not humane," said Manchester participant Brian Oreggio, a meat worker at Pilgrim's Pride. As cars decked with signs against the embargo drove by, "people did notice," he said. "This is definitely something to build on."
— Ögmundur Jónsson
?
Other actions
In Washington, D.C., over 50 people in 21 cars joined the caravan, double the number who participated in March. Some 40 people in San Francisco piled into 25 cars in a similar solidarity action, as did 28 cars with over 40 participants in Los Angeles. And in Seattle 30 people held a picket and car caravan. In Canada, caravans took place in Montreal; Winnipeg, Manitoba; and Vancouver and Nanaimo, British Columbia.