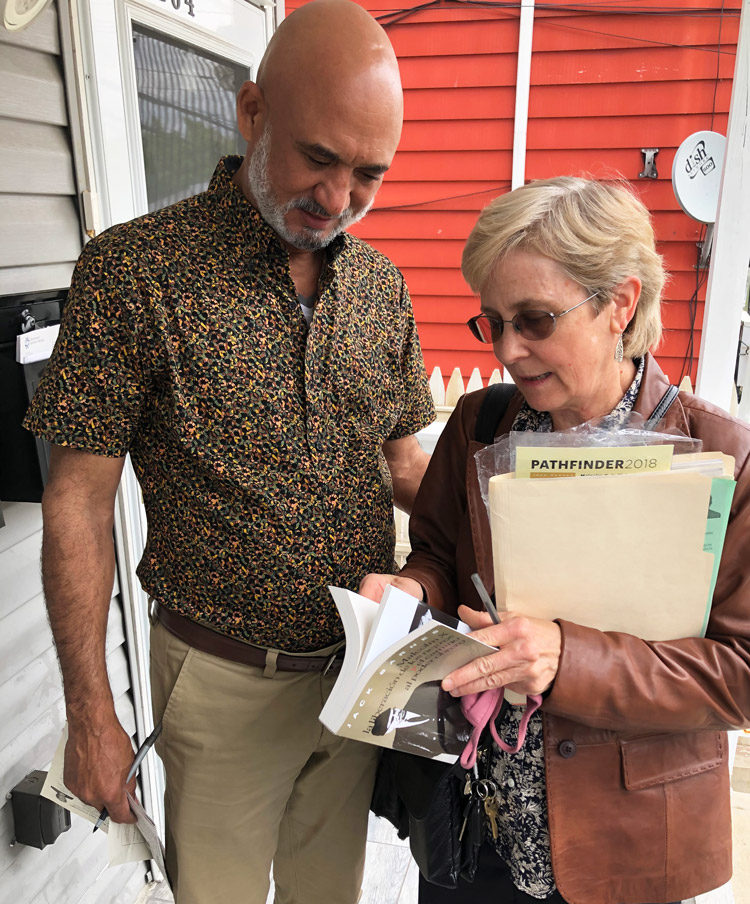 The nine-week international drive to sell 1,400 subscriptions to the Militant, 1,400 books on working-class politics and raise $145,000 for the Militant Fighting Fund has begun.
The drive will advance the campaigns of the 20 Socialist Workers Party candidates for state and local offices who are walking strike picket lines and building solidarity with labor struggles, talking to workers and farmers on their doorsteps, marching in actions against police brutality, joining protests against the military junta in Myanmar and building monthly car caravans that demand an end to the U.S. economic war against Cuba.
SWP candidates have spoken at many of these actions, pointing out the common interests of working people, from the U.S. to Myanmar and beyond. They act to bring together fighters from union and other struggles.
Indispensable to this work is getting the Militant and books by SWP leaders and other revolutionaries into the hands of working people. These titles explain why the rule of the capitalist class lies behind the problems workers face and what can be done to build the party workers need. Among the books on special is Cuba and the Coming American Revolution by SWP National Secretary Jack Barnes, which explains why a socialist revolution is both possible and necessary in the United States.
SWP Northern California campaign
The SWP has just launched the campaign of Joel Britton for California State Assembly in the 18th District. Campaigners have a three-day window to collect 100 signatures to put him on the ballot, April 27-29.
Britton and supporters campaigned at a shift change at the Chevron refinery in Richmond April 22.
"We urged workers to support the locked-out Marathon oil workers in Minnesota as well as the strikes by ATI steelworkers and Warrior Met coal miners," said Britton. Campaign supporter Jeff Powers noted that "many of the workers knew little or nothing about these important labor battles. Thirty workers who stopped to talk got copies of the Militant."
Britton and SWP campaigner Carole Lesnick knocked on the door of Grace Manuwatao in Alameda a couple days later. Manuwatao, a former nurse, told Britton she was part of union fights that "won benefits and better pay for in-home supportive services workers." She was also proud to have participated in protests for immigrant rights.
"Our party campaigns for amnesty for the 11 million immigrants here without 'papers,' as part of the fight to unite the working class," Britton told her. "We've been waiting for an amnesty, but it has not happened since Ronald Reagan was president in the 1980s," Manuwatao said.
"More working-class struggles are beginning to happen now that can open the road to revitalizing our unions," said Britton. "That includes fighting for amnesty."
Manuwatao subscribed to the Militant and said she will sign the petition to get Britton on the ballot.
Susan LaMont reports that supporters of the Socialist Workers Party campaign of Rachele Fruit for Atlanta mayor and Sam Manuel for City Council president have already sold 14 subscriptions and six books. Campaigners joined a United Mine Workers unity rally in Brookwood, Alabama, April 21, getting a good response from workers attending.
"An autoworker at Mercedes Benz bought a copy of Teamster Rebellion," LaMont said. "We talked about the recent union-organizing drive at Amazon in Bessemer. He wants to learn more about the experiences of workers in the 1930s, especially those that led to union victories."
The book's author, Farrell Dobbs, was a leader of the SWP and the strikes and organizing drives that transformed the Teamsters union in the Midwest into a fighting social movement and pointed the road toward independent political action by working people. The title is one of the eight books on special with a subscription during the drive. All other books published by Pathfinder Press are 20% off (see ad on page 8).
'Looking for something like this'
Rebecca Williamson, Socialist Worker Party candidate for Seattle City Council, and campaign supporter Edwin Fruit spoke with James Lee on his doorstep in North Seattle April 20. Lee is an art student who works part time delivering pizzas.
"I've been looking for something like this," Lee said, when they gave him campaign literature and showed him the Militant. "Sometimes I don't see how change will be made as capitalism is entrenched all over the world."
"Capitalism makes its own gravediggers," Williamson said. She noted that farmers in India and working people in Myanmar "are fighting brutal governments. Their struggles are examples of what is possible and highlight the need for a revolutionary working-class leadership, like that forged by Fidel Castro in Cuba to make their revolution a success."
"I don't understand why Democrats call the Midwest 'flyover states' — like it is irrelevant," said Lee, who grew up in Iowa. "Who do they think provides all the food or processes the pork and beef people consume if not in the Midwest?"
Williamson told Lee about her experience working in meatpacking in the Midwest where she was part of fights to strengthen unions and to improve conditions, as well as in the labor battles going on today. SWP campaigners will be joining the May Day march in Seattle to call for amnesty for undocumented immigrants.
Lee subscribed to the Militant. Two days later he participated in a Militant Labor Forum celebrating the 60th anniversary of the victory of the Cuban people over U.S.-backed counterrevolutionary forces that sought to crush their socialist revolution in a failed invasion at Playa Girón.
Contribute: Militant Fighting Fund
The Militant is funded entirely from contributions by its readers and other working people who appreciate its accurate reporting on working-class struggles. No other paper explains that every political question workers face is a class question, or presents a way forward for our class, independent of the bosses' twin Democratic and Republican parties. Send your fund contribution to the Militant, 306 W. 37th St., 13th Floor, New York, NY 10018 or donate online at www.themilitant.com.
The Militant will run a weekly chart showing the progress getting subscriptions and books into the hands of working people and winning fund contributions, along with a weekly column.
You can help make this a lively read by reporting on discussions among workers, farmers and young people about the conditions we face and a way forward. Send in reports as well as photos to themilitant@mac.com.
Want to help expand the readership of communist literature? See distributors nearest you.