"I wish I had a union at my workplace," Stephen Hammond told Róger Calero when the Socialist Workers Party candidate for mayor of New York City knocked on his door in Middletown, New York, Oct. 17. "The little man has the same problem everywhere. They are pushing to get more productivity out of fewer workers."
Calero had showed Hammond the headlines in the Militant  calling for solidarity with workers on strike at Kellogg's and other union battles. He described how three days earlier more than 10,000 John Deere workers went on strike across the country. Calero described how the Militant  and Socialist Workers Party candidates around the country are building solidarity with these battles.
Hammond, a software engineer, subscribed to the Militant  and contributed $5 to the SWP Party-Building Fund. Party campaigners from Albany and New York City sold five subscriptions and got $34 in contributions in just a couple hours going door to door in Middleton and nearby Florida, New York.
The workers they met wanted to discuss a wide range of questions, from President Joseph Biden's imposition of vaccine mandates to how to combat rising inflation.
SWP campaigners are finding similar interest everywhere they go as part of the international seven-week drive to sell 1,300 subscriptions and 1,300 books by SWP and other revolutionary leaders and raise $130,000 for the annual Party-Building Fund. When they learn that the Militant  and the Socialist Workers Party are funded entirely by working people, many want to contribute to the fund.
The Militant  is unique. It provides regular reports firsthand from today's labor struggles. Last week's issue carried an interview with Carlos Fernández de Cossío, head of the Cuban foreign ministry's department for U.S. affairs. He explains why "the most enduring and successful challenge to imperialism in the Western Hemisphere has been the Cuban Revolution."
Target effort for SWP campaign
The international drive will get a boost from a 12-day special target effort starting Oct. 22 to introduce the Socialist Workers Party program and its working-class candidates to as many working people as possible in the last week before the Nov. 2 elections.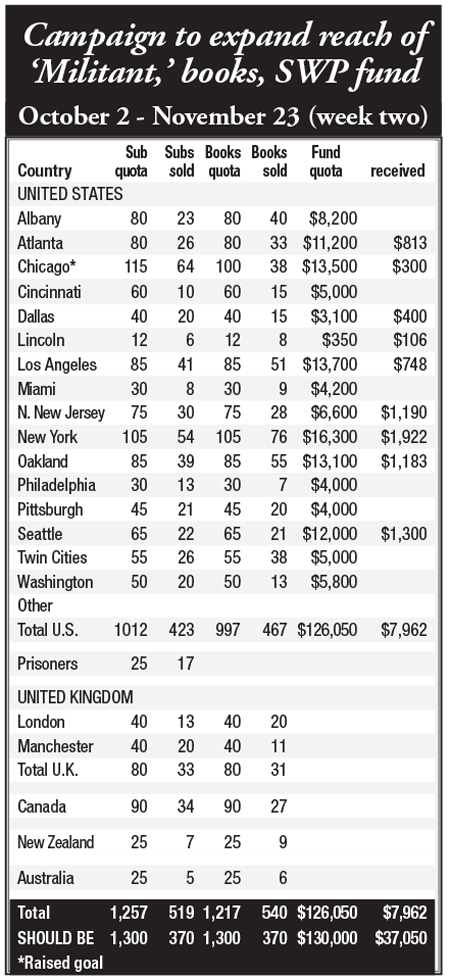 SWP candidates are walking picket lines, building strike solidarity rallies, talking to workers on their doorsteps and joining protests to defend women's rights, including the right to choose to have an abortion. As they do so, they present a revolutionary road forward.
Sam Manuel, SWP candidate for Atlanta City Council president, spoke at an Oct. 12 candidates debate hosted by the Atlanta Press Club. "Young people and workers can change their lives, the way Malcolm X did, when they find a cause worth living and fighting for," Manuel said. "That's what we offer — the fight to replace the rule of the capitalist class with a workers and farmers government."
Need to combat bosses' speedup
"The bosses don't want you to have a life," Armil Scott told Sara Lobman, Socialist Workers Party candidate for Manhattan Borough president, and campaign supporter Brian Williams when they knocked on his door in the Castle Hill neighborhood of the Bronx Oct. 17. "We work too many hours and are underpaid," he said. Scott, who delivers car parts, is working 55 hours a week or more. "The driving is brutal." 
Speedup, forced overtime and two-tier wages and benefits are at the heart of many of today's strike battles, Lobman said. Scott subscribed and bought a copy of The Turn to Industry: Forging a Proletarian Party  by SWP National Secretary Jack Barnes. It explains the kind of working-class party and program that is needed to wrest power from the capitalist exploiters. It's one of dozens of books on special as part of the drive. 
Certified Nursing Assistant Mildred Regalado was interested to hear about the strike for higher wages and better staff/patient ratios by nurses in Worcester, Massachusetts, and other labor battles when Joanne Kuniansky, SWP candidate for New Jersey governor, and campaign supporter Terry Evans knocked on her door in Union City, New Jersey, Oct. 14.
"We had to work so hard for so little during the pandemic," she said. "But I don't agree with unions. All they do is take your money. If you come to work and do your job you shouldn't get managers bothering you."
"Bosses can only raise their profits by driving down our wages and making our conditions worse," Kuniansky said. "And we can't resist them on our own."
"The union is workers joining together to fight for what we need," Evans added, pointing to some important gains won by unions during recent strikes.
"They don't want you to see unions like that," Regalado said. She subscribed to the Militant. When Kuniansky invited her to a campaign forum on the fight for women's emancipation Regalado said she didn't agree with abortion.
"Access to family planning, including the right to choose whether to have on abortion is a private matter for a woman, not for the courts, government or anyone else," Kuniansky said.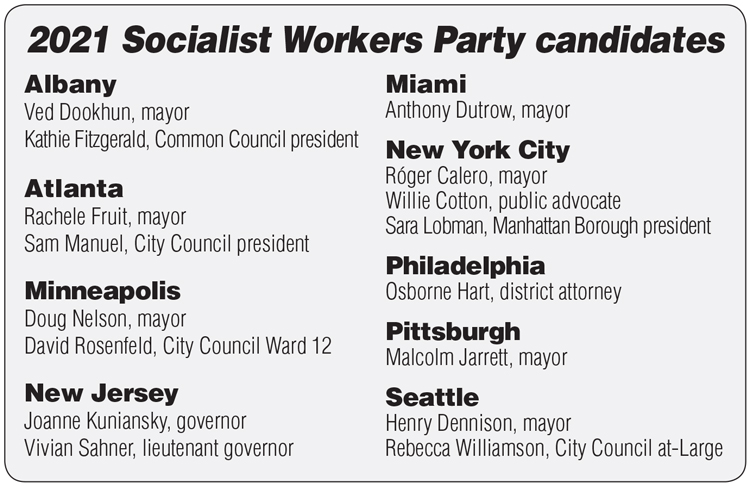 Regalado said she would think about what Kuniansky raised.
In New Zealand, Communist League campaigners spoke with Rakesh Prasad. He described the impact of severe lockdown restrictions on the small contracting business he has with his wife. "Neither the Labour Party or National Party look after the little people," Prasad said. "We've seen many small businesses shut down because they cannot pay the rent when there is no trade. And we've seen more homelessness, even young children out on the streets or living in cars."
The problem is the government defends the interests of the capitalist class, Annalucia Vermunt told him. When he asked who CL campaigners voted for, Vermunt said that the Communist League ran its own candidates. "The working class needs to build its own party, with a program to fight for power."
Prasad subscribed to the Militant and picked up a copy of Are They Rich Because They're Smart? Class, Privilege, and Learning Under Capitalism by Barnes.
Help win new readers to the Militant  and Pathfinder books and new contributors to the SWP Party-Building Fund! To find the branch of the party nearest you see the directory.