Seven weeks into Moscow's war against independent Ukraine, the determined resistance of that country's armed forces and its population in general — as well as demoralization wracking the Russian troops and ineptness of their officer corps — brought Russian President Vladimir Putin's invasion to a standstill. Putin then declared his initial goals had been realized and pulled his troops out of areas around Kyiv, Chernihiv and Sumy back into Belarus, leaving behind a trail of death and destruction.
Moscow's artillery continues to pound Kharkiv and Putin has regrouped his forces for a new, murderous offensive in the east. He claims their goal now is to expand and hold the entire Ukrainian provinces of Donetsk and Luhansk, and more. The continuing bombardment and siege of the key southern port of Mariupol continues, with Ukrainian forces holding out in the giant Azovstal steel mill.
Putin sees only one path for Russia's capitalist class to compete with its rivals — to seize territory and restore its domination over nearby nations that for centuries had been under the boot of the country's former czarist rulers, and later under Stalin. Putin says Ukraine has no right to exist.
Working people everywhere have a stake in backing the Ukrainian people's fight for independence and to force Moscow to get out of their country.
A rocket attack by Moscow's forces struck the Kramatorsk train station in eastern Ukraine April 8, killing over 50 people and injuring many more. The station was packed with 4,000 people seeking to flee the expected onslaught by Moscow's forces in the region.
After the attack, about 1,000 drivers with 400 vehicles volunteered to help the flood of refugees get out of the town. These volunteers "are ordinary people, coming from all over Ukraine, who just want to help," Yuroslav Boyko, who is organizing the evacuation, told the April 10 New York Times.
While the imperialist rulers of the U.S., U.K. and other European powers cry crocodile tears over Moscow's invasion, their real aim is to advance their own economic and political interests. In addition to providing a carefully delimited level of defensive military equipment to Ukraine, their main action has been to target Moscow with crippling sanctions, which hit Russian workers and farmers the hardest.
Washington and its imperialist allies are also competitors and have rival interests to advance in the course of the war. All — from Germany to Canada, Sweden to Australia, Japan to France — are moving to build up their military forces and trying to convince working people that they need to sacrifice for the greater good of the nation.
The U.S. and other imperialist sanctions aggravate the hardships foisted on working people in Russia by the capitalist class there. Prices for sugar, onions and other staples jumped by nearly 50% in March. This privation helps Putin as his regime tries to rally support for itself and its war, pointing to the economic onslaught as an act of "Western aggression."
While Putin and his tightly controlled media have gained support for the war from a majority of Russians so far, according to recent polls, that is thin.
Opposition in Russia
Many working people continue finding ways to show their opposition to the war despite repressive laws against protest put in place by the government. And some soldiers are refusing to fight.
Russia has a military draft for all men between the ages of 18 and 27. But those from middle-class backgrounds, especially in the big cities, are able to avoid this by enrolling at universities, paying bribes or exploiting loopholes. As a result, draftees are largely young working-class men from small towns and villages all over Russia.
A disproportionate number are from the least developed republics of the Russian federation, with high unemployment rates. They are mostly youth who are nonethnic Russians, from Buryatia near Mongolia and the Muslim-majority republics, such as Dagestan, Bashkortostan, Tatarstan and Ingushetia. Soldiers can earn five times as much as the average wage in the areas they come from.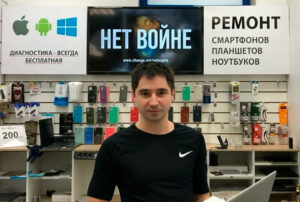 The disaffection of some soldiers has gotten resonance from family members and others in Russia. Some 60 paratroopers refused to continue fighting after witnessing the slaughter, reported Russian news outlet Pskovskaya Guberniya. They were sent back to their Pskov base in northern Russia in disgrace. Some were dismissed for "cowardice" while others face court-martial and possible jail terms. Nonetheless, their families have supported their stand.
After heavy losses in attempts to storm Mariupol, some Russian special forces units have refused to take part in further attacks there.
Valentina Melnikova, the head of the Soldiers' Mothers Committee when it protested during Russia's failed war in Afghanistan, told a Russian YouTube interviewer that as Moscow's troops massed on the Ukraine border her phone "started ringing off the hook again."
"Since our army does not collect the bodies of the dead and don't always pick up the wounded, there can be many discrepancies," she said, adding she thinks the Ukrainian government's estimates of Russian troop losses are more accurate than Moscow's.
Yevheni Velichko, 32, mayor of Voznesensk, a southern Ukrainian town, asked residents to collect Russian corpses after a two-day battle "so that we can send these guys back to their mothers and wives."
"Russian or not Russian, we treated the bodies with dignity," he told the April 8 Washington Post. He explained that they were sent to Kyiv.
In a Moscow shopping mall, Marat Grachev, a computer-repair store owner, prominently displayed a "no to war" sign for several weeks after the invasion. He said he was surprised that none of his customers complained or reported him, despite the fact he had to raise his prices because of the sanctions. It was a passerby who reported him and he was detained by police.
Grachev was fined 100,000 rubles ($1,200). Contributors to an online appeal raised far more money than he needed to pay the fine, and he's donating the excess to groups that help protesters fight their arrest.
Grachev says he plans a new display in his store: "There was a sign here for which a 100,000 ruble fine was imposed."