Taking advantage of expanded opportunities to reach out with the Socialist Workers Party program, party members are organizing an international target week April 30 – May 8 to boost momentum in the nine-week drive to win 1,600 new readers to the Militant, sell 1,600 books by SWP leaders and other revolutionaries, and raise $165,000 for the Militant Fighting Fund. 
During the target week SWP candidates for office and party members will join fellow workers and unionists at May Day celebrations around the U.S. and step up discussion about the stakes for working people worldwide in defeating Moscow's invasion of Ukraine.
"It's disheartening hearing news about the war," Patricia Lynch told Joanne Kuniansky, Socialist Workers Party candidate for U.S. Congress in New Jersey's 8th District, when she and SWP member Terry Evans knocked on her door in Bayonne April 24. 
"I feel the U.S. needs to step in," she said.
"The SWP is opposed to any U.S. intervention in Ukraine," Kuniansky said. "We look to resistance to the invasion by the Ukrainian people, to be joined by protests against the Putin regime's war by working people in Russia."
"But is that enough to stop this?" Lynch asked.
"It's the only way to advance unity among working people, who can force the capitalist rulers to end their wars, as happened in Vietnam, and to build the movement we need to take power out of their hands," Kuniansky replied. "Everywhere Washington intervenes it serves the interests of the bosses."
"Capitalism breeds wars," Evans said, pointing to the consequences for working people of wars in Iraq, Afghanistan and elsewhere. "Workers and our allies have the power to end capitalist rule."
"There are no good wars," Lynch said. "And the Russian people are being lied to about this one." She described interviews she'd seen with Russian soldiers who were told by Russian authorities that the Ukrainians they were sent to kill were all fascists.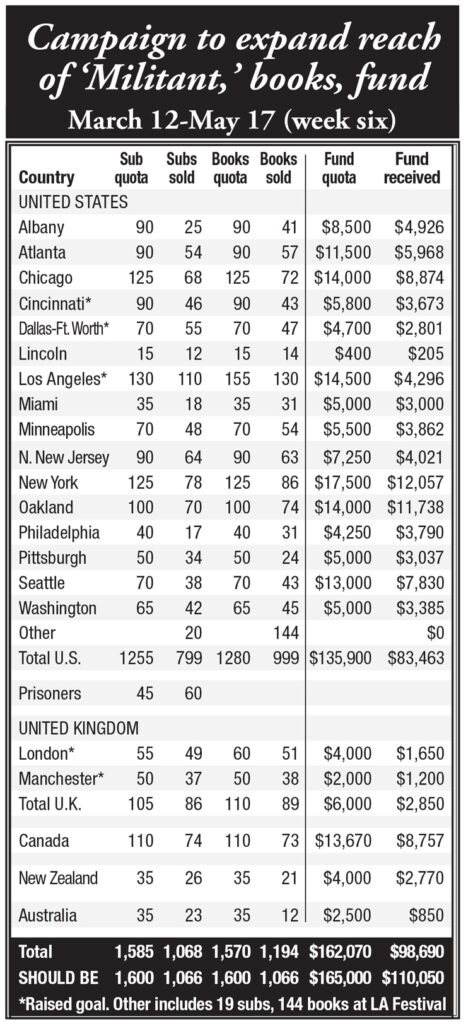 "The slander by Moscow that Ukrainians are all fascists was used in 2014 during the Maidan," Kuniansky said, referring to the popular uprising that overthrew the pro-Moscow regime of Viktor Yanukovych. "Our party sent reporting teams to Ukraine to learn the truth about what the movement to bring down Yanukovych accomplished." (See article on page 8.)
Lynch signed the petition to put Kuniansky on the ballot, and got a subscription to the Militant  and the title Are They Rich Because They're Smart? Class, Privilege, and Learning Under Capitalism  by SWP National Secretary Jack Barnes. She kicked in $10 to the Militant Fighting Fund.
More than 100 people have now signed petitions to put Kuniansky on the ballot. The same number have done so for Lea Sherman, SWP candidate in New Jersey's 9th Congressional District. That's substantial progress toward the party's goal of collecting 150 signatures in each of the two districts, triple the amount required for ballot status. Party campaigners plan to use the upcoming May Day weekend to complete the drive for ballot status. 
'Stand up for what is right'
When Joel Britton, SWP candidate for governor of California, spoke with Crystal Stroud at her home in Castro Valley April 23, she spoke enthusiastically about the union-organizing victory of Amazon workers in Staten Island, New York. "This victory shows we have power if we get organized," she said. "I tell people, 'Don't be scared. Stand up for what is right.' I hope Tesla employees, where I used to work, will follow that example." 
Stroud worked for nearly a year at Tesla's assembly plant in Fremont. She said she believed line bosses who mistreated her and her co-workers would be disciplined or fired if Tesla CEO Elon Musk knew what was happening. 
"Don't count on it," Britton responded. "Lower-level management carry out company policy. The key is for workers to organize and fight back, get a union that can gain some control of working conditions. And Musk is totally against that." 
Stroud said when she quit Tesla she walked away from "a $6,000 e-trade fund with Tesla stocks. The company wouldn't let me take it. You have to stay working for four years to get it."
"You refused to be bribed," said Britton. "Yes!" Stroud replied. "I have more peace of mind and more time to spend with my kids." 
She renewed her Militant  subscription for one year, purchased Labor, Nature, and the Evolution of Humanity  and contributed to the Militant Fighting Fund. 
'Defend Ukraine's independence'
In Portland, Oregon, SWP member Michele Smith and supporter Vincent Auger met Chantell Woods at her doorstep April 23. She was interested in the SWP National Committee statement, "Defend Ukraine's independence! For defeat of Moscow's invasion! U.S. troops, nuclear arms out of Europe, all of Europe!" 
"We can't even take care of our own people, let alone people in other countries," Woods said.
Smith explained that there is no common "we" that includes both bosses and workers. "We live in a class-divided society. The capitalist rulers have no solution to the crises facing working people," she said. "The working class needs its own political party, a labor party, that can help lead the fight to take political power out of the hands of the capitalist class and form a workers and farmers government." 
"The Democrats say they care about poor people and deceive us with their policies," Woods said, "while the Republicans do the same but are more upfront about it." She signed up for a Militant  subscription and purchased Malcolm X, Black Liberation, and the Road to Workers Power. 
To help expand the reach of the Militant, contact the SWP nearest you, listed in the directory. To contribute to the Militant Fighting Fund, make out a check to the Militant and send it to 306 W. 37th St., 13th floor, New York, NY 10018, or donate online at themilitant.com.
Carole Lesnick in Oakland, California, contributed to this article.