"I was born in 1995," Luke Winnicki told Chris Hoeppner, Socialist Workers Party candidate for U.S. Congress, June 26 in south Philadelphia. "My first memory was Sept. 11, 2001, then there was the 2008 financial crash. My family survived but a lot of people didn't and since 2016 it's been one thing after another. That's why people are looking for solutions."
"The crisis of capitalism is accelerating," Hoeppner replied, pointing to Moscow's invasion of Ukraine. "The stakes for working people are very high. We need to form a labor party independent of the Democrats and Republicans to organize to take political power into our own hands."
"I agree we need a workers party," Winnicki said. "I'm never going to vote for the Democrats again."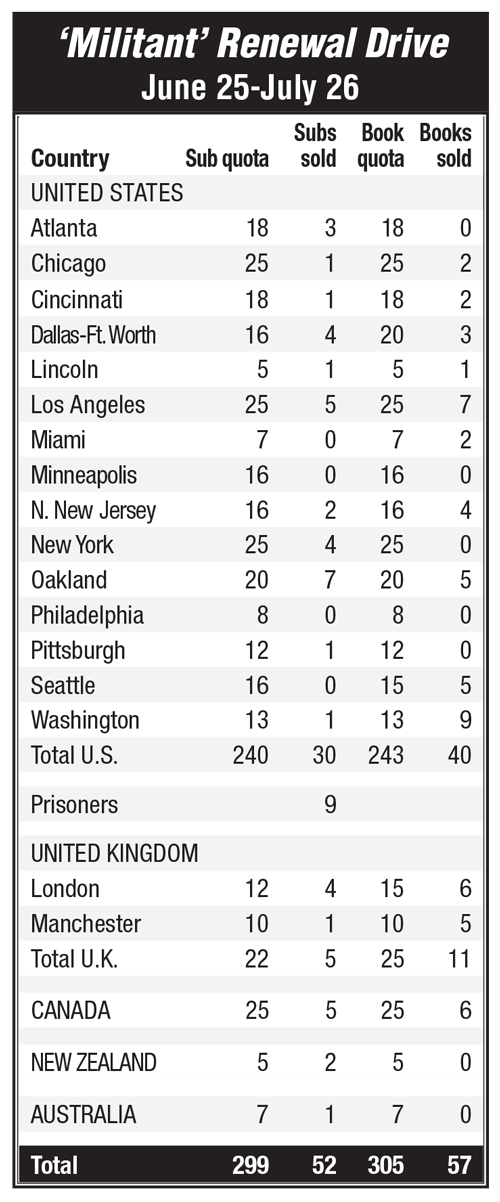 Winnicki signed the petition to put Hoeppner on the ballot, bought a Militant subscription and a copy of the book Labor, Nature, and the Evolution of Humanity.Winnicki teaches 7th grade social studies and is a member of the American Federation of Teachers. He described how classrooms where he taught were contaminated by asbestos. "That is a good example of why the SWP program demands workers control of production," Hoeppner said, to enforce safety on the job.
"This addresses some of the questions we're discussing in my classes," Winnicki said.
SWP members and supporters are campaigning for the party's ticket in Pennsylvania — Candace Wagner for governor, Osborne Hart for U.S. Senate and Hoeppner.
A three-week target effort is set for July 9-31 to collect 2,000 signatures, twice as many as required, to put Hoeppner on the ballot, the first time in decades that the SWP will have gotten ballot status for federal office in Pennsylvania. Heading into this effort 332 signatures have been collected. As of June 28, campaigners in Philadelphia also sold 15 subscriptions and 11 books.
Party members and supporters across the country began a four-week drive June 25 to win 20% of those who subscribed to the Militant this spring to become long-term readers of the paper. The drive also includes selling a similar number of books by SWP and other revolutionary leaders to subscribers.
"I like the Militant's weekly coverage opposing Putin's war in Ukraine," Sharon Burnett, a retired cook and member of the Service Employees International Union, told SWP members Leroy Watson and Dan Fein when they visited her home in Englewood, on Chicago's South Side June 27. Burnett has been reading the paper for nearly a year.
"U.S. sanctions against Russia are a hindrance to building solidarity between workers in Ukraine and Russia. That's crucial to pushing back Putin's attacks," Fein said. Burnett renewed her subscription and picked up two books, Are They Rich Because They're Smart? Class, Privilege, and Learning Under Capitalism, and In Defense of the US Working Class.
Challenges raising a family
In a campaign trip to Princeville, a rural region two hours east of Montreal, Katy LeRougetel, Communist League candidate in the Quebec provincial election in Montreal's Anjou-Louis-Riel riding, and CL member Annette Kouri visited Kiève Parisée, 21, and her family June 21.
Parisée said she and her husband both lost their jobs two days earlier. They had worked for the Pair program that telephones the elderly living alone once a day to make sure they're OK and gets them medical care if needed.
"I took the job because I could work from home and still care for the baby," she said, pointing to the lack of child care during the pandemic. "I used up my unemployment insurance, so I had nothing when my daughter was born recently."
"It takes a lot to raise a family," replied LeRougetel. The CL urges unions to lead a fight for a shorter workweek with no cut in pay to spread the available work around. "We're for a program of job creation, together with child care, affordable housing and family planning services, including access to abortion for those who choose it."
Parisée took a copy of the Communist League program and an article from the Militant translated into French.
For more information or to join the Militant renewal campaign and the effort to get the SWP on the ballot in Pennsylvania, contact the nearest campaign office.
Beverly Bernardo contributed to this article.