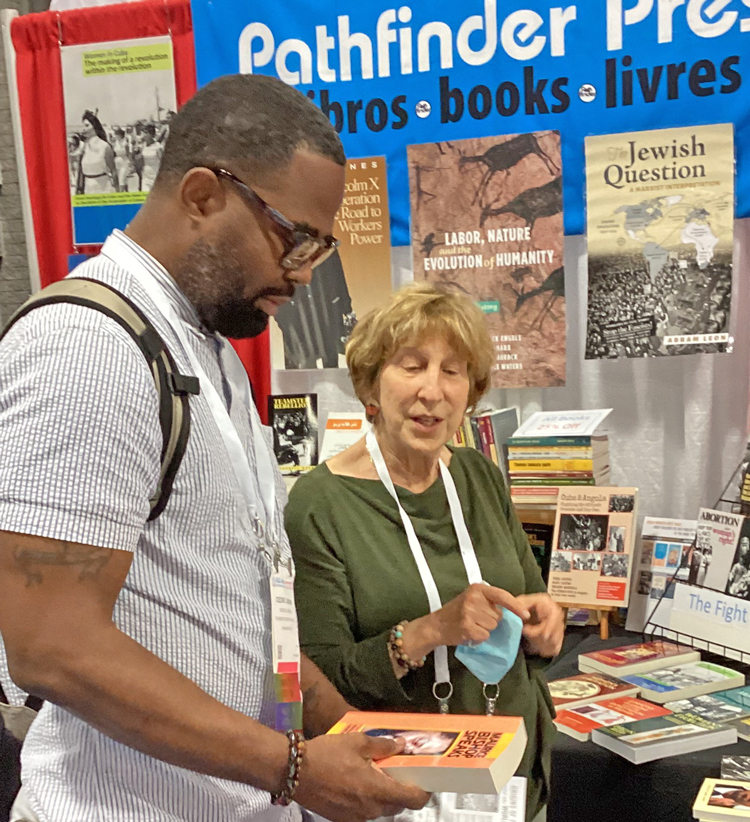 WASHINGTON — Pathfinder Press sales volunteers came from seven cities and towns across North America to staff the Pathfinder booth here at the first in-person American Library Association conference in three years. Almost 14,000 attended the June 24-27 event.
The opening of the conference coincided with the U.S. Supreme Court's handing down its decision finding Roe v. Wade unconstitutional. Discussions about this ruling, what working people are facing today, the place of the fight for women's emancipation, and what the decision meant were widespread at the gathering. A number of participants were attracted to the Pathfinder display featuring books that offer a class-struggle approach to the fight for women's rights.
Hundreds of librarians were introduced to Pathfinder's books, which present the lessons of revolutionary working-class struggles in works by Karl Marx and Frederick Engels, V.I. Lenin and other Bolshevik revolutionaries, Fidel Castro and other leaders of the Cuban Revolution, as well as leaders of the Socialist Workers Party and other revolutionary working-class fighters such as Malcolm X.
The Pathfinder booth also drew interest from participants who were looking for books that help explain leading political questions of the day — from Moscow's invasion of Ukraine to the fight that overthrew Jim Crow segregation, and the economic and political crisis facing workers worldwide. Among the books that conference-goers picked up addressing these questions were Capitalism's World Disorder by Socialist Workers Party National Secretary Jack Barnes; Fascism: What It Is and How to Fight It by Leon Trotsky; Malcolm X, Black Liberation, and the Road to Workers Power, also by Barnes; and Lenin's Final Fight, which describes his battle to support self-determination for peoples formerly oppressed by the czarist regime against growing reactionary Stalinist pressure.
Over the course of the conference 62 books and 17 single issues of the Militant were sold. Fifty-eight conference participants signed interest cards to find out more about Pathfinder books, many of whom expressed interest in having a volunteer contact them to discuss adding Pathfinder titles to their library's shelves.
The top sellers included Labor, Nature, and the Evolution of Humanity, Pathfinder's newest book; Women's Liberation and the African Freedom Struggle by Thomas Sankara; and Are They Rich Because They're Smart? by Barnes.
Some 500 leaflets featuring titles related to Russia's war against Ukrainian independence were distributed.
Pathfinder volunteers also participated in presentations and workshops, including a number of sessions on the right of workers behind bars to get and read literature of their choice, to be part of the world; how to get more books into prison libraries; as well as questions around how to fight efforts to censor or ban books in prisons and schools.
One conference session entitled "Protecting the Right to Read for Incarcerated Individuals" included Reginald Dwayne Betts, a former prisoner who found reading while in prison and is now a poet and MacArthur Fellow. Betts has started Freedom Reads, a program to get books and micro-libraries into prisons across the country.
Pathfinder volunteers joined discussions in the workshops, telling participants how the Militant has fought — and mostly won — battles against efforts by prison authorities to prevent the paper from reaching its subscribers behind bars.
The questions around censorship of books generated some sharp disagreements. In one session, titled "Unite Against Banned Books," panelists Nancy Pearl and writer Jason Reynolds argued that opposing book banning meant just that, no books should be banned from libraries, even books they personally objected to, like those that deny the Holocaust happened. This sparked quite a bit of debate, both there and afterward.
Volunteers look forward to following up with librarians and others they met to expand the reach of Pathfinder literature.