Across the country thousands of workers gathered and marched in Labor Day actions across the country. Many featured workers on the front line of today's strike battles, including miners locked in a bitter 17-month fight with Warrior Met Coal bosses in Alabama, mental health workers on strike at Kaiser in northern California, rail workers all across the country and more. Below are a sample of reports the Militant has received from unionists who participated.
Solidarity with today's labor battles! Join the fight!
Striking coal miner featured at Atlanta Labor Day rally
BY JANICE LYNN
ATLANTA — "We're in a long, hard struggle and fight against corporate greed," Brian Kelly, president of United Mine Workers of America Local 2245, told some 200 unionists and others at the Labor Day rally here. Kelly is one of some 1,000 UMWA members who have been waging a hard-fought strike against Warrior Met bosses in Alabama, which is going into its 17th month.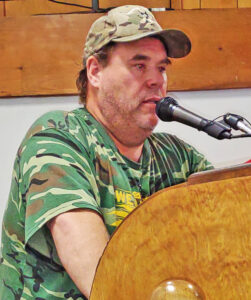 "Solidarity means a whole lot to us, your donations, your support, your coming to our rallies, because with solidarity we have strength in numbers and this goes a long way," he said to applause. "This is what unions are all about."
After the rally, which was sponsored by the Atlanta-North Georgia Labor Council, everyone gathered at the United Auto Workers union hall for food, music and more speeches. Kelly spoke again, explaining how in 2015 the previous owners went bankrupt and Warrior Met took over. They imposed major concessions on health care, pensions, a $6 per hour wage cut and more. The bosses promised the cuts would be restored when they started turning a profit.
"Coal mining is a dangerous job. We were working up to 16 hours a day, seven days a week. We were only off Christmas, Christmas Eve and Thanksgiving," he said. "And Warrior Met has made record profits."
Kelly denounced the letter the union received from Warrior Met, which lists 40 strikers the company says it won't allow to return to work, without giving any reasons. "I'm one of them," Kelly said.
"We need a resurgent union movement," he said. "Solidarity can make this happen."
Striking nursing home workers lead Pittsburgh Labor Day march
BY CANDACE WAGNER
PITTSBURGH — Striking nursing home workers, mostly from the Grove nursing facility in nearby Harmony, joined the Labor Day march here. They are among 700 workers at 14 sites around the state who walked off the job Sept. 2. The workers are organized by Service Employees International Union Healthcare.
This rail worker visited the picket line in Irwin on the first day of the strike to extend solidarity and learn more. SEIU Healthcare chapter President Shannon McBride said, "The issues are wages, more staff and better health benefits."
Myra Taylor, a nurse at Allegheny General Hospital in Pittsburgh and vice president of the union there, also joined the picket line in solidarity. "The conditions here affect all of us. Staffing and safety, patient care, are the same issues at the hospital," she told me to put in the Militant.
N. Calif. Kaiser mental health workers lead California action
BY ERIC SIMPSON
OAKLAND, Calif. — "We teach our patients to have self-respect," adult therapist Sabrina Chaumette told a Labor Day rally of hundreds outside the Kaiser hospital where she works here. "Our being on strike is an example of self-respect. We can tell our patients that we gave everything we could to bring them the care they need."
Some 2,000 mental health therapists and clinicians, members of the National Union of Healthcare Workers, are on strike at Kaiser facilities across Northern California and Hawaii.
Kaiser — supposedly a "nonprofit" outfit — made $8.1 billion in net profit last year. Woefully inadequate staffing and unsustainable work schedules that preclude providing necessary care are the central issues in the strike. Kaiser bosses are refusing to negotiate.
"The day before we went on strike I saw three teens who had attempted suicide. My next available appointment for them was in November," Chaumette told the rally.
"There has been a 30% rise in the teen suicide rate over the last years," striking family therapist Brendan Hinkle told the Militant. He has worked at Kaiser in the Sacramento area for 25 years.
"We do this work because of our values and our ethics," he said. "We want to help people, it's our calling. It is an ethical and moral injury to all of us to work under these conditions."