Days before Nov. 8 elections, the Socialist Workers Party and its candidates are making a final push to reach working people with the party's program and activities.
Gabrielle Prosser, SWP candidate for governor of Minnesota, spoke at a candidates' forum sponsored by the Fairmont Area Chamber of Commerce Oct. 27. "Prosser with the Socialist Workers Party is a union member who works at a bakery in north Minneapolis," the Duluth News Tribune said, reporting on the forum.
"The prospect for young people to move out, let alone raise a family, is being undermined by the current moral, economic and social crisis of capitalism," Prosser said. The Minneapolis Star-Tribune also reported on the SWP candidate, saying she is "zeroed in on supporting workers and unions." In an interview, Prosser told the paper, "The choice between the DFL [Democratic-Farmer-Labor] and Republican parties is a trap. Neither one of them has working people's interests in mind."
There are only two candidates on the ballot in Pennsylvania's 3rd   Congressional District in Philadelphia: the SWP's Chris Hoeppner, who is a rail worker in the SMART-TD union, and Democrat Dwight Evans. The state's voters' guide asks candidates to list their education, and Hoeppner says: "March on Washington 1963; participation in movement against the Vietnam War from high school until its ending; decades-long education in the labor movement."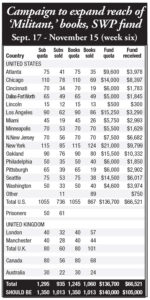 The SWP's campaign goes hand in hand with efforts by party members, along with Communist League members in Canada, Australia and the U.K., to get 1,350 Militant subscriptions and the same number of books by SWP leaders and other revolutionaries into the hands of working people by Nov. 15.
Rachele Fruit, SWP candidate for governor of Florida, welcomed people to the SWP's new hall in Miami Oct. 28. "The SWP demands that the U.S. government end its 63-year-long economic, trade and financial war against the people of Cuba. Immediately!" she said. "Their hatred — and fear — of the working people of Cuba and their socialist revolution is an extension of their contempt for workers here fighting to defend our constitutional freedoms against assaults by the White House."
Olivia Ortiz met Joanne Kuniansky, SWP candidate for U.S. Congress from New Jersey and a member of the Bakery Confectionery, Tobacco Workers and Grain Millers union, and party member Terry Evans in Garfield Oct. 30. Ortiz is a construction worker.
After discussing what workers face, Evans said, "Democrats and Republicans defend the bosses and ask you to choose which of them is a lesser evil."
"That's no choice!" Ortiz said. "They make promises they'll never keep because they just want to stay in power."
"We need to chart a course toward working people taking political power into our own hands," Kuniansky added. Ortiz liked the Militant's coverage of the protests in Iran and got a subscription.
The SWP Party-Building Fund, with a goal of raising $140,000, is key to financing the party's work. In Dallas a participant in a demonstration in solidarity with protests sweeping Iran kicked in $100 after talking with party members. To help make the campaign successful, contact the SWP or Communist League branch nearest you.