As of Feb. 14, the deadliest toll from an earthquake in Turkey in almost a century reached some 35,000 with the bodies of countless others still buried in the rubble. More than 5,500 died so far in northern Syria.
Hundreds of thousands of survivors spend freezing nights in crowded tents with little food. "No electricity, no water, no toilet," Saba Yigit, a nanny, told the New York Times. In Adiyaman, a city of 300,000, families dug graves and they knocked down walls of supermarkets and grocery stores looking for food and water.
Turkish President Recep Tayyip Erdogan claimed it was "impossible for anyone to prepare for the scale of the disaster."
But it's no secret the region lies on a fault line. The number of deaths is not a result of the magnitude of the tremor, but the shoddy housing and other wretched conditions working people live under. Neither the Turkish or Syrian governments, nor Washington, Moscow, Tehran and other powers that intervene in the region have any intention of changing that. Moreover, their conflicts and wars for territory and influence hamper aid efforts.
The effects of the earthquake are turned into a social disaster by the profit-driven workings of capitalism.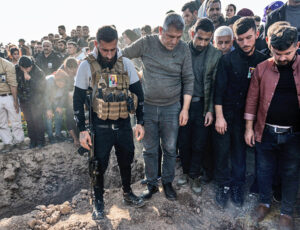 In northern Syria the Feb. 6 earthquake piled hardship on top of the 10-year civil war in which more then half a million people have been killed. It began after President Bashar al-Assad's regime attempted to crush a popular uprising for political rights in 2011. Moscow and Tehran intervened, providing military force that was decisive to propping up his dictatorship.
Tens of thousands of civilians are homeless in northern Syria. Buildings in the rebel-held areas were already weakened by years of bombardment from Assad's and Moscow's forces. Their assaults have also destroyed hospitals and health centers.
Since 2016 the Turkish rulers have launched four military incursions into northern Syria, largely targeting the Kurdish-based People's Protection Units (YPG). The YPG won control over much of the area where some 2 million Syrian Kurds live. Ankara views Kurdish control as a threat because of the example it sets to Kurds in Turkey who have fought government attacks on their national rights for decades.
Some 30 million Kurds are an oppressed nationality spread across Iran, Iraq, Syria and Turkey. Each of the capitalist rulers there has suppressed Kurds' struggle for a homeland, with the complicity of Washington. The U.S. rulers keep 900 soldiers in northern Syria to protect their own strategic interests in the Middle East.
In recent years Erdogan has stepped up his regime's repression of Kurds in Turkey, attacks on Syria and assaults on political rights. Less than a week after the earthquake, Turkish forces carried out a deadly drone strike on the city of Kobane in northern Syria.
Some aid has begun to arrive in Turkey. Ukraine sent 88 emergency responders Feb. 9. "There is a war in our country, but we understand that we have to help," said Oleksandr Khorunzhyi, a spokesman for the State Emergency Service of Ukraine. "We sympathize with the Turkish people, the families of the dead and wounded."
On Feb. 12 a 32-person specialized medical brigade from Cuba arrived. The Henry Reeve International Contingent was established by Fidel Castro in 2005 to offer help to residents in New Orleans after Hurricane Katrina — an offer the U.S. government rejected. Since then the brigade has assisted populations affected by earthquakes in more than a half-dozen countries, from Pakistan and Peru to Haiti.
Volunteers from Turkey have stitched together a makeshift health care system. One medical student hitchhiked 375 miles to the disaster zone. A plane full of doctors and nurses arrived from Istanbul. "I just heard the news and thought, I can't stay at home," Mumtaz Buyukkoken, 27, a medical intern told the New York Times. The Turkish government dispatched 141,000 aid workers to search for the dead, distribute food, blankets and diapers and help erect tents.
In areas hit by the disaster with large Kurdish, Alevi and Arab populations, people are organizing mostly without government help, Turan Zorlis, a Kurdish volunteer for the Refugee Workers Cultural Association in London, told the Militant. The government discriminates, he said, concentrating its efforts primarily on areas populated by supporters of AKP, the government party.
Anger directed at Erdogan
Across Turkey grief is turning into anger, directed toward the government, which consolidated control over the country's disaster-relief programs. It collected $38 billion from taxes levied on these programs after a 1999 earthquake killed 17,000. Like the Red Cross in the U.S., only a smidgen of the billions raised actually reach those that need help.
Between 2018 and 2019 the government also allowed building owners to pay to register properties without installing safety provisions that are supposed to offer protection against earthquakes. As a result, the government raked in another $3.1 billion.  Facing swelling complaints, Erdogan's government turned on company owners, arresting dozens and blaming them for inferior construction. In the Saraykint neighborhood of Antakya, residents pointed to a newly built luxury 14-floor building that collapsed. "The concrete is like sand," one man told the Times. "It was built too quickly."
Erdogan, who faces a re-election challenge this spring, claimed he will rebuild affected areas in one year and pay rents for millions of displaced people.
The first aid to the rebel-held area of Syria was delivered Feb. 9 by a United Nations convoy crossing from Turkey. For years, capitalist powers delivering assistance to the 4 million people living there have done so via Turkey. Assad and his backers in Moscow want to crush the rebels and say aid deliveries violate Syrian sovereignty.
They insist that any aid goes through only one border crossing between Syria and Turkey, at Bab al-Hawa. But following the earthquake the Syrian government approved opening up other crossings. At the same time, Assad has reiterated his demand for all aid to be coordinated with his government.
Washington has announced that it was suspending its sanctions on Syria for six months. These penalties fall hardest on workers and farmers, compounding the widespread social and economic collapse due to the civil war.