As Moscow attempts to crush the Ukrainian people, sending wave after wave of Russian conscripts to their deaths in the assault on the city of Bakhmut, the Vladimir Putin regime has launched its biggest air strikes in several weeks on Ukrainian cities.
The Kremlin unleashed a bombardment of residential areas and critical infrastructure in 10 regions March 9. Half of its 81 missiles and drones were downed by Ukrainian fire. But "hypersonic" and other high-speed missiles evaded air defenses. Three thermal power stations were hit and the Zaporizhzhia nuclear plant temporarily lost its electricity supply, crucial to cooling its reactors.
Putin's drive to inflict maximum death and destruction is similar to the targeting and slaughter of vast civilian populations in Dresden and Hamburg, Germany,  and Tokyo by the U.S. rulers and their imperialist allies in World War II. They had the sole aim of demoralizing working people.
Putin's bombardment is consistent with his goal of obliterating Ukraine. At the start of the war he claimed the country had no right to exist because its people had been part of Russia "since time immemorial." He blamed Bolshevik leader V.I. Lenin for Ukraine's existence. In fact, the workers and farmers government that came to power after the 1917 Russian Revolution fought to end centuries of oppression by unconditionally granting all nations in the former czarist empire the right to self-determination.
Today Putin seeks to recreate the Russian Empire of the czars. He hopes the greater numbers of conscripted Russian infantry he uses as cannon fodder can wear out Kyiv's forces.
But so far Moscow has failed to damage the fighting morale of working people in Ukraine. Dnipro in the east has been hit by several deadly missile strikes in recent months. "Our psychological state has improved considerably," resident Inna Shtanko told the BBC. "The city has been transformed. Finally, street lights are back, and it's no longer scary to walk the city streets."
Russian troop morale hit
Months of shelling and building-by-building urban warfare have devastated Bakhmut. Ukraine's troops pulled back March 7 to defend positions west of the Bakhmutka River that divides the city. Tens of thousands of Russian conscripts — workers and farmers in uniform — have died on the battlefield there. Many are convicts forced into "volunteering" for the Wagner Group mercenaries.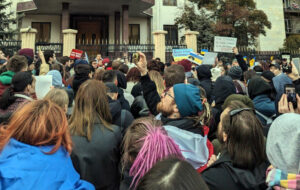 Kyiv's defensive forces also face heavy casualties, although a fraction of those suffered by the invaders. Ukrainian medics are saving the lives of most wounded. Many of those who recover from their injuries return to active duty. Moscow's forces, in contrast, abandon many of their dead and wounded on the battlefield, adding to troop demoralization.
In Donetsk some Russian reservists have been locked in basements for refusing to follow orders. Soldiers from at least 16 regions of Russia have recorded video messages since early February condemning commanders for their conduct of the war.
A video by soldiers in the 1004th regiment at the front in Donetsk was posted after a commander was sent from Kaliningrad, their home base, to quell protests by the troops. "Why should I fight there? What for? Who for?" one soldier is heard yelling at the commander in the video. "They're sending us to a sure death."
"Go jail us!" the soldier says. "I don't give a damn. At least I'll get to live."
"We're just sent in for slaughter," a soldier, called up from eastern Siberia's Irkutsk region, says in another video.
After four appeals by troops from the 1439th regiment to Putin to stop the slaughter, their wives and mothers recorded a video. "The commanders have abandoned them and told them not to leave their positions," one woman tells Putin. "Our men have been without food and water for days." Another says her husband told her that the soldiers "were shot and killed like at a shooting range."
Underground art
Putin's invasion is accompanied at home by a crackdown and jailing of opponents. Some artists continue to express their opposition to the invasion and show solidarity with the Ukrainian people through their work. But now they have to organize secret exhibitions by word of mouth, reminiscent of covert dissident shows held under the Stalinist regime in the Soviet Union.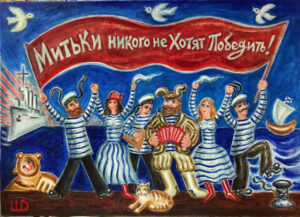 "There is much less freedom now. Exhibitions are going deep underground," Elena Osipova, 77, a well-known St. Petersburg artist and protester, told the March 9 Washington Post. "No one talks about them openly, but they are happening all the time."
The cops frequently remove Osipova from her solo street protests but she continues anyway.
In January a painting by Dmitry Shagin was removed from the All-Russian Decorative Art Museum in Moscow because it depicted an antiwar slogan that emerged during protests against the invasion of Afghanistan by the Stalinist rulers in the Soviet Union. Moscow's long war there undermined morale within the army and fueled opposition to the regime at home, as is happening again today.
"We see censorship is returning," Shagin told the Washington Post. But artists will not be trampled on, he said. "Art is free. It cannot be controlled from outside, and it will always be free."