EAST PALESTINE, Ohio — Socialist Workers Party members visited with workers and farmers here March 13-14, discussing how rail workers and other union members, farmers, small proprietors and youth in the area can come together to force Norfolk Southern rail bosses and the government to clean up the serious damages caused by the Feb. 3 derailment, massive fire and burn-off of toxic chemicals. This presents an opportunity to work together to monitor and take control over the entire effort.
Norfolk Southern CEO Alan Shaw testified at a Senate hearing in Washington March 9, claiming he's "deeply sorry," and the company will do whatever is necessary to make things right. Residents in the East Palestine area we've spoken with don't believe him.
The truth is the rail bosses, with support from government officials at every level, rushed to puncture, bleed out, and burn off five derailed carloads full of toxic vinyl chloride, creating a billowing black cloud and raining down dangerous chemicals for miles. The burn produced phosgene gas, the same heavier-than-air gas that was used to kill over 75,000 soldiers in the deadly trench warfare that marked the first imperialist world war. Then, within hours, they had re-laid the tracks and started running trains through the town again. As in all questions, the drive for profits dictated their every move.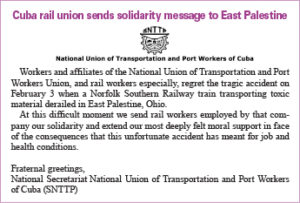 Protests by working people in the area forced the company to back down and agree to rip up the new tracks and remove tons of dangerous chemical-soaked soil underneath.
As we have in previous visits to learn about and express solidarity with workers, small-business people and farmers here, we pointed to this victory as proof that it's possible for our class and its allies to organize in our own interests against the rail bosses and their government. Involving the many unions in this area would be crucial. Volunteer committees could monitor the testing of air, water and soil, and demand specific testing and remediation. They could publicize the results and fight for permanent free medical clinics in the area paid for by Norfolk Southern to test for and deal with effects of the disaster.
Robert Anderson, a young car mechanic who lives in Enon Valley, close to the derailment site, wanted to talk. He grew up in the area. His grandfather has a farm nearby. Anderson had previously spoken to SWP members. "I would like to see us get together," he said. "But I feel like you can't fight a big corporation. It looks bleak to me. I don't disagree, but it's uphill the whole way."
Steve Zamboni answered. "They do own the means of production, but we produce all the wealth. And we're the vast majority. We need to build solidarity."
"Yes, we do need to get together," Anderson said.
"Rail workers across the country were going on strike in December," Zamboni, a freight worker said. "But the government stepped in and told us, 'You can't strike. We're forcing you to take the union contracts that the majority had rejected. But with this derailment there's a lot of attention on the conditions we work under, especially the massive layoffs all the railroads did.
"Now we have a big opportunity to reach out and get support for our demands. Union leaders have protested the conditions here. The rail unions should get involved in the fight here," Zamboni said.
As a result of the discussion, Anderson decided to subscribe to the Militant and bought the books, Are They Rich Because They're Smart? and The Low Point of Labor Resistance Is Behind Us: The Socialist Workers Party Looks Forward by SWP leaders Jack Barnes, Mary-Alice Waters and Steve Clark.
People want to express solidarity
When Militant worker-correspondents Tony Lane and Malcolm Jarrett dropped by the Sutherin Greenhouse to talk with owner Dianna Elzer and worker Tish McDevitt, who are determined to rebuild the area, they described how a woman had come to see how she could help. "We said go for it," Elzer said.
Turned out nurse Terri Graleski was a member of a Jeep owners club in nearby East Liverpool, and is now organizing an area-wide "Jeep invasion" March 18 to bring people to East Palestine.
"I just thought that someone had to do something to help them out," she told WKBN News. "It's a way to get people into their town and get their businesses patronized." Graleski stressed that everyone's invited, not just Jeep club members. Posters are up all over town, saying activities will run from 11 a.m. to 6 p.m.
This initiative shows the potential for building a fighting alliance of workers, farmers and others to advance control over their lives.
Besides the rail company and government officials who want to keep workers out of their affairs, the biggest obstacle to this fighting course is the army of lawyers who have descended on the area, smelling money. Their interest is in painting the most catastrophic possible picture of future life in the town and pushing lawsuits as the only possible remedy.
Militant subscribers Linda and Russ Murphy spoke on the phone later with this Militant worker-correspondent. "Two wells near us tested positive for some of the chemicals on that train," Linda Murphy told me. "Then the Environmental Protection Agency said that maybe the tests were 'false positives' or not above a safety risk! I don't trust any of them."
"They stopped the town hall meetings," Russ Murphy said. "Now there are tables set up where you can get literature, including one titled, 'Odors aren't dangerous.' They aren't?
"You can ask questions of representatives of the EPA or testing companies. But they give you smooth talk. It's 'divide and conquer,'" he added. "On residents' illnesses, they explain maybe it's the 'power of suggestion.'"
"I would love to take up the sword and shield," Linda Murphy said. "But I don't think what you're suggesting is realistic. There have been meetings. The first was total chaos. In the second, we were asked to write up statements on our situations and concerns to be taken to Washington. I'm a pretty private person, but I took it seriously and wrote the statement. Then we heard nothing back!"
I said the Socialist Workers Party's view on the possibility of a fight here is based on the victories you've won so far, but more importantly on the fact that the "Low Point of Labor Resistance Is Behind Us," which is the title of the book the couple had purchased earlier.
"This isn't five years ago. The level of anger in the country among working people is high. We've seen a growing number of strikes and the truckers' protests," I said. "We don't make any predictions on what will happen, or if effective united action will succeed here. All we're saying is that there is no other road and we have a shot. Relying on the government, much less Norfolk Southern, or agreeing with the lawyers that 'we are your only hope' will get us nowhere.
"What we suggest — committees of workers, farmers and small-business owners involving the area unions, particularly the rail unions — is really the only way to guarantee that all measures are taken to protect the health and livelihoods of working people here."
"I think we're taking a nip at it here," Russ Murphy said. "But it's not just this derailment. Look at the crime levels. The medical system is getting worse annually. A hospital near here closed its maternity ward a couple of years ago. Change has to come, but I don't know how."
I said, "You're exactly right. The problems we face are systemwide. Working people getting organized is the only way forward."
"Rail workers face the same challenges, as our bosses slash crews, make our schedule a living hell, cut back on maintenance and run longer and more dangerous trains," Wagner told the Militant March 15. "We need to organize all rail workers through our unions to fight for control over the conditions and operations in the rail industry."
Candace Wagner is a rail conductor and member of the Brotherhood of Locomotive Engineers and Trainmen.