As the first large-scale war in Europe since World War II grinds on, tensions between the world's major capitalist powers grow and the world order imposed by Washington after the second imperialist slaughter is being shaken. At the same time Moscow faces fierce resistance by working people in Ukraine, it also faces growing sentiment against the war from soldiers and workers at home.
China's rulers seek to use Moscow's invasion to advance their own interests, against both Washington and the Vladimir Putin regime in Russia. Beijing gives economic but not open military support to the Kremlin. It blames the U.S.-led NATO alliance for the war as it postures as a "peacemaker."
But Beijing is also concerned that its backing for Moscow is undermining relations with governments across Europe where it seeks markets. The rival ruling classes in Europe fear the destabilizing consequences of the war and for some their support for Ukraine has a time limit.
China's ambassador to France, Lu Shaye, asserted April 21 that states that became independent after the breakup of the Soviet Union lack "effective status under international law," sparking a furor in Europe. He also questioned Ukraine's demand that Crimea — seized and annexed by Moscow in 2014 — be restored to Ukrainian sovereignty.
"If anyone is still wondering why the Baltic states don't trust China to 'broker peace in Ukraine,'" Gabrielius Landsbergis, Lithuania's foreign minister, said, "here's a Chinese ambassador arguing that Crimea is Russian and our countries' borders have no legal basis."
Beijing decided Lu's comments had gotten in the way of the regime's efforts to expand its influence and retracted them. China's foreign ministry spokesperson, Mao Ning, said, "Each member republic of the Soviet Union has the status of a sovereign state after the dissolution of the Soviet Union."
The row exacerbated frictions between governments in the European Union that have different attitudes toward Moscow's war. Josep Borrell, the EU's chief diplomat, condemned a move by Beijing and the Brazilian government to seek a peace settlement without involving the Ukrainian government. But the Italian government lauded Beijing's claim to mediate.
The war continues to have a devastating impact inside Ukraine, as well as in Russia. To replace the heavy losses its forces have sustained, Moscow has recruited up to 50,000 prison inmates, a tenth of all those imprisoned in the Russian Federation. On offer is a pardon after six months for those who survive.
Many opting to enlist are lured by the promise of better medical treatment. About a third of prisoners are HIV positive or have hepatitis C or tuberculosis.
"Conditions were very harsh" in the Kremlin's prisons, Timur, a Russian prisoner of war in Dnipro, central Ukraine, told the New York Times. He is HIV positive and feared he wouldn't survive his 10-year sentence with the poor medical treatment in the Putin regime's Gulag.
'A quick death or a slow death'
He realized his options were "a quick death or a slow death," he said. So he signed up for six months with Moscow's private mercenary Wagner group in exchange for better anti-viral treatment. With only two weeks of training, he found himself on the Bakhmut battlefield. "If you try to leave," he was told, "we will shoot you."
Many of his fellow soldiers were killed. After he and other former inmates were captured, Ukrainian authorities treated them with the anti-viral medicine they needed.
Inside Russia, Putin has been unable to use patriotic hoopla to prevent resistance by working people to the broad impact of the capitalist crisis. Demonstrations against the war are banned, but a protest against the rise in utility bills drew 300 people in Novosibirsk, Siberia, last month with no arrests. Similar actions were held in other Russian cities.
Fearing a growth of protests against the invasion, Putin continues to assault basic freedoms. Authorities shuttered the Sakharov Center, a rare meeting point for free debate in the capital's downtown area for almost three decades. It is named after a prominent Soviet-era dissident, Andrei Sakharov. It had become a focus for opposition to Moscow's invasion. Along with the prominent rights group of the same name, its final public event was held April 16.
"There is always hope," Vyacheslav Bakhmin, chair of the center, told the Moscow Times. "The situation [in Russia] will change again — the reality we live in right now has no future."
Yelena Sannikova, a former political prisoner, read several poems at the event, including some by Ukrainian poet and Soviet dissident Vasyl Stus. Prosecuted for his views on art and politics, he died in a Siberian prison in 1985.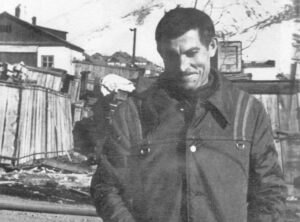 Stus' "A Poem From Ukraine" is among those gaining in popularity. It reads in part:
So many words; they are like crippled ghosts!
They strike like bullets, far and close by
But always miss the essence of my life;
They come in rows.
Through these deceitful words I walk and shamble.
There is a fight; I'm on the battlefield,
Where my soldiers are the words I wield,
And treason's sown by memories that scramble.
"History shows that hard times always come to an end and intense pressure gives even more strength to resist," Sannikova said.