The international campaign to expand the reach of the Militant, sell books by Socialist Workers Party leaders and other revolutionaries, and raise needed funds for the paper has been a big success. Members of the SWP and Communist Leagues in Australia, Canada and the U.K. have sent the campaign over the top, winning 1,451 new readers to the Militant, and selling 1,817 books. In addition $165,682 was raised for the Militant Fighting Fund. The eight-week campaign ended May 16.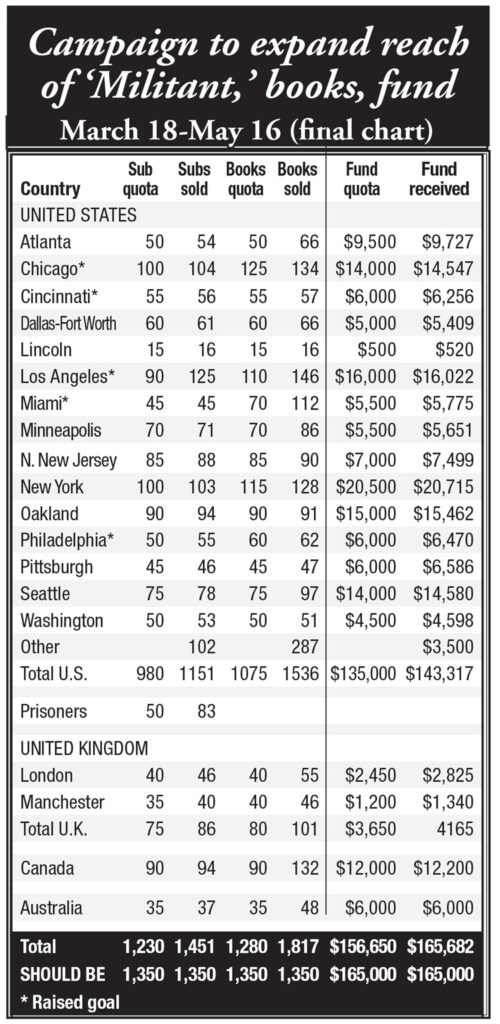 Campaigners spoke to thousands of workers and farmers on their doorsteps in cities and rural areas, taking advantage of the political openings resulting from the beginnings of a rise in confidence and combativeness of working people in the U.S. and worldwide.
SWP members have gotten a positive response as they've joined picket lines of teachers striking in Los Angeles; at rallies by Teamsters for a new contract with UPS; in discussions with hundreds of participants at book fairs, including in Los Angeles and Berkeley, California; at actions protesting Moscow's invasion of Ukraine; and at events demanding a halt to the U.S. rulers' economic war against Cuba's socialist revolution. 
Trucker Caleb Fernandez got a subscription to the Militant  from SWP members at a drivers' protest organized by the Truckers Movement for Justice in Washington, D.C. He thanked the Militant  for covering the action as part of its roundup of May Day events across the country. 
"That's a great blurb in a larger article of solidarity and action. I love it," he wrote to SWP member Arlene Rubinstein, who he'd met at the D.C. rally. The truckers' group, which Fernandez is a member of, seeks to unite all drivers, whether they are fleet drivers, lease drivers or owner-operators. 
Fernandez told Rubinstein truckers elsewhere are fighting attacks on their livelihoods by shippers, brokers, truck bosses and government agencies. 
"Mostly South Asian American drivers are organizing a strike and protest in Greenwood, Indiana," he said. "They are welcoming all to join. They have reached out in solidarity, so we are spreading the word about the May 17 action. We are building an alliance with Tamexun, a truckers' group in Mexico, and will join their upcoming action." 
Crisis in health care
In Sherbrooke, Quebec, Eliane St-Germain was attracted to the display of books the Communist League set up at a May 13 rally of 1,000 public-sector workers demanding higher pay and better working conditions. She works at the university hospital there. 
"The government is responsible for the crisis in the health care system," St-Germain told CL campaigner Rosemary Ray. "This is pushing nurses to resign." 
"What's needed is for the working class to break from the parties of the capitalist rulers," Ray responded. "This is what Félix Vincent Ardea, CL candidate for Parliament, explains. Workers need a labor party based on the unions." 
St-Germain bought a Militant subscription and The Low Point of Labor Resistance Is Behind Us  by SWP leaders Jack Barnes, Mary-Alice Waters and Steve Clark. Communist League campaigners sold three more copies of the book in French. 
During the final week of the campaign, party members from Fort Worth, Texas, visited the small town of Cleburne May 11. "We got a good response to the recent article in the Militant  on the explosion at a dairy in Dimmitt," said SWP member Alyson Kennedy. "We sold four subscriptions, one to a customer at a local feed store, and two copies of The Low Point of Labor Resistance Is Behind Us." 
Kennedy also spoke at a May 13 international workers day event organized by the AFL-CIO in Dallas. "President Biden and Democrats and Republicans in Congress refused to support the rail workers' unions and ordered them not to strike last fall," Kennedy told participants. "Working people need a labor party based on the unions. More workers are open to this today." SWP members sold four subs and five books at the event. 
The spring campaigns were an important political preparation for the SWP-hosted International Socialist Educational Conference taking place at Oberlin College in Ohio, June 8-11. To join in campaigning for SWP candidates or find out more about the conference, contact the party branch nearest you listed in the directory.