CHICAGO — Spirited chants of "UAW! UAW! UAW!" and "No deal? No wheels!" filled United Auto Workers Local 551's Ford workers' union hall here Oct. 7. Hundreds rallied to hear UAW President Shawn Fain and other speakers, part of the union's strike against the Big Three auto companies.
Over 4,600 Local 551 members joined the strike Sept. 29 at Ford's assembly plant here on the city's South Side, and walked off the job the same day at GM's Lansing Delta Township assembly plant in Michigan.
This brought the total to 25,000 workers on strike against Ford, General Motors and Stellantis at 43 factories, warehouses and distribution centers in 21 states. The strike began Sept. 15.
Delegations from several area unions joined the rally. They included other UAW locals, International Brotherhood of Electrical Workers, Service Employees International Union, Teamsters, Chicago Teachers Union, Association of Professional Flight Attendants, Communications Workers of America and the United Steelworkers.
Strikers here are winning widespread support. "This fight is for all of us," Osvaldo Mendoza, a member of IBEW Local 134 who works for Metra, the regional passenger rail, told the Militant. "We did a collection at work and brought 100 tacos to the strike picket line."
Local 551 President Chris Pena chaired the rally. "In 2008 we gave concessions. Our rights were stripped away," he said. "But now we are on strike to get back what we gave up."
The union is fighting for a big pay increase, a 32-hour workweek for 40 hours pay, to reinstate a cost-of-living adjustment to fight the effects of inflation, an end to the divisive two-tier wage and benefits setup, and for improvements to retiree pensions and health care plans.
Other speakers at the rally included Chicago Teachers Union President Stacy Davis Gates; Sara Nelson, president of the Association of Flight Attendants; Chicago Mayor Brandon Johnson; and Elmer Labog, chairperson of Kilusang Mayo Uno, a labor confederation in the Philippines.
"Yesterday we forced GM to say yes to include in our negotiations the workers at EV battery factories," Fain told applauding union members.
"Never have I seen so much solidarity on the job, on the picket line and nationally," said Cornelius Vandergroes, who has 24 years in at Ford. "This strike has been a long time coming."
Ford worker Chanda Lawson said, "As a single mom, inflation is making it impossible for me to make ends meet. We need wages that keep pace with inflation. I had never heard of COLA before, but this is definitely what we need.
"My co-workers' morale is really good," she added. "Local restaurants have even been dropping off food at our picket lines. It's great!"
Striker Frederick Young said, "Ford holds you on probation for two years as a temp. This has to end. I'm a 58-year-old man and you want me to work for $16 an hour and some change? My son makes more than I do. That hurts my soul and pride."
"Ford doesn't care about safety," said Denise Brown, with 20 years at the plant. "They used to allow us five minutes paid stretching time before the line started. They eliminated that, saying it takes too much time away from production. Consequently, injuries have increased. I've had six work-related surgeries." Her granddaughter came to the rally with her.
Stephen Hightower of UAW Local 2335 works at Lear Corporation in Indiana, which makes car seats for Ford. "Their struggle is our struggle," he said. "We are currently in negotiations for a new contract. We have voted down the last three company offers. We must establish strong union ties."
Toledo UAW strikers: 'No justice, no Jeeps!'
TOLEDO, Ohio — Three weeks into the UAW strike, the picket lines ringing the Jeep Complex here are strong, spirited and well-organized. The chant "No justice, no Jeeps!" is a favorite, and it's now emblazoned on signs, T-shirts and hoodies. A rap song with that title recently debuted at a union rally for "supplemental" temporary workers in Detroit.
The pickets at each plant gate are made up of workers from the same work department, strike picket captain Paula Reed told the Militant. "We were a work team inside, now we're a strike team — and getting to know each other much better."
Gesturing to a young striker nearby, she said, "I knew he was a single dad but it wasn't until we got out here that I really learned what it's like for him to work 70 hours a week and take care of his daughter.
"We're a family on the picket line. We cook, we socialize, we bring our children here," she said. "The union has a community service committee that's organizing help for things at home, child care, other issues. It's part of holding the picket teams together."
Almost every striker we talked to pointed to the solidarity they're getting from other workers and unions as a reason for the high spirit on the lines. "It's really uplifting to see the support for us," Randy Putterbaugh said. "The Steelworkers, Teamsters have come by, some rail workers from their union, people traveling come. There's a guy from Florida, he's been here for a week! He drives by, honks, brings things."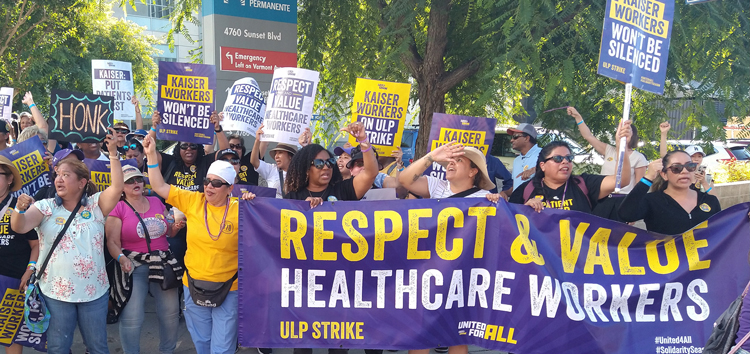 A convoy organized by nearby UAW Local 14 early in the strike made a big impression on the Jeep strikers, Putterbaugh said. "There were over 100 cars! It took over half an hour for them to get around the plant." Reed agreed. "These guys wouldn't tell you this," she said lowering her voice, "but they had tears in their eyes when that caravan came around."
Putterbaugh and fellow striker Gary Lupu think the strike is making progress. "Agreements on COLA, the right to strike over plant closures, GM agreeing to electric-battery production under our national master agreement is fantastic," Putterbaugh said.
"Thirty-two for 40 is not only about layoffs," Lupu said, "it's about overtime. Now we only get overtime pay after 40 hours. We should get it after eight hours."
While Militant correspondent Kathie Fitzgerald was speaking with Putterbaugh and Lupu, another striker came up and saw the Militant. "What's that? Can I take a picture of it?" he asked. "Sure," Fitzgerald said, "Why don't you get a copy?" He said, "Have you heard of the WSWS [World Socialist Web Site], that's socialist."
"That group is not socialist and it's anti-union," Fitzgerald said. "They show up in the middle of strikes like this one and attack the union, telling workers they should quit."
Putterbaugh jumped in, "Yes, we need our union. We're doing this for everybody, hopefully around the world. The more people are fighting the better it is for everyone. We look to the union movement to make a better life."
Shonda Moss, a few gates down the line, shared that sentiment. Her crew organizes weekly potlucks, play music, cheer and dance to keep their spirits up. She says, "Our strike is inspiring people. It's like the domino effect. What we do spills from local to local, from union to union, from state to state."
— Kathie Fitzgerald
and Linda Joyce
Ohio GM strikers rally, back demand for end to tiers
WEST CHESTER, Ohio — Some 200 striking UAW Local 674 members and their supporters rallied outside the General Motors Cincinnati Parts Distribution Center here Oct. 3. Local 674 represents 120 workers at the warehouse. Passing drivers blew their horns in solidarity.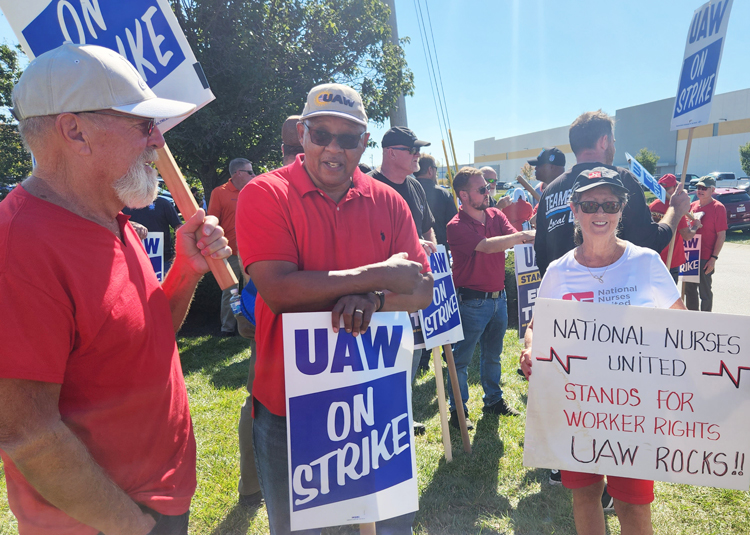 Among those at the rally were UAW Local 863 members from the Ford Transmission plant in nearby Sharonville, and members of UAW Local 128 from Troy, who work at Collins Aerospace Systems. The Collins workers had been locked out for a month in February and March 2022 before reaching a contract settlement.
Also present were members of Teamsters Local 100, including recently organized DHL ramp and tug drivers from the Cincinnati/Northern Kentucky International Airport; workers from the Amazon Labor Union organizing effort at the airport; representatives of UFCW Local 75, which organizes more than 30,000 workers in retail and food processing; and members of National Nurses United. The Dayton Central Labor Council built the rally.
Gwen Frierson, who works at the Ford Transmission plant, told the Militant she has worked at six stamping and parts plants in Ohio and Indiana, as the bosses have shut places down. "We're gypsy workers," she said.
"We're fighting for everybody, we're fighting for the young workers. With the tiers, they can't buy the cars we make," Frierson said. "Before the strike we were working eight-hour days, now we're working 10. They need those parts to survive a long strike."
"The shorter workweek is a safety issue," she said. "I could make it a little longer in the plant with it."
— Ned Measel
UAW strikers discuss experiences at the Ford plant in Wayne
WAYNE, Mich. — "It's been a journey," Mario Hearns said, describing his experience working for Ford since 1999. He had worked on and off as a temp for over a decade at the Dearborn plant, and now works here. He said he was part of a group of workers hired back by Ford in 2012, and the company had promised they would get up to top rate after a year and a half. "When we brought it up, the company said, 'We don't know what you're talking about.' They must have put that in the shredder."
"We've had huge pay cuts here," striker Jeff Jennings told the Militant. The UAW has taken significant cuts in wages and made other damaging concessions to the auto bosses in past contracts. "Once you give it up it's harder to get it back."
Jennings said he comes from a family of autoworkers that goes back generations and this was the first time Ford had been on strike since 1978.
Striker Eric Huth said he had just gotten his 30 years in at Ford and this was the first time he had been on strike. He said getting rid of the divisive two tiers is "the number one issue in the strike." He said workers had been kept temps "for many years and it's just not right," and that with the tiers, "you work alongside people to have to work another job" to make ends meet.
Strikers said there are a significant number of younger workers in the plant, hired on in the last several years. One young worker, who said her name was Cassie, said she's been working on the trim line for five years. "I feel like I am making history. It is so cool to be part of something that can make changes."
Jennings was saying goodbye to an older worker leaving the picket line. I asked him, "Was that a retiree?"
"No, he was a member of the bricklayers' union," he said. "One of the officers in his union had come down and he decided to come too. We've seen teachers and Teamsters. It's nice to see that support, everyone together.
"We run the country. We make the world go round," he added. "This is the younger generation's future."
— Tony Lane