Florida prison officials have impounded issues of the Militant  at least 18 times in the past 16 months, four times more than in prisons in the rest of the country in the last 10 years.
All except a handful of the Florida bans were overturned by the state Department of Corrections Literature Review Committee, but prison officials there keep impounding more issues, most recently six in a row — issues 24 through 29. The committee overturned the ban on issues 24, 26, 27 and 28, but, without a word of explanation, upheld the impoundment of issue no. 25.It will soon decide on issue 29.
It would appear the prison wardens hope to bury the paper and its attorneys in time-consuming and expensive fights to overcome censorship.
Officials at the federal prison in Greenville, Illinois, have banned every issue of the Militant  to a subscriber there. That subscriber was released Aug. 15, but the Militant  is continuing efforts to reverse the unconstitutional ban.
"There are well over 2 million workers behind bars in the U.S., a significant section of the working class," said Militant  editor John Studer. "They have a right to read literature of their choosing, to think for themselves, learn about working-class struggles and to speak out in support of working-class protests around the world.
"And the Militant  has the right to reach its subscribers — freedom of the press and free speech inscribed in struggle in the U.S. Constitution," Studer said.
In Aug. 21 letters to the Florida Literature Review Committee, appealing the impoundments of issue no. 25 and 29, Militant  attorney David Goldstein details the flagrant violations by prison officials. Goldstein's firm — Rabinowitz, Boudin, Standard, Krinsky & Lieberman — is well-known for its defense of civil liberties.
The Militant  never received official notice of several of the impoundments, a violation of Florida law. It was a prisoner who informed the Militant  of the ban on issue no. 25. This alone should have been "sufficient grounds to overturn this latest attempt at censorship," Goldstein notes.
The Department of Corrections bans are "arbitrary, irrational, inconsistent, unlawful, and unconstitutional," Goldstein adds.
All of the impoundments cite a generic pretext, falsely claiming that the paper "presents a threat to the security, good order, or discipline" of the prison. Everything about the bans indicate the real reason is because the Militant  "covers political issues, rallies or protests from a viewpoint with which prison officials may disagree," the appeal notes.
A special target of prison authorities has been the Militant's coverage of its fight against their censorship. The impoundment notice for issue no. 26 cited the article in that issue titled "Militant Challenges Ongoing Prison Censorship in Florida." The Literature Review Committee overturned that ban. The notice for issue 25 cited a similar article, "Militant Fights New Round of Censorship in Florida Prisons." Inexplicably, that ban was upheld.
The Literature Review Committee has declined to give any explanation of what its decisions are based on.
Meanwhile, Sara Revell, Federal Bureau of Prisons director of its North Central Regional Office, said in an Aug. 14 letter to Goldstein that she had recommended that Greenville prison officials conduct an "additional review" of the paper. At the same time she claimed that, in general, the warden's discretion to ban the Militant  "in order to maintain a safe and secure facility is supported."
But the next day Revell responded somewhat differently to a letter from a supporter of the rights of the Militant asking her to overturn the ban. Pointing to federal rules that say a warden "may not reject a publication solely because its contents is religious, philosophical, political, social or sexual, or because its content is unpopular or repugnant," she says she has asked the warden at Greenville to reconsider his ban.
Amnesty International USA, PEN America, Florida Civil Liberties Union, National Lawyers Guild, New York's Riverside Church Prison Ministry and many other organizations and individuals have backed the Militant's ongoing fight against censorship.
Join the fight!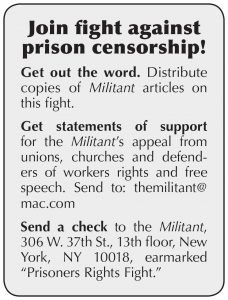 "We can push back these attempts to censor the Militant," Studer said, "and our subscribers and other supporters of political rights can help.
"Ask labor unions, church groups, community organizations, defenders of civil rights, prominent individuals and groups of co-workers to send letters protesting the bans," he said. "Letters from individuals can also have an impact."
Letters protesting the Florida prison censorship should be sent to Dean Peterson, Library Services Administrator, Florida Department of Corrections, Att: Literature Review Committee, 501 South Calhoun St., Tallahassee, FL 32399-2500 or emailed to: Allen.Peterson@fdc.myflorida.com
Letters protesting the censorship at Greenville should be sent to Sara Revell, North Central Regional Director, Federal Bureau of Prisons, Gateway Complex Tower II, 8th Floor, 400 State Ave., Kansas City, KS 66101-2492.
Send copies to the Militant at 306 W. 37th St., New York, NY 10018 or to themilitant@mac.com.