ERBIL, Kurdistan Region, Iraq — The 13th Erbil International Book Fair showed expanding space to discuss the broadest questions of world and regional politics here. This openness is a product of the Kurdish people's fight for their national rights and its place amid the wars, political conflicts, and forcible displacement of peoples from Syria to Iraq, Iran, and beyond, as well as historic shifts in the world imperialist order.
This was evident in panel presentations throughout the book fair, as well as nonstop discussions and brisk sales of books on revolutionary working-class politics published by Pathfinder Press. This is the second year that the London distributor of the New York-based publishing house has had a booth here.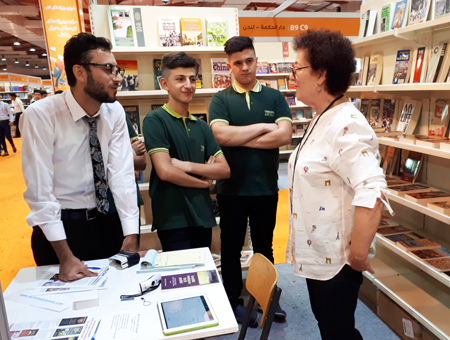 The fair itself reflects efforts by Kurds in Iraq — part of an oppressed nation spanning Turkey, Syria, Iraq and Iran — to assert their right to self-determination and a homeland. "A safe and secured Kurdistan, in a new Iraq, hosts this book fair as a free oasis for culture," read the call issued by organizers of the event, held annually since 2005. This year some 200 publishers from 30 countries participated in the event, held Oct. 10-20.
Usually held in April, the book fair was postponed due to punitive measures by the Iraqi government in response to an overwhelming "yes" vote in September 2017 on a referendum on Kurdish independence organized by the Kurdistan Regional Government.
Baghdad shut down the Erbil International Airport from late September until mid-March 2018. Together with Tehran-backed Hashd al-Shaabi militias, Iraq's capitalist rulers seized the disputed city of Kirkuk, nearby oil fields, and other parts of northern Iraq — some 40 percent of territory governed by the KRG. These areas had earlier been freed from Islamic State terror largely by Kurdish military forces.
These burning political issues marked the panels held on a stage at the back of the exhibition hall, alongside presentations of novels, poetry, and books on religion, science and technology on display at the book fair. Topics included:
"Kurdistani Views about Relations with the Center [Baghdad]";
"Military Struggle for the Sake of Peace: Kurds and Kurdistan";
"The Right to Demonstrate in Iraq";
"Water Security and the Dangers of Instability in Iraq" (contaminated water, along with opposition to interference in Iraqi affairs by the bourgeois-clerical regime in neighboring Iran, fueled weeks of street mobilizations this summer in Basra, Iraq's third-largest city);
"Corruption in Iraq and How to Solve It"; and
"Murders of Women: A Plan for Terrifying the Whole of Society."
Divide and conquer
Rose, 15, who bought a copy of Is Biology Woman's Destiny? by Evelyn Reed from Pathfinder, invited a volunteer at the booth to hear her presentation as part of a panel on "Humanity and Its Link to Peace," featuring students at the Sabis International School. "Our actions count, not our words," Rose told the audience. "There's money for war but not for the poor. Why is that?
"Religions separate us," she said. "We should unite as one, the one human race. How many more wars must we suffer from?"
Kurds and other peoples in Iraq have bitter experience with the divide-and-conquer methods of imperialist powers and the region's landlord and capitalist classes. Britain's colonial rulers bolstered their exploitation of Iraq for much of the 20th century by imposing the domination of a ruling clique of Sunni Islamic origin over the majority Shiite population, a situation that remained until Saddam Hussein's downfall during the bloody U.S. government invasion of Iraq in 2003.
The recent war against Islamic State shined a spotlight on the 2014 Kurdish-led operation to rescue thousands of members of the Yazidi religious minority facing slaughter and enslavement by IS. Up to 40,000 Yazidis had been trapped on Mount Sinjar in northern Iraq.
Vian Dakhil, the only Yazidi member of the Iraqi parliament, called on the world to help save her people. "We are being slaughtered, annihilated," she said in an appeal to the deputies. "An entire religion is being wiped off the face of the earth!"
On the opening day of the book fair, when former KRG President Masoud Barzani cut the ribbon, it was Vian Dakhil who formally welcomed him.
Many visitors to the Pathfinder booth also mentioned the recent announcement that Nadia Murad, a Yazidi campaigner against and survivor of Islamic State sex slavery, has been awarded the Nobel Peace Prize.
Faris Y. Jejjo, a former minister of science and technology in the Iraqi government here, organized for two Pathfinder volunteers to visit the Shlomo Organization for Documentation in nearby Ankawa during the book fair. The center collects evidence on crimes against Iraq's Chaldean, Assyrian, and other Christian populations, hundreds of whom were killed and some 136,000 displaced from their villages and cities by Islamic State after 2014. (An article on this visit will appear in a forthcoming issue.)
Kawa Mahmoud, a leader of the Communist Party of Kurdistan, told Pathfinder volunteers of working people's defiance of such divisions. In the village of Baze, north of Erbil and Mosul near the Turkish border, Christians and Muslims had lived side by side for centuries, he said. After the town was badly damaged by the Saddam Hussein regime during the 1990-91 Gulf War, the World Council of Churches offered to rebuild the Christian part. The Christian community got together and refused the funds, Kawa said, unless the aid was extended to the whole village.
Interest in how workers and others in Iraq can overcome such divisions and fight more effectively against their common oppressors at home and abroad was shown by the response to books on the roots of Jew-hatred and the struggle against it at the Pathfinder booth. Both The Jewish Question: A Marxist Interpretation by Abram Leon, and On the Jewish Question by Leon Trotsky sold out, with 26 copies in total bought by participants.
Many Kurds and others want to draw lessons from the intimidation and violence against Jews in Iraq that resulted in the vast majority of the centuries-old Jewish population fleeing the country between 1948 and 1951. Most found homes in the newly established State of Israel. The biggest remaining Jewish population in Iraq, a few hundred at most, lives in the Kurdistan region.
There was also substantial discussion at the Pathfinder booth of the Socialist Workers Party statement, "For Recognition of a Palestinian State and of Israel," issued by Jack Barnes, the party's national secretary, in December 2017.
"In opposition to Washington, to bourgeois governments and political organizations across the Middle East, and to the middle class left here in the United States," the statement says, "the Socialist Workers Party has a different starting point: the class interests and solidarity of workers and toiling farmers across the Middle East — be they Palestinian, Jewish, Arab, Kurdish, Turkish, Persian or otherwise, and whatever their religious or other beliefs — as well as working people in the United States and around the world. …
"We are for whatever renews our class solidarity and self-confidence, advancing us along a revolutionary course toward a united struggle for workers power."
Hive of discussion
There is an immediacy, a sense of urgency, to all these questions in a country whose people have lived with repeated wars and upheavals since the 1980-88 Iran-Iraq war, Saddam Hussein's 1988 "Anfal" extermination campaign against the Kurds, the 1991 and 2003 U.S.-led invasions of Iraq, and more.
That helps explain the 23 copies sold of issue no. 7 of New International magazine, featuring the article, "Washington's Assault on Iraq: Opening Guns of World War III" by Jack Barnes. (As with other titles, many more would have been sold if stocks had been plentiful enough to meet the demand.)
"The Kurdish people have come to the center stage in world politics as never before, not primarily as victims, but as courageous and determined fighters for national rights," Barnes wrote in that 1991 article.
"The U.S. rulers have alternately doled out aid with an eyedropper to Kurdish nationalist groups, and then abruptly cut off this backing, depending on Washington's shifting relations with regimes in the area."
That lesson maintains its timeliness today, from the KRG in Iraq to embattled Kurdish enclaves in northern Syria being shelled by Turkish government troops.
But the political interest at the book fair was not only — or even primarily — in titles about Kurdistan, Iraq, and the Middle East. Over the 11 days, the Pathfinder booth was a hive of discussion of politics and the class struggle in the U.S., the United Kingdom and around the world, with sales of 988 books — more than double the 2017 results.
There was interest in resistance by working people to the consequences of decades of attacks by the bosses and their governments in the U.S. and elsewhere. Many wanted to hear about the activity of communist workers in these countries.
The top sellers were two recent titles by Barnes: Are They Rich Because They're Smart? Class, Privilege, and Learning Under Capitalism (70 copies) and The Clintons' Anti-Working-Class Record: Why Washington Fears Working People (60).
Both titles address the need for workers in the U.S. to build solidarity in action, organize the unorganized into unions and fight for unconditional independence from the capitalist state and political parties — Democrats, Republicans or others. It's along that course that workers can forge our own working-class political party and build a revolutionary social movement to end capitalist rule and bring to power a workers and farmers government.
More than 100 copies were distributed of a talk in April by Socialist Workers Party leader Mary-Alice Waters given at a conference in Cuba, entitled, "In Defense of the U.S. Working Class." Waters pointed to the successful strike by teachers and other school workers in West Virginia in February — one of most significant labor battles in the U.S. in decades — and other strikes and protests that followed in Oklahoma, Kentucky, Arizona, Colorado and North Carolina. She said they were "a living refutation of the portrait of working-class bigotry and 'backwardness' painted by middle class liberals and much of the radical left" in the U.S.
As is the case the world over, books on the origins of women's oppression and the fight for emancipation were very popular. Many women who visited the booth made a beeline for these titles — whether they were in entirely secular dress or wearing a head covering; whether young, old or in between. And many men of all ages as well.
Top sellers included Is Biology Woman's Destiny? (in English and Arabic); Problems of Women's Liberation and other books by Evelyn Reed; Cosmetics, Fashions and the Exploitation of Women by Reed, Mary-Alice Waters, and Joseph Hansen; Women's Liberation and the African Freedom Struggle by Thomas Sankara, leader of the 1983-87 revolution in the West African country of Burkina Faso; and The Origin of the Family, Private Property and the State by Frederick Engels.
Revolution in Iran … and the U.S.
Another item that attracted great interest was a May supplement to the Militant, "Revolution, Counterrevolution and War in Iran: Social and Political Roots of Workers' Protests that Swept 90 Cities and Small Towns" by Steve Clark.
Most book fair visitors were aware to varying degrees — as a result of Kurdistan's own direct experience — of the anti-working-class course of Iran's bourgeois clerical rulers, including their drive to extend their counterrevolutionary military and political influence and economic domination across Iraq, Syria, Lebanon, Yemen and elsewhere.
Many, however, knew much less about the mass popular revolution that overthrew the U.S.-backed monarchy of the shah of Iran in 1979. A photo in the supplement of a demonstration of hundreds of thousands of women and men in Tehran on March 8, 1979 — the largest International Women's Day outpouring anywhere in the world that year — was often an eye-opener.
"It's like what happened in Syria," responded Ahmad, a young man who a few years earlier had fled a village outside Damascus after rebel forces shelled that government-held area. "People protested for freedom" against the tyrannical regime of Bashar al-Assad beginning in 2011, but when the government shot at them, they said 'destroy the regime.'"
A nearly eight-year-long civil war has ensued, in which more than 10 million Syrian toilers have been displaced, killed or maimed — most at the hands of Assad's forces and Tehran-organized militias, such as the Lebanon-based Hezbollah.
Ahmad's initial conclusion had been that popular revolutions and uprisings inevitably bring on bloody counterrevolutionary defeats — victory isn't possible. After more discussion on prospects for working people to build a social movement to unite the toilers in a struggle for power, he decided to get Is Socialist Revolution in the US Possible? A Necessary Debate Among Working People by SWP leader Mary-Alice Waters.
Ahmad's initial answer to that question — like that of many of the nearly 50 people who bought that book (and many who didn't) — was, "No!" But he was struck by our argument that the most powerful weapon the ruling families have is using their control of the schools, mass media, and other institutions to persuade working people we aren't capable of taking power, ending capitalism's dog-eat-dog social relations, forging human solidarity and transforming ourselves in the process.
We pointed to what's said on the book's back cover about the thought-provoking title on its front: "An unhesitating 'Yes' — that's the answer given here to the question, Is Socialist Revolution in the US Possible? Possible — but not inevitable. That future depends on us."
"I need this book," Ahmad responded, "and I will study it."
And he did. Responding to an email after the fair was over, Ahmad wrote, "I would say the book was amazing and real. It changed my thinking about the United States, the people living there and the socialist revolution in the United States."
Like Ahmad, many of those who sought out books and political discussion at the Pathfinder booth had either themselves fled conflict — such as the war against Islamic State in Mosul, or other sectarian violence in Iraq and Syria — or had worked in assisting refugees.
Hisham al-Aqrawi's family had fled Mosul in 2006, when he was still a boy, after threats by al-Qaeda, a precursor of Islamic State. He came twice to get books by Che Guevara and others, bringing a friend the second time. We showed him a tribute to Guevara in Thomas Sankara Speaks, entitled "You Cannot Kill Ideas."
"This is very important for Kurdistan and Iraq," al-Aqrawi responded. "Before, under Saddam, if they found you had a book by Marx, for example, they would do horrible things to you. Now, you can bring your books here, and we can have a discussion."
A number of people who spent time at the Pathfinder booth wanted to stay in touch to have further discussion and introduce communists from the U.S. and the U.K. to more people when we're back for book fairs in Erbil and Baghdad next year.
These included young people from Sulaymaniyah involved in actions for women's rights under the banner "Freedom not flowers"; from an organization in that same city inspired by the May-June 1968 worker and student uprising in France; members of the Communist parties in Iraq and in Kurdistan; and many others.