CHICO, Calif. — Working people in Paradise, Magalia and other towns near here were hit by one of the worst wildfires — named the Camp Fire — in state history, burning over 150,000 acres in Butte County beginning Nov. 8. There are 77 confirmed fatalities and 12,000 structures, mostly houses, have been destroyed. 
At the same time, the Woolsey Fire in Los Angeles and Ventura counties in Southern California burned 96,949 acres. There are three confirmed fatalities and 1,472 structures were destroyed. 
The result of these fires is a social catastrophe. But this disaster isn't the result of the fire; it was caused by the workings of the capitalist system that puts the profits of capitalist builders, investors, utility company executives, insurance magnates and other bosses before the lives of working people. The murderous toll could have been largely prevented if that was the priority of the capitalist rulers and their government.
Every day the number of confirmed deaths in Butte County increases as more and more bodies are discovered. Hundreds are still missing and unaccounted for. Most people in Paradise received no alert that the fire was roaring into the town. The alert system was voluntary, and less than half the residents were on the list. Those who tried to flee found roads blocked by fire, debris and the sheer number of people attempting to escape. Some burned to death in their cars.
By contrast, everyone with a cellphone in the wealthy town of Malibu got an Amber alert message warning of the fire danger there. 
Smoke from the Camp Fire has polluted the air all the way to San Francisco some 150 miles away. Air quality advisories throughout the Bay Area urged residents to stay home. 
The air gets worse the closer you get to the Camp Fire. Sales clerks at Ace Hardware in Colusa — a farm town 60 miles from Paradise — told the Militant  Nov. 16 that they had sold out their entire stock of 200 surgical masks in two hours. 
Over 50,000 people have been forced to flee the Butte County fire. Many have gone to Chico where they rented motel rooms, filled the few emergency shelters, or found lodging in churches and in homes where residents opened their doors to complete strangers. 
Human solidarity
Socialist Workers Party members who came to lend solidarity visited with several hundred who had set up camp in the Chico Walmart parking lot. Workers from the area pooled resources and bought tents and bedding to provide shelter for the refugees. Most arrived with little more than the clothes on their backs. Volunteers organized free food and clothing distribution booths. There was even a table with food for pets. 
An ad hoc group of students from Chico State University got together and brought sandwiches to the tent city. Under pressure to help, Walmart provided portable toilets and water bottles.
Despite rumors that Walmart wanted to shut down the camp, many working people remain there. Fresh rounds of volunteers have come in, working to raise tents off the ground before heavy rains arrive.
"We intend to support the needs of the people," Rain Scher, one of the volunteers, told the Washington Post. Those in crisis should have "agency and self-determination," she said. 
The six overcrowded government-run shelters in the area have become centers of an epidemic. Many have come down with highly contagious Norovirus, shaken by vomiting and diarrhea. Dozens have been taken to the hospital. 
Denise Chester — a housewife with three children who is married to a construction worker — told us she got no alert. "At first I grabbed a water hose and tried to save my house and the two houses close to it," she said. 
The fire was too much. She got her three children and their dog, and joined other residents to fight their way out of town. "We organized a caravan of 10 people," Chester said. "I knew a back way out and we took it. We went on dirt roads but we survived. My house was completely burned to the ground."
Dakota Reiley, 18, from Oroville, told us he and his brother made it to the Walmart parking lot without any money. "People I do not know bought the tent where we sleep," he said. "They bought all the other tents that you see too." 
Fred and Sally Hugg's farm in Concow survived when they were able to beat back the fire. They organized to gather and take in some 200 animals from people who had to flee, including 100 chickens, 60 ducks, 20 goats, three pigs and four donkeys. They've gotten help from other volunteers and members of the Future Farmers of America. 
Almost all of those involved in the largest search effort in California history — trying to find survivors or human remains in Butte Country — are volunteers. 
And more than 1,000 of those fighting the fires have been California prisoners who volunteered. Two prisoners are among the five firefighters severely burned in Paradise the first day of the fire. They are paid just $2 a day, with an extra $1 for each hour when they battle an active fire. 
The solidarity and collective aid from working people here is a powerful reflection of what our class is capable of.
Bosses, government indifference
David Insular and Theresa Lynn Squires are retired on disability. "The only place we could afford to buy a home was in the Paradise area," Insular said. "Now we have nothing left."
"They claim that the Federal Emergency Management Agency has set up shop in Chico to help us," he said. "I called their office and they told me that it would take 10 days just to get an application. We have friends in Redding where we could stay but we have no gas and no money to get there. I contacted the Red Cross and asked them for $40. They said they couldn't help."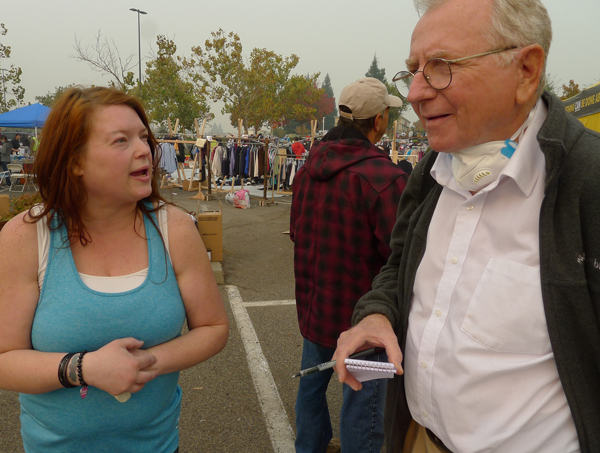 The Pacific Gas and Electric Company in Northern California has come under heavy criticism. Fire investigators have found PG&E bosses and their refusal to spend money to upgrade their infrastructure have been responsible for some of California's worst fires in the last three years.
Conditions Nov. 8 warranted a pre-emptive power shutdown, but PG&E bosses decided not to order one. Then they reported they had a problem on one of their high-voltage power lines near Paradise. Fifteen minutes later the Camp Fire broke out in that area. Authorities say this is most likely the cause of the fire. 
Places like Paradise are in what is called wildland-urban interface. Housing is built near forests and associated brush and grasslands. Fully one-third of all housing in the U.S. is built in this kind of area.
The steps to minimize fire danger is no mystery: keeping ground clear of debris and dead plants; removing fallen trees; periodic controlled burns; not stringing electric wires near dense forests, and instead putting them underground; and using fire-retardant materials in construction. But under capitalism, builders, utilities and governments deem these steps too expensive.
PG&E bosses find it more profitable to pay the fines than to take preventive measures to stop or retard fires.
In Magalia, volunteers kept the area around the Pine Ridge School thinned and clear. The school survived the fire intact. 
Cuba's revolution shows alternative
The simple fact is capitalism turns fires into social disasters. It leaves workers on their own to try and survive.
It doesn't have to be that way. Cuba's revolutionary government sets an example of what can be done when working people are in charge. "We have one unmovable principle," Raúl Castro said when Hurricane Irma hit Cuba last fall. "The revolution will not leave anyone defenseless and is already taking measures so that no Cuban family is left on its own." 
All of the resources of Cuba's people were mobilized. Everyone knew in advance what shelter they were assigned to move to. The government organized the evacuations. Special measures were taken to aid the elderly, disabled, ill and pregnant women. Livestock were moved to safer areas. Electrical workers were stationed to be in place to restore power.
Most importantly, humans were put before things. "No material resource is worth more than the life of any individual," said Federico Hernández, president of the Granma Provincial Defense Council.