WHITESBURG, Ky. — Socialist Workers Party candidates and members are talking with working people in big cities, small towns and farming areas across the country. Everywhere they go they knock on doors and introduce the party, its program, the Militant  and books by party leaders.
Amy Husk, Socialist Workers Party candidate for Kentucky governor, and campaign supporters knocked on doors here, a town of 2,000 in Letcher County, Jan. 4. Working people in this part of Kentucky have been hard hit by the closing of hundreds of coal mines over the last two decades. Once a union bastion, the last United Mine Workers-organized mine in the state closed in 2015.
"I'm from the Socialist Workers Party and we're running a working-class campaign," Husk told those she met. "Both the Democrats and Republicans defend the interests of the rich. The bosses and the crisis of their capitalist system have wreaked carnage in working-class communities. Working people need to rebuild the labor movement and organize to fight against these attacks."
SWP campaigners learn firsthand about the conditions fellow workers, farmers, small proprietors and others face, from low pay, rising debts, inadequate housing and transportation, to the scourge of the opioid epidemic wracking working-class neighborhoods.
"I sure am glad to see you're running," said Martha Blair, 28, after Husk and fellow SWP member Samir Hazboun knocked on her door. "Nobody else is going around here talking about how things really are and asking people what we think!
"Let me tell you, there are no opportunities in this area. The only jobs are mostly minimum-wage service jobs," she said. "I'm studying to be a cosmetologist and have signed up to get some work doing transcriptions at home. My husband is a radiology technician and he doesn't make enough money to live on."
"You're not alone," said Husk, a medical assistant in Louisville. "Millions of workers are unable to make ends meet. Health care workers do our best to give good treatment under difficult conditions, but the bosses don't care about us and they don't care about the patients that we take care of either."
"The bosses and their government try to get us to think that immigrant workers or workers who have been in prison deserve to be treated as second class," she said. "But this keeps us divided and hurts our ability to fight for all our rights.
"That's why my party defends the right of workers who've been behind bars to vote," Husk said. "Working people won this in Florida last fall. Kentucky is one of two states that denies this right for a lifetime to anyone who has been convicted of a felony. Our campaign calls for a fight to overturn this law."
"I agree with that, I've read about this fight and signed petitions online in support of it," Blair said.
Hazboun explained how workers and farmers in Cuba made a revolution in 1959 and began to uproot the system of oppression and exploitation they lived under. Workers in Cuba have reached out in solidarity with working people around the world ever since, despite unrelenting efforts by the U.S. rulers to overturn the revolution.
May Day Brigade to Cuba
Husk invited Blair to consider going on the May Day International Volunteer Work Brigade to Cuba this spring to see the revolution herself. "I'd really like to do something like that," Blair said. She asked the SWP campaigners to return so she could purchase a Militant  subscription when she gets some money and talk further about politics and the brigade.
The main activity of the party is knocking on workers' doors and seeking ongoing political relationships and collaboration. Key to this is following the party and politics through the Militant, and especially in books by party leaders and other revolutionaries. These describe how capitalism works and what workers and farmers can do to transform themselves in struggle, like the Cuban people did, to take political power.
The party is featuring special offers on five books.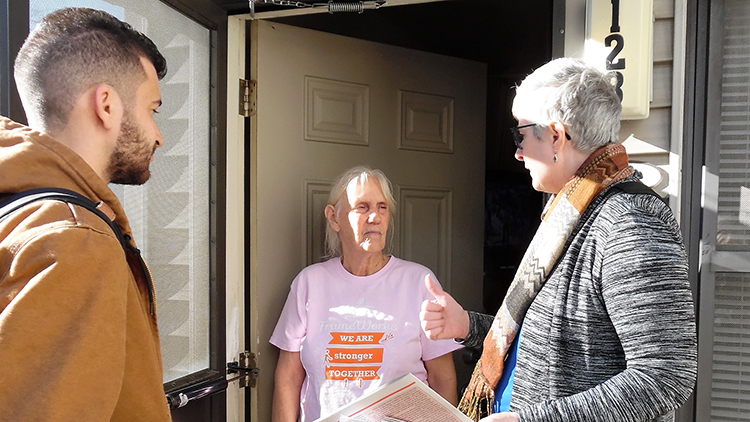 "The recent rise of black lung disease among miners is one of the most vicious examples of how the bosses attack us," Husk said when she and Hazboun knocked on the door of Lydia Hall, a disabled worker. "They have no regard for our lives except to make money from our labor. They take no responsibility for care for those whose lives they destroy."
"You've got that right!" Hall responded. Her father had been a union coal miner who fought for black lung benefits and safer working conditions. "My three sons were coal miners and one is still working." There's been a bit of an increase in mining in the area again, she said, but conditions in the mines are worse.
How can I help?
"What can I do to help the campaign?" Hall asked. When Husk asked if she thought any of her neighbors would be interested in joining her for a meeting with the SWP candidate when party members come back to town, Hall said, "Just let me know. I'll support you in any way I can. I know a lot of people here and I'll introduce you to them." She got a copy of the Militant.
Across the street SWP members met Jeannie Gibson. Her brother died from black lung disease. "He was only 56," Gibson said. "I have two other brothers who are miners. One has been fighting for benefits because of the disease. They've turned him down twice. He's real sick and he's still fighting."
"We have to fight for everything," said Husk. "Their system can't be fixed. We have to gain confidence through our unity in struggle to take the power out of the hands of the rulers. We can organize on the basis of human solidarity."
The SWP campaigners sold five copies of the Militant, a subscription and a copy of Malcolm X, Black Liberation, and the Road to Workers Power  by SWP National Secretary Jack Barnes. They met with three people interested in more discussion about participating in the May Day brigade to Cuba and three others who exchanged contact information to continue discussions.
Running for more than a dozen municipal and state offices, SWP candidates are the only voice in the elections in defense of the interests of working people and all the oppressed.
If you're interested in more information about the party, the brigade, or in getting involved in going door-knocking with the SWP, contact the nearest party branch listed in the directory.