It is now five years since Islamic State seized large swaths of territory in Iraq and Iraqi Kurdistan and launched a genocidal campaign against the Yazidi people in Sinjar, Nineveh and elsewhere in northern Iraq. And two years since the reactionary group lost control of most of the area. Yet the majority of Yazidis — hundreds of thousands — remain dispersed, often living in miserable conditions in "refugee" camps or fleeing abroad.
Neither the government of Iraq nor of the Kurdistan region is acting to resolve this human crisis. Moreover, factional conflicts among bourgeois currents wrapping themselves up in sectarian religious garb, as well as intervention by both regional and imperialist powers, erect political and military obstacles to rebuilding the Yazidi communities. The latter is true above all of Washington and its local allies, on one side, and, on the other, the bourgeois clerical regime in Tehran seeking to rebuild the Persian Empire and its cohorts in Syria, Iraq, Lebanon and Yemen.
On Aug. 3, 2014, Islamic State forces who had seized Mosul, Iraq's second largest city, invaded Sinjar province, the heartland of the Yazidi people, an ethnic and religious minority of over half a million living across northern Iraq.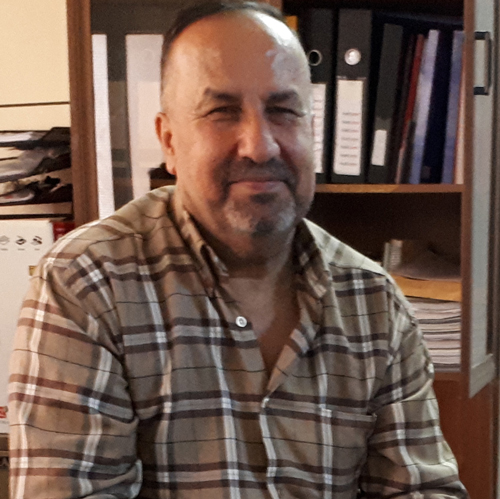 "IS attacked at night," Ghanim Ilyas Saleem, executive manager of Ghasin Al-Zaiton (Olive Branch) Organization for Youth, told Militant correspondents Steve Clark and myself in April in Erbil. "Some villagers resisted the invasion with light weapons, but by morning they ran out of bullets," Ilyas Saleem said.
"In the village of Kocho, they forced people into a school, took their cellphones, money and jewelry," he said. "They separated women from men, took all the men and teenage boys and killed them nearby. Old women were also killed." Only 19 people escaped the assault on Kocho, out of a population of 1,500. Some 1,300 were killed throughout the Yazidi region, many tossed into some 80 mass graves.
Up to 400,000 people managed to flee, mostly to the nearby autonomous Kurdistan region. Tens of thousands fled up the slopes of Mount Sinjar, the heart of the Yazidi area. Surrounded by IS forces, fighting to survive in the summer heat with little food or water, most were rescued when a coalition of Iraq- and Syria-based Kurdish militias established a safe corridor via Syrian territory to Iraqi Kurdistan.
Islamic State took thousands of women and children to Mosul, Raqqa and other parts of their so-called caliphate, where they were enslaved and sold, used as sex slaves and forced to "convert" to Islam. Those who resisted were severely beaten. All suffered daily humiliation. Young boys were indoctrinated in the group's reactionary ideology and trained to be soldiers.
Some women managed to escape, including Nadia Murad from Kocho, who has become a world-known spokesperson for the Yazidi cause. A number of survivors gave interviews to the Yazidi Organization for Documentation recording these horrors.
The attempted genocide by IS was the culmination of years of attacks by Islamist terror groups who gained ground in Iraq in the aftermath of the 2003 U.S.-led invasion and occupation of Iraq. While different groups carried out murderous sectarian attacks against the Sunni or Shiite Muslim communities, and atrocities were directed against Christians, Yazidis were singled out as "devil-worshippers" who should be wiped off the face of the earth.
"Before IS, al-Qaeda killed a thousand Yazidis through bombings and other attacks," Ilyas Saleem told the Militant. "They killed 22 workers from a clothes factory, all young men, in a public hanging in Mosul."
In a January 2015 turning point, Syrian Kurdish People's Protection Units (YPG) rebuffed an attempt by IS to take the town of Kobani. In November that year, a coalition of YPG, Iraqi Kurdish peshmerga (under Kurdistan Regional Government command) and Yazidi Protection Forces retook the town of Sinjar. They were backed by U.S. air assaults, which destroyed large parts of the town, a preview of the 2017 battles in Mosul and Raqqa, which sealed the fate of the IS territory.
Yazidis face obstacles
Two years on, some Yazidis have returned to villages on the Nineveh plain and to parts of Sinjar. "South of the mountain, there are many mines and unexploded bombs, and the infrastructure is destroyed," Ilyas Saleem said, describing the obstacles faced by those who return.
According to Iraqi authorities, 360,000 of the displaced Yazidis remain in the region, most of them in Iraqi Kurdistan, and 100,000 have left for Europe and elsewhere. Thousands live in camps on Mount Sinjar.
This summer widespread fires have destroyed tens of thousands of  acres of farmland in Iraq, especially areas previously under IS control. Farmers who had returned to parts of Sinjar lost everything, just as crops were getting ready for harvest.
Many Yazidis fear returning to an area where contending forces vie for military control, including the YPG, peshmerga, the Tehran-backed Hashd al-Shaabi and the Iraqi army. Turkish military forces also intervene in the area.
Nadia Murad underscored this reality when she met with President Donald Trump in Washington July 17. "Now there is no ISIS [Islamic State] but we cannot go back because Kurdish government and the Iraqi government, they are fighting each other over who will control my area," she said.
Iraqi government and Hashd al-Shaabi forces, backed by U.S. warplanes, have been battling remaining IS forces. Kurdish media report that peshmerga, along with Yazidi Protection Forces, clashed with a group of IS fighters in Sinjar July 24.
Those living in camps face squalid conditions. "Five years on, they are still in the same tents," Ilyas Saleem told the Militant. "There was a lot of assistance from international agencies at first, but after the war against IS finished in 2017 and the spotlight went away, most of them stopped supporting us. There's little aid from the Kurdistan and Iraqi governments." Some have moved into Kurdish towns, finding shelter in abandoned buildings and trying to earn money as street vendors.
"Education is difficult in the camps. In Bersave camp, for example, there are 600 to 700 pupils and only four teachers," he told us. "Some Yazidi graduates volunteer to go into camps to teach."
Rights of women, children
Part of what faces the Yazidis "is the displacement and division of families," 25-year-old Shreen told Al-Jazeera. "The more we are closer, the more we feel we are alive." Shreen endured two and a half years of Islamic State captivity before she escaped. She has now returned to Sinjar and works for the Yazidi Organization for Documentation exhuming mass graves of the victims of IS slaughter.
Women who were kept as sex slaves by IS and had children as a result face a special challenge. According to Yazidi tradition, a woman who has sexual relations with a non-Yazidi man — even by force — is excluded from the Yazidi community.
In a break with this tradition, Yazidi leaders announced that women who had been abducted would be welcomed back into the community. The Yazidi Spiritual Council issued a further proclamation April 24, calling for "the return of all the Daesh [Islamic State] survivors as we consider what happened to them outside of their will." Three days later the Spiritual Council made a U-turn, saying this did not apply to children fathered by Islamic State members.
This sparked a debate within the community. "This is something new and hard for our nation," Nadia Murad said in a video. "I was in contact with many women and they told me they have been rescued but are living in camps, mountains, and [other] countries, afraid to return as they have been told that their children will not be accepted.
"I believe this should be determined by the mothers of the children and their families," she said.
Murad Ismail, executive director of the Yazda Organization, a U.S.-based group of Yazidis closely linked with Nadia Murad, said, "The magnitude of IS's crimes makes it extremely difficult for many people to accept raising children linked to the group. I still believe the best way is to retrieve these women and children and relocate them to a country which will provide safety for these victims."
The Kurdish Communist Party also weighed in, calling for "observance of the right of motherhood and the rights of the child and not leaving them in the orphanage but raising them within the family."
A number of women have described their plight publicly. Barfe Farho returned to her family with her two sons, aged 4 and 5, but was forced to leave her 11-month-old daughter in an orphanage in the Kurdish region of Syria. "I wish the third one was here," she told the London Telegraph July 6. "She is part of me and what happened was not my fault, I never chose this."
Hundreds of Yazidis are among the tens of thousands of women and children, including IS "wives," still living in refugee camps such as the hellish al-Hol camp in Syria. Some 70,000 people are trying to survive there, including 30,000 from Iraq.
Yazidi leaders point out that the problem is compounded by Iraqi law, which states that if the father is a Muslim, the child is Muslim. According to Rudaw, one woman who insisted on returning with her infant was told the child couldn't get Iraqi identification papers because the father was absent. She gave the child up for adoption.
Ghanim Ilyas Saleem condemned the Iraqi government's reactionary policies. "I tell them, you are doing the work of Islamic State. What they do by force, you do by law."