KATHMANDU, Nepal — "We are thankful to the Cuban government for sending a medical team to Nepal and assisting us during the devastating earthquake in 2015. The support from Cuba was prompt, spontaneous, and genuine," said Pushpa Kamal Dahal, former prime minister of Nepal, at the opening of a regional Cuba solidarity conference.
Dahal was referring to the volunteer brigade of 50 Cuban health workers who provided care to thousands in this Himalayan nation following that disaster. 
He was speaking at the 9th Asia-Pacific Regional Conference of Solidarity with Cuba, held here July 26-27. Some 130 delegates from 16 countries exchanged experiences and discussed plans for activities to tell the truth about the Cuban Revolution and demand Washington lift its economic sanctions against Cuba.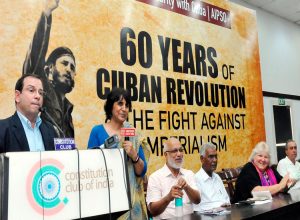 Fernando González, president of the Cuban Institute for Friendship with the Peoples (ICAP), was a keynote speaker. He was one of the five Cuban revolutionaries who spent up to 16 years in U.S. prisons after being framed up for their activity defending Cuba from counterrevolutionary attacks. He noted that the conference marked the 66th anniversary of the assault on the Moncada barracks. This launched the revolutionary war led by Fidel Castro that in January 1959 overthrew the U.S.-backed Batista dictatorship and opened the road to Cuba's socialist revolution.
"We are attacked for the sole fact that we have chosen the road of socialism," González said, "but Cuba will continue to resist." He condemned Washington's efforts to overthrow the Venezuelan government. In doing so, he said, "the U.S. government also aims to destroy the Cuban Revolution," but that will not deter Cuban support to the Venezuelan people. 
González pointed to Washington's recent tightening of its 60-year-long sanctions against Cuba. He cited moves to hinder Cuba's international financial transactions, prevent shipping companies from transporting oil from Venezuela to Cuba, tighten restrictions on U.S. travel to Cuba, and enforce Title III of the 1996 Helms-Burton law, which allows lawsuits by U.S. citizens over Cuban properties nationalized by the revolutionary government.
González said Cuban internationalist doctors have served in "some of the most remote areas of Nepal, Sri Lanka, Indonesia, Pakistan, China and Japan following natural disasters that hit the region hard in recent years." 
The guest of honor at the conference was Aleida Guevara, daughter of Cuban revolutionary leader Ernesto Che Guevara. She gave a video presentation on Che's first tour of Asian countries in 1959, a few months after Cuba's revolutionary victory. 
Asia protests against U.S. sanctions
Delegates described recent actions they have organized in their countries. Nilotpal Basu, coordinator of the Committee for Solidarity with Cuba in India, reported on a July 24 public event of 300 people in New Delhi on "60 Years of the Cuban Revolution and the Fight Against Imperialism," addressed by Fernando González and Aleida Guevara. 
Indian delegate Sonya Gupta, who took part in the New Delhi event, told the Militant  she was impressed when "Fernando talked about the support the Cuban Five received from ordinary Americans" when they were in U.S. prisons, including from fellow prisoners. She was delighted to find an account of their prison experiences in a book available at the conference, "It's the Poor Who Face the Savagery of the US 'Justice' System," published by Pathfinder.
"We must campaign to demand that the U.S. government get out of Guantánamo," said Robert Corpuz, president of the Philippine-Cuba Friendship Society. In May Corpuz headed a Filipino delegation to an international conference held in Guantánamo, Cuba, to build that campaign.
Annalucia Vermunt, from the Cuba Friendship Society in Auckland, New Zealand, who is also the Communist League's candidate for mayor in that city, explained that  the annual International May Day Brigade in Havana, which she was part of this year, is a good way for youth and workers to learn more about the Cuban Revolution.
Delegates broke up into two commissions. One discussed activities to oppose the U.S. embargo. The other focused on using the media to reach broader numbers of people. Among the recommendations from the commissions was a call to organize events answering the U.S.-led smear campaign against Cuba's internationalist medical volunteers serving abroad.
Pashupati Chaulagain, coordinator of the conference organizing committee, said Cuban resistance to Washington's unceasing attacks "is an example of how to stand strong."  
Delegates came to the conference from India, Japan, Philippines, North Korea, South Korea, Sri Lanka, Vietnam, Cambodia, China, New Zealand, Australia, Malaysia and Laos, as well as from Cuba and the United States. The largest delegations were 40 from Nepal and 33 from India. Also attending was Iraklis Tsavdaridis, executive secretary of the World Peace Council, and Oscar Martínez, Cuba's ambassador to both India and Nepal. 
Nepal in economic, political flux
The closing session was addressed by Madhav Kumar Nepal, who, like Dahal, previously served as prime minister, each coming from a different wing of the recently fused Nepal Communist Party. They and other top party leaders focused on explaining the NCP-led government's course of promoting capitalist economic development and "socialist-oriented policies" under the slogan "Prosperous Nepal, happy Nepalis."  
Nepali participants said that the country, unlike the rest of the Indian subcontinent, was never a direct British colony — a source of national pride.
Today, however, the largely agricultural nation remains one of the most underdeveloped in the world. Although caste discrimination in this overwhelmingly Hindu nation was prohibited by law in 1962, caste as well as class divisions affect every aspect of social and political life today.
Nepal is squeezed on both sides by its powerful neighbors, India and China, which along with Washington and other imperialist powers exert heavy influence in its economic and political affairs.
During the conference, New Delhi's weight was underscored by news of monsoon flooding in Nepal that left dozens dead and thousands displaced. Some delegates noted that the floods were largely due to dams built by the Indian government near the border in disregard of working people's safety.
Likewise, a reminder of Beijing's influence was the restoration projects on earthquake-damaged buildings across Kathmandu that carried big signs proclaiming "China aid."
Today Nepal is undergoing economic and political upheaval as it gets drawn increasingly into the world capitalist market. Delegates described the growing migration, especially since the 2015 earthquake, of millions of Nepali workers seeking jobs in the Gulf states, Malaysia, Australia and elsewhere. Immigration is broadening horizons and raising expectations of many workers as they become exposed to higher wages and class-struggle experiences abroad.
And the end in 2006 of a brutal guerrilla war waged by a wing of the Nepal Communist Party, together with the abolition of the monarchy in 2008, has opened political space for working people to organize and fight for their interests.
Earlier this year, tens of thousands of tea plantation workers waged a successful 45-day strike across eastern Nepal demanding the wealthy owners pay the minimum daily wage, social security and other benefits stipulated by a 2017 law. And in June nearly 400 workers at the Hotel Hyatt Regency here struck for a week to protest mistreatment and denial of breaks and sick leaves. 
Many delegates were drawn to a table displaying Pathfinder Press books on the Cuban Revolution and the class struggle in the United States and internationally. They purchased nearly 100 books. Members of the conference organizing committee expressed appreciation for a donation of Pathfinder books for use in their Cuba solidarity work. 
The regional conference adopted a Final Declaration that called for ongoing actions to demand Washington lift all its sanctions against Cuba and keep its hands off Venezuela.
The only discussion on the declaration was when a Vietnamese delegate proposed changing a phrase on "the struggle against U.S. imperialism" in the region to a vaguer "struggle against imperialism." After the Philippine delegation objected, a proposal from Fernando González was adopted to say "U.S. imperialism and its allies."
The statement also expressed support for "the denuclearization and reunification of Korean Peninsula and withdrawal of all sanctions" against North Korea.