YABUCOA, Puerto Rico — When she returned to what was left of her home in the small El Negro neighborhood overlooking the sea after Hurricane Maria in September 2017, Yasmin Morales looked up at the nearby hills. "There wasn't a leaf on a tree," she told Socialist Workers Party members on a solidarity and reporting trip here Aug. 23.
Many people say that storm exposed the widespread poverty in the countryside, for the first time easily visible from the main highways.
Two years later the leaves are back as lush as ever and many houses have been repaired. But tens of thousands remain damaged, some roofless, covered for two years with blue tarps meant to last 30 days, or abandoned despite the billions of dollars in "aid" received by the colonial regime in this U.S. colony.
The SWP delegation of Alyson Kennedy, the party's 2016 candidate for U.S. president, currently a Walmart worker in Dallas; Seth Galinsky, the party's candidate for New York City public advocate; and Linda Joyce, a campaign supporter from Atlanta, spent five days talking to working people, and exchanging views on what can be done to defend their interests.
Our trip came just a few weeks after 15 days of massive demonstrations forced the resignation of Gov. Ricardo Rosselló at the end of July. They showed the potential power working people have when they organize and unite.
Lenis Rodríguez, a worker in Yabucoa; Raúl "Ruly" Laboy, a retired electrician from nearby Humacao; as well as Rosalina Abreu and Mildred Laboy, president and vice president of Arecma, the Recreational and Educational Community Association of Mariana Neighborhood in Humacao introduced us to workers in the area. Party members John Studer and Martín Koppel had met them here last year.

Rodríguez introduced us to Morales. Though her family of fishermen has lived in El Negro for decades, like thousands of others across the island she doesn't have official title to her home. On the pretext that the neighborhood is on a nature reserve, the government has never allowed her to connect to the electric grid, even though a power line runs right down the street in front of her house.
Unlike many of the thousands without title to their homes, Morales, who made her living fishing until she was hurt in an accident, was able to get $15,000 from the Federal Emergency Management Agency to begin rebuilding. "But that wasn't near enough," she noted. "That's why I'm still doing most of the work myself."
When a nonprofit group put on a new roof and installed solar panels, Morales' home had electricity for the first time. But an inverter, a key component, broke. "It costs $600," she said, which she doesn't have, so she doesn't have power.
Morales didn't join the protests against Rosselló, but she doesn't like either of the two main capitalist parties in Puerto Rico — the Popular Democratic Party and the New Progressive Party. "They're all sharks going after the small fish," she said.
Life for fishermen wasn't easy before Hurricane Maria, Julio Angel Morales Alicea, secretary of the Yabucoa Fishermen's Association, told us Aug. 18 as he prepared to head out to sea.
After the hurricane "the government left us on our own," he said. Before the storm the association ran a pescadería by the boat ramp, where they cleaned and sold fish to the community. The couple dozen or so small fishermen in the association shared the work, expenses and income. The cooperative was built on land rented from the Yabucoa municipal government. "We did up to a $1 million in sales a year," he said.
But the building was badly damaged in the storm. And the mayor of Yabucoa, instead of helping to rebuild, revoked their lease. "Now we sell our catch on the side of the road," he said.
The government claims that electricity has been restored 100%. But the day before, Morales Alicea said, his neighborhood was without electricity for six hours. Such blackouts are common. The roads in the wealthier neighborhoods have been repaired, he said, "but you saw the potholes on the way here."
'Gov't is corrupt, incompetent'
"I agree with President Donald Trump on one thing," Morales Alicea told us. "He said that the government of Puerto Rico is corrupt and incompetent.
"Look around, where did all the aid money go?" he asked. He joined the protests against Rosselló.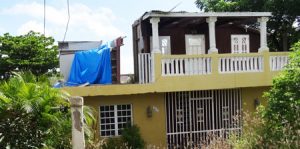 While the island's population has been shrinking for a decade as tens of thousands move to the U.S., we ran into many workers who have worked in the U.S. or go back and forth between the two countries. The use of English is common.
In Punta Santiago, near where Hurricane Maria made landfall, every street still has damaged and abandoned homes. Hearing salsa music from one home, we stopped and introduced ourselves.
We spoke with Karelys Velázquez, a nurse, and her husband Eduardo Alberto López. When we pointed out that workers in the U.S. and Puerto Rico face similar capitalist exploitation, their neighbor Nelson Martínez jumped in.
"I know. I've worked in the fields in the U.S. picking vegetables and in the Tyson chicken processing plants in Arkansas," he said. He described the breakneck line speed at the Tyson plant. He worked with a lot of Mexican workers without papers, he said, who are hired to keep wages down.
Crisis of colonial rule
In 2016 President Barack Obama signed bipartisan legislation imposing the Financial Oversight and Management Board for Puerto Rico. Its purpose is to maximize payment on some $74 billion in debt the colonial regime owes to wealthy bondholders. The Junta, as it is called here, can override all local government decisions.
Puerto Rico's gross domestic product has declined every year except once since 2006.
It took a year before electricity was restored in many areas. In the face of government inaction, working people across the island held protests to demand light, and helped each other out, clearing fallen trees from the roads, repairing each other's homes, even setting up communal dining halls where storm survivors could get a good meal, which is what Arecma did in Humacao.
When secret online "chats" of Rosselló and his closest advisers became public, showing their scorn for working people, the pent-up anger burst as hundreds of thousands took to the streets to demand his resignation. Government officials implicated in corruption or other political skulduggery in the chats began resigning.
Few workers believe new Gov. Wanda Vázquez will be much different. But many hope the size of the demonstrations against Rosselló will cause her to think twice before imposing new anti-worker measures.
The mass protests have many working people thinking about which way forward.
Twenty longtime supporters of the fight against U.S. colonial rule in Puerto Rico from a half-dozen small towns in the Humacao area responded to an invitation by leaders of Arecma to meet the Socialist Workers Party delegation.
They wanted to learn more about the party, including the international current the party represents, the party's view of what is happening in the class struggle in the United States and how to continue to work together to advance the interests of the working class in both countries.
Among those who came were school teachers, small farmers, and construction and other workers, supporters of a wide range of pro-independence organizations.
Kennedy and Galinsky described the party's support for the fight for independence for Puerto Rico, going back to the founding of the communist party in the U.S. in 1919. "We believe that working people in the U.S. can't be free as long as the government that oppresses us maintains Puerto Rico as a colony," Kennedy said.
"Working people face the same problems and the same opportunities in the U.S. and Puerto Rico," Galinsky said. "We need to build a fighting working-class movement, to organize independently of the capitalist parties, their state and their government."
Our party believes the revolution made by working people in Cuba in 1959 is an example for us both in the U.S. and in Puerto Rico and points the road forward for how the people in Puerto Rico can wrest their independence from the rulers in Washington.
Kennedy presented meeting organizers with a solidarity message from some three dozen of her Dallas Walmart co-workers.
After the meeting the delegation joined a festival, enjoying performances by local musicians and home-cooked food, a fundraiser for a young resident of Marianas leaving for Boston to further his talents as a player of the cuatro, a traditional 10-stringed guitar.
Exploitation by big Pharma
We met Adamaris Cruz, 25, there. She moved back to Humacao after serving eight months in the U.S. Army and being discharged after injuring her ankle. Cruz is a temporary worker at one of the dozens of pharmaceutical companies that dot the island, making just $7.25 an hour, the federal minimum.
"I'm moving back in with my mother," she said, because even a rent of $350 a month is not sustainable.
Cruz said few temporary workers joined the demonstrations against Rosselló, worried that that would jeopardize their chance to become permanent. "But all the supervisors knew our hearts were with the protests," she said.
At Amgen, another nearby pharmaceutical plant, as many as 10% of the workers skipped work the day of the biggest protests.
There are dozens of big pharmaceutical plants on the island that employ tens of thousands of workers churning out profits for bosses on the mainland. Few are unionized. Like in the U.S. less than 7% of workers at private companies are in a union. Cruz said her co-workers have begun talking about forming a union.
"I'm not an independentista," she said. "Our people aren't prepared for independence."
"Working people get prepared by standing up and fighting for our rights today," Galinsky replied.
"That makes sense," she said.
Another place the impact of U.S. colonial rule is striking is in agriculture. "We can grow all year-round, we have land, we have water," said Antonio Sánchez Camacho, an agronomist who works with an association of banana farmers in Yabucoa. "They say we import 85% of our food. It's closer to 99%." He said they just can't compete with U.S. agribusiness.
Since Puerto Rico is a colony it can't levy tariffs on U.S. imports to protect the island's farmers. And the best land has been taken by giant U.S. agriculture companies like Monsanto. The minimum wage for farmworkers is $5.25 an hour.
Flor Dávila, 24, cleans rooms at a luxury tourist hotel. Like most of her co-workers, she told us, she's a temp worker, earning $7.25 an hour, and gets less than 30 hours a week. They have to clean each room in 45 minutes.
An elderly couple who Davila's mother used to help out moved to the U.S. after the hurricane. They let Dávila, her 2-year-old child, and her mother move into their house in Yabucoa rent-free, where we met her. But expenses add up, she said. "I don't know how I'd get by if I had to pay rent."
"My co-workers have been talking," she said. "Some say if we can unite and get rid of a governor, can't we do the same thing and demand higher wages, more hours and to be made permanent?"