MONTREAL — "I believe that this strike is important for my safety as well as the community," conductor Yohan St-Amant told Militant worker-correspondents bringing solidarity to the Canadian National Railway picket at the rail yard in Shawinigan, Quebec, Nov. 23. "We are all familiar with the tragedy at Lac-Mégantic and no one wants that to be repeated. So we have to fight for our safety."
In 2013 a runaway oil train derailed and exploded, destroying downtown Lac-Mégantic and killing 47 people. 
"We are tired of being tired," has become one of the main slogans of the 3,200 strikers. They are fighting concessions demanded by Canadian National to reduce crew sizes on trains to one conductor, eliminating the brakeperson; reducing the length of workers' rest periods and their right to schedule a full 48 hours off; as well as increasing the use of mandatory overtime. These demands threaten the life and limb of the workers and those who live near the tracks.
AS WE GO TO PRESS Teamsters Canada announced an agreement was reached in the CN strike and strikers will return to work Nov. 27. Workers will vote after union meetings are held to discuss the agreement.  
The "strike for safety" by Teamster union conductors — including those conductors who work in the yard and yardmasters who've been on strike since Nov. 19 — confronts the unrelenting drive of the rail bosses to jack up profits. 
Bosses in the mining, chemical, petroleum, grain handling and other industries that rely on rail transportation — as well as the capitalist media that speak for them — are demanding the minority Liberal government of Prime Minister Justin Trudeau recall Parliament and pass back-to-work legislation to break the strike. 
And government officials in Alberta, Saskatchewan and Quebec are campaigning to pit farmers who have been severely impacted by the strike at critical harvest time against the strikers. 
The CN workers' fight has touched a nerve among millions of workers who themselves face the grinding profit-productivity drive of the bosses. They push for fewer workers to produce more in less time for less pay as the capitalists' economic crisis forces them into increasingly cutthroat competition worldwide.
"We need more rest and we want to be with our families," striker Sheldon Lemire said while picketing at the Canadian National Taschereau yard Nov. 21 in Lachine. "We lose people every year. Nine people have been killed on the job in the last two years!" 
William Shannon joined two other Walmart workers to bring solidarity to picketers line at the Joffre yard in Levis just south of Quebec City Nov. 23. When CN conductor Frederic LeBlanc told them the rail bosses "want to do more with fewer people," Shannon replied, "That's just what they do at Walmart!" 
Farmers, workers have same enemy
Farmers from the western prairies to Quebec who rely on rail transport to get propane fuel to dry out wet corn and grains, keep livestock warm, and to ship crops to market are also victims of the railway bosses. The bosses are using supervisory personnel to run some trains, but, "We wonder if CN is choosing not to ship goods like propane in order to manufacture a crisis and force back-to-work legislation," Teamsters union President Lyndon Isaak said in a Nov. 22 statement.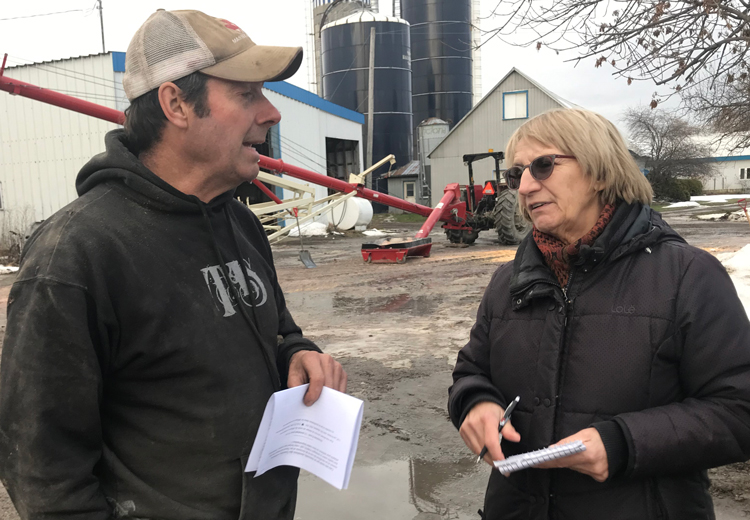 On that same day some 50 farmers from rural areas south of Montreal drove their tractors to Canadian National's headquarters in downtown Montreal, demanding the government do something about the dwindling supply of propane. On Nov. 25, 300 farmers protested in front of the Montreal office of Prime Minister Justin Trudeau. 
At the CN headquarters some farmers blamed the workers, while others did not. There were no signs calling for strikebreaking legislation. Communist League members supporting both the farmers and the strikers at the Nov. 25 action found protesting farmers they talked to understood and sympathized with the strikers. 
"I'm not against the workers. But we need the propane," corn farmer Alexander Lussier told this worker-correspondent at the rally. 
"I blame Trudeau. They don't give the workers what they need to work safely and they don't give us what we need to work," said corn and soybean farmer Yvonne Boulderice. 
"The farmers are in dire need of propane not only to dry corn, but also to keep chicks and piglets warm in the barns. The rail workers haven't had a contract in a long time and the government isn't negotiating," dairy farmer Pierre Robidoux told the Militant  when strike supporters dropped by his farm in St-Isidore outside Montreal. "It's not the rail workers' fault. It's the company's. There aren't enough workers. It's dangerous, they get tired," and accidents can happen. 
Solidarity with CN strikers!
Canadian National locomotive engineers, who are not on strike, but aren't working because of it, have been turning out in force to bolster the picket lines. At the Shawinigan picket line, one brought down hot moose stew he had just prepared. 
The strikers aren't getting any "strike pay" from their union, and the cops and municipal authorities in many places have harassed the strikers with tickets and court injunctions limiting picketing. 
The Coalition of Citizens and Organizations Committed to Rail Safety in Lac-Mégantic issued a statement Nov. 25 saying it was "eager to give its full support to CN Rail workers who are currently struggling to improve their working conditions."
"Better working conditions are the only guarantee of the maintenance of minimum safety conditions for them," the committee said, "and for the populations living around the railways of Canada.
"Here in Lac-Mégantic we still remember the sad fate of Tom Harding," the statement added, pointing to attempts by the rail bosses and Canadian government to frame up the engineer for the disaster there, "a man unjustly accused by an industry insensitive and ungrateful to its workers, yet so affable towards its shareholders!" 
Considering the high stakes for working people everywhere, support is needed from the organized labor movement and all workers and farmers. This is crucial to help beat back the demands of the rail bosses and stay the hands of Ottawa from moving to break the strike.
Sylvie Charbin contributed to this article.