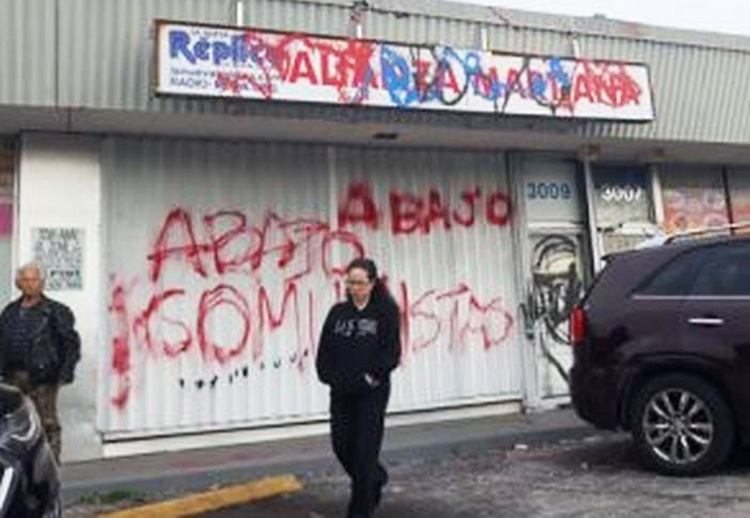 MIAMI — Amid stepped-up attacks on Cuba and its revolution by Washington, rightist thugs vandalized the office of Alianza Martiana here the night of Jan. 26, spray-painting "Abajo comunistas" (Down with communists) all over its storefront. Alianza Martiana is the most prominent organization in South Florida defending revolutionary Cuba, calling for normalization of relations, and an end to the U.S. embargo and  restrictions on travel to the island.
The vandals struck a few hours after a successful public event at the Alianza hall celebrating the anniversary of the birth of Cuban independence leader José Martí as well as the 19th anniversary of  Alianza's founding.
In the days preceding the meeting, Alianza leaders report they received threats from forces calling themselves "Los Clandestinos." Unidentified criminals also claiming to be "Los Clandestinos" had vandalized 11 statues of José Martí in Havana Jan. 1, pouring pig's blood over the busts. Two men arrested for the crime confessed they were paid to deface Martí's images by counterrevolutionary forces in Miami.
These outfits have long worked hand-in-glove with Washington to defame the Cuban Revolution, but they are weaker today than ever before. They still try to stifle the voices of the many Cubans here who oppose the U.S. embargo and assert their right to visit their homeland.
Andrés Gómez, national coordinator of the Antonio Maceo Brigade, one of the groups active in the Alianza, said in a press release following the attack, "We remain committed as always to defend the freedom of our people and the right to travel to Cuba."
The Alianza is organizing a car caravan here Feb. 8 to oppose Washington's recent cutoff of charter flights to Cuban cities other than Havana, a move that makes it more difficult for Cuban Americans to visit relatives on the island.
Anthony Dutrow, Socialist Workers Party candidate for U.S. Congress in the 27th District, where the Alianza office is located, called on Miami Mayor Francis X. Suarez and the police to arrest and prosecute those responsible.
"The Socialist Workers Party defends the Cuban Revolution as an example for working people in the U.S.," Dutrow said. "If the offices of the Alianza can be assaulted with impunity, so can the offices of any union, my party or other organization defending workers' rights. I will be campaigning to build the Feb. 8 car caravan for freedom to travel to Cuba."