Alyson Kennedy
Alyson Kennedy grew up in Indianapolis, where she was attracted to the massive battles she followed on TV against racist cops and KKK thugs across the South that tore down Jim Crow segregation, strengthening the whole working class. After she move to Louisville, Kentucky, she joined the fight to desegregate public schools there in 1975.
Today she works at Walmart in Dallas, where she organizes with other workers to press for higher wages and better working conditions and builds support for other struggles in the interests of working people.
A socialist and trade union fighter for more than four decades, Kennedy, 69, is a member of the Socialist Workers Party's National Committee and was the party's vice presidential candidate in 2008 and for president in 2016.
After joining the party she moved to West Virginia where she was among the first wave of women who broke through the barriers coal bosses used to exclude women from underground jobs in the mines.
In 1981 she was part of the strike of 160,000 members of the United Mine Workers of America. She said it was "one of the most important educations in my life as I saw firsthand what workers can achieve when we are united and use our power."
As a 14-year veteran coal miner, who has also worked in garment, steel and other factories, with and without unions, she has stood up with fellow workers to fight for control over job conditions and safety. This is crucial for all workers — to fight for more and more control over all aspects of production, a school to learn how to run the economy and the country.
From 2003 to 2006 Kennedy was in the front ranks of a union-organizing battle at the Co-Op coal mine outside Huntington, Utah. Miners there, the majority immigrants from Mexico, fought for a union to win safer working conditions, an end to abuse by the bosses and higher wages. The miners' struggle won widespread solidarity and set a powerful example to other workers of how to fight.
She has been active in the fight against Washington's wars from Vietnam to its interventions in the Mideast today, demanding U.S. troops get out now. She promotes solidarity with struggles being waged by working people in Iran, Iraq and elsewhere in the region.
Last year she joined a fact-finding tour in the Kurdish region of northern Iraq, attending meetings there to learn about the struggles of workers who have faced decades of tyranny, national oppression and war. She spoke about the work of the SWP in the labor movement and the road to women's emancipation.
Kennedy has been active in the fight to defend a woman's right to unrestricted access to family planning services, including the right to safe, secure abortions.
In 2019 she joined protests against the death penalty in Texas and took part in the successful actions that won a stay of execution for Rodney Reed. She has joined many other actions against police brutality, and the entire capitalist injustice system with its frame-ups, "plea bargains" and onerous bail.
She was part of a solidarity and reporting team to Puerto Rico last year following widespread demonstrations that forced the resignation of Gov. Ricardo Rosselló. The SWP demands an end to U.S. colonial rule over Puerto Rico. In 2017 and 2018 she took part in international solidarity brigades to Cuba to learn how to more effectively defend the Cuban Revolution and to discuss the class struggle in the U.S.
Kennedy has joined actions in defense of immigrant workers and against deportations. The SWP demands amnesty for all immigrants in the U.S. that authorities claim don't have "proper" papers, explaining it is essential to unite working people and create better conditions to fight the bosses' attacks on all workers.
Malcolm Jarrett
Malcolm Jarrett, Socialist Workers Party candidate for vice president, 49, works as a cook at a catering company in Pittsburgh. He was attracted to working-class struggle as an African American youth in eastern Missouri, as his family joined in the defense of the Black community in Cairo, Illinois, from assaults by cops and vigilantes. In these struggles, he gained a real appreciation of the support from farmers in the area. Jarrett was also influenced by the popular revolutionary movement that overthrew the apartheid regime in South Africa.
He joined the SWP while organizing protests at Southeast Missouri State University to oppose Washington's war against Iraq in 1991. Today he stands in solidarity with protests by workers and youth against wars promoted by both Washington and Tehran in Iran and Iraq.
Jarrett has built solidarity with union battles, including the wave of strikes and protests by teachers and school workers in 2018, traveling to join actions in their support in West Virginia, Oklahoma, North Carolina and Pennsylvania.
During last year's strike by United Auto Workers members at GM, Ford and Fiat Chrysler, Jarrett joined picket lines in Indiana, Texas and Minnesota. On a national speaking tour last fall he and Alyson Kennedy brought solidarity to coal miners fighting to get back pay stolen from them by coal bosses at the Blackjewel mine in Kentucky. The two met Uber and Lyft taxi drivers in Atlanta to discuss the exploitation they face and the need to fight for one union for all app-based, limousine and yellow cab drivers.
Jarrett has participated in fights against cop brutality and murders from the 1997 killing of Jonny Gammage to the actions of thousands of young people who marched in Pittsburgh last spring to protest the acquittal of the cop who murdered Antwon Rose II. He points out that police violence and capitalist "justice" is aimed at intimidating and punishing working people.
On Oct. 27, 2018, when an anti-Semitic killer shot down 11 Jews at the Tree of Life synagogue in Pittsburgh, Jarrett joined 3,000 people protesting that night. He explains that Jew-hatred is endemic to capitalism and how the ruling boss class turns to anti-Semitic thug forces in times of deep crisis to divide and crush the working class. Working people have to be educated in what this question is all about.
Jarrett has traveled to Cuba on a number of occasions, including as part of last year's International May Day Brigade, to offer solidarity with the Cuban peoples' six-decade-long fight against the U.S. embargo and to be able to speak out more effectively in defense of the socialist revolution. He is now on his way to participate in the 2020 International Havana Book Fair — a major cultural and political event in Cuba, and urges others to join this year's May Day Brigade.
Jarrett was the SWP candidate for Pittsburgh City Council last year, speaking out at a public hearing attended by 200 residents of Allegheny County against U.S. Steel's willful pollution in the area and to call for workers control of production. Jarrett says health care in the U.S. is a disaster caused by the for-profit capitalist system. The SWP fights for universal, government-guaranteed cradle-to-grave health care, and retirement income for all.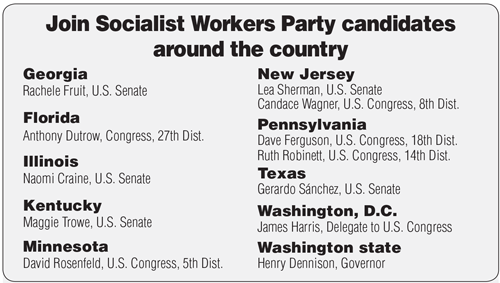 See directory to contact party campaign office nearest you.