Every day brings new evidence of the depth of the social crisis being visited on hundreds of millions of workers, farmers and small proprietors in the U.S. and around the world, a growing calamity not of their making.
Working people, who transform natural resources to produce all the wealth in society, and who are the guardians of all culture today, are the ones being pressed to bear the burden for the capitalist rulers' efforts to preserve their dog-eat-dog system of exploitation and oppression.
This historic crisis, brewing for decades, was triggered this winter by the far-reaching lockdowns on production and trade imposed by capitalist governments around the world. Workers increasingly realize this is the real cause of what we confront, not a virus.
The cause of the crisis lies in decades of decline in the profit system, and the national conflicts and wars it has spawned.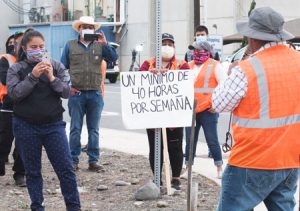 The latest measure of the social disaster in the U.S. is the loss of 20.5 million jobs in April, a loss unprecedented since the Great Depression of the 1930s. But the jobs crisis reflected in official figures seriously understate the reality. They ignore the millions of part-time and so-called independent contract workers, undocumented immigrants, self-employed and under-the-table workers who don't qualify for any government aid.
Workers are also saddled with increasing layers of debt — from credit cards, car loans, college loans, mortgages and more. The federal government reported May 12 something every worker knows from their own experience — grocery store prices, especially for food, jumped in April, the largest one-month increase in nearly 50 years.
Despite the panic constantly peddled by the capitalist media in an effort to reconcile workers to the crisis unloaded upon them, working people need to get out of atomizing and demoralizing social isolation and back to work. It is there where crucial battles with the bosses are beginning to unfold and where future class relations will be shaped.
When workers, who are forced to sell their labor power to survive, are stuck in their homes, idle, separated from co-workers, they begin to lose their class identity. Only on the job can we build solidarity and class consciousness as we join in the fight to defend our wages and working conditions.
The only long-term solution to this crisis of capitalism is in the hands of the working class. Working people have the power to mobilize millions to defend our class interests and chart a course to wrest political power into our own hands, to transform both society and ourselves.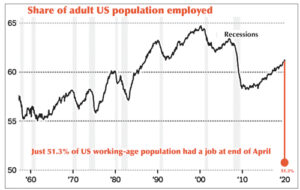 Forging an alliance with working farmers and other exploited producers, increasingly crushed by the workings of capitalism, is vital to this perspective. Workers also need to extend solidarity to toilers worldwide. We all face devastating conditions from the crisis of capitalism.
Under the big-business medical system in the U.S., about 160 million people, almost half the population, are forced to rely on "health insurance" through their jobs. The families of the jobless, up to 43 million people so far, face losing this health coverage.
Extended shutdowns — some now being expanded through the summer — are turning temporary furloughs into permanent layoffs. Among workers who've lost jobs, young people, Latinos, Blacks and Native Americans are hit hardest.
And government officials at all levels increasingly claim that their growing debts mean workers have to look forward to aid programs being slashed.
Social crisis deepens
The bosses, desperate to get profits flowing again, want to see industry and business reopen, but are determined to do so "profitably." That means on the backs of workers, with attacks on pay and conditions, meaning less workers do more, faster and less safely, for less pay. And the bosses then use a larger permanent army of the unemployed to keep wages lower.
British Airways bosses announced they will cut 12,000 workers. Similar deep cuts are in store at other airlines, plane builders like Boeing and General Electric, in auto and steel plants, and more, to say nothing of what faces bankrupt department stores and restaurants.
Billionaire Elon Musk is in a war with California authorities as he moves to restart his Tesla electric car factory, which employs 10,000 workers.
Under these conditions, workers have organized strike actions in recent weeks around the U.S. against onerous and dangerous work conditions and paltry pay rates. More than 50 workers struck May 7 at Allan Brothers Fruit packing warehouse in Naches, Washington. Some 20 workers walked off the job May 6 at the House of Raeford chicken processing plant in West Columbia, South Carolina. Over 60 workers at United Scrap Metal in Cicero, Illinois, went on strike April 28. Hundreds of independent truckers have organized "slow roll" protests across the country.
Deep contraction of world trade
In March, U.S. imports fell 6.2%. Exports fell even more, 9.6%, the sharpest drop on record.
With falling demand and surplus productive capacity, the deep global contraction is driving sharper competition among the big auto firms and between companies like Amazon and Walmart. It is also fueling sharpening trade and other conflicts between rival capitalist powers. The sharpest rivalry is between Washington and Beijing. The European "Union" is fraying ever faster.
Around the world from Hong Kong to Panama, Iraq to Afghanistan, anti-government protests have erupted after weeks of deepening economic crisis and the rulers' isolation clampdowns imposed under the pretext of coronavirus.
"In a full day's work, I can't earn enough for five pieces of bread," Noor Haidar, one of many children in Jalalabad, Afghanistan, who support their families by collecting recyclable material in the streets, told Ruptly TV May 2. "If the situation continues like this, we will die from hunger."
Seven Afghanis were killed and 14 injured May 9 when police opened fire on 300 toilers, mostly day laborers, who gathered to protest inadequate and unfair distribution of food aid.
Working-class struggles will grow worldwide. This is the road forward.