REYKJAVIK, Iceland — "I'm fighting for better wages and better conditions. If not now, then when?" home care worker Dogg Asgeirsdottir told the National Broadcasting Service May 5. Along with 270 other workers in schools and kindergartens, cleaners and other municipal workers in several towns, she went on strike that day. The walkout ended May 11.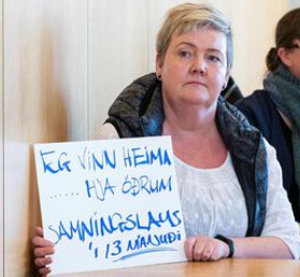 The Efling trade union members, a majority women, had been without a contract for over a year and demanded a 30% wage raise over three years. They are among the lowest paid workers in the union.
Frida Hammer, a home care worker in Kopavogur, told the Militant she was satisfied with the strike's outcome. The 34 striking home care workers in her municipality met in the morning on each workday to follow the strike's progress.
"If anyone thought that the coronavirus epidemic and the economic downturn would justify cutting the pay of low-wage workers and beat down their fighting spirit, then our municipal union members have shown that this is a big misunderstanding," Efling Chair Solveig Anna Jonsdottir, told Morgunbladid newspaper.
On March 25, two weeks into an initial strike, union officials postponed the action, citing the COVID-19 outbreak. In April the union balloted to resume the action and 90% of those who voted were in favor of striking May 5 after the government loosened the restrictions on gatherings.
"The right to strike has not been restricted because of COVID," Jonsdottir told the press.
Aldis Hafsteinsdottir, chair of the Association of Local Authorities, had said she wanted parliament to declare the strike illegal. Finance Minister Bjarni Benediktsson also weighed in against the fighting workers, saying that there is no room to meet their demands.
Unemployment has shot up since March and bosses are preparing to use the rising competition for jobs among workers to go after wages.
According to negotiators from the Cabin Crew Association Icelandair is pushing for a 40% wage cut. CEO Bogi Nils Bogason claims workers are standing in the way of saving the company from shutting down. This wage cut is "something we cannot accept," Gudlaug Liney Johannsdottir, chair of the association, told the National Broadcasting Service. 
Olof Andra Proppe in Manchester, England, contributed to this article.