Two of the most publicized cases where cops shot and killed people and haven't been indicted — the killings of emergency room technician Breonna Taylor in Louisville and Elijah McClain in Aurora, Colorado — came together in Kentucky July 24. Protesters from Aurora fighting for charges to be brought against the cops who killed Elijah McClain organized a caravan from that city to join a rally demanding justice for Taylor in Louisville.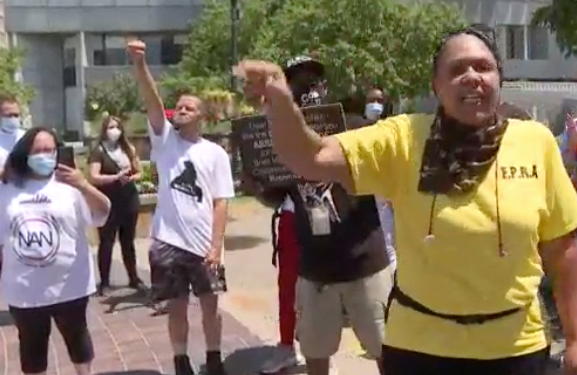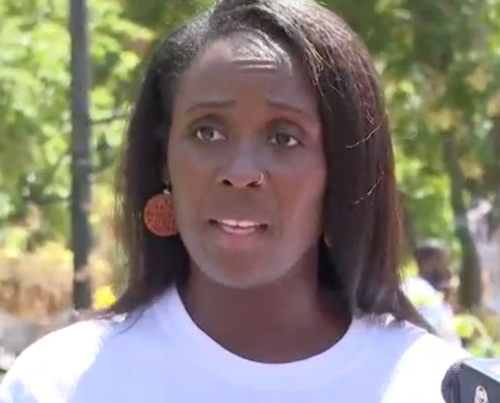 "No matter the distance, we are going 1,000 miles during a pandemic because it means so much," Shenika Carter, who organized the caravan, told the media at a send-off rally in Aurora July 23. "It is that serious." About 40 people joined the caravan, some driving and others taking a flight.
Carter told WHAS radio that they'll continue coming to Louisville until the cops who shot Taylor are prosecuted, and she hopes that Taylor's family will not have to suffer official delays like McClain's family has had to deal with.
"We welcome our Colorado sisters and brothers to Louisville," a group of Metro Louisville Lutheran pastors said in a column published in the Louisville Courier-Journal July 24. "We stand in solidarity with them as they, like we, continue to seek justice for victims of police violence. We will continue to work alongside them."
While participants from the Aurora caravan were protesting in Louisville, a caravan organized to send solidarity to them drove around Chicago that same afternoon. Daily demonstrations in Louisville over the past 60 days and numerous protests in other cities and towns nationwide and around the world have demanded action against the cops who killed Taylor.
On March 13, three plainclothes cops — Myles Cosgrove, Brett Hankison and Jonathan Mattingly — broke down the door to Taylor's apartment in a late night "no-knock" raid. Her boyfriend, Kenneth Walker, thinking they faced a break-in, fired one bullet that hit one of the cops in the leg. The cops then opened fire, shooting over 20 rounds into the apartment, killing Breonna Taylor.
One of the three cops involved was fired, but none of them have been arrested. Kentucky Attorney General Daniel Cameron, who is in charge of "investigating" the killing, keeps stalling on issuing a ruling. He says there's no timetable for him to decide.
Prominent sports and entertainment figures are speaking out, calling for the prosecution of the cops who killed Taylor. "We want the cops arrested who committed that crime," Los Angeles Lakers basketball star LeBron James told the media after the team's practice game July 24. The cops "just knocked down the wrong door and started doing what they do at that point in time, and that's just shooting away. That's just not OK."
The Women's NBA announced July 25 they were dedicating the league's season to Breonna Taylor. "We are also dedicating this season to the 'Say Her Name Campaign,' a campaign committed to saying the names and fighting for justice for Black women," Layshia Clarendon of the New York Liberty announced before their first game.
Cops cover up killing of McClain
In the case of Elijah McClain, it's been nearly a year and no charges have been brought against the cops who killed him. But protests by working people and youth in Aurora and other cities have exposed the authorities' efforts to cover up this crime.
McClain was walking home from a convenience store Aug. 24, 2019, when three cops stopped him after they said they received a complaint about a young Black man who was acting "suspicious."
The cops put him in a chokehold, ignoring his pleas that "I just can't breathe." Even though he was restrained, they had him injected with ketamine, a powerful sedative, at a dose high enough to put down a 220-pound person. McClain weighed 140 pounds. He suffered a heart attack on the way to a hospital.
District Attorney Dave Young had announced last November that no criminal charges would be filed against the cops. But protests by McClain's family spread in the wake of the cops' killing of George Floyd in Minneapolis May 26, and led city officials at the end of June to announce they are reviewing this decision.
Thousands protested in Aurora June 27, including violinists who traveled from around the country to play to honor McClain, who used to play his violin to soothe the animals at local shelters. The musicians stood their ground and continued to play as the cops confronted protesters at a rally that evening.
Violin concerts to remember Elijah McClain have been mounted all across the country.
Attorneys representing McClain's family have also filed a lawsuit against the city of Aurora charging the police violated residents' constitutional rights when they deployed pepper spray and smoke canisters against protesters during the June 27 rally.
Artists in Denver have painted murals to keep McLain's memory alive, as well as paintings of George Floyd and Breonna Taylor. In Louisville, a mural featuring Taylor, Floyd, McClain and others, with the words "Say Their Names" covers the side of a warehouse over 100 feet wide and 30 feet tall.