The Militant received a letter from a subscriber in Pennsylvania's State Correctional Institution at Camp Hill July 23, saying that prison officials there banned issue no. 28 of the Militant  because of "security issues."
The inmate sent the form prison officials gave him that claimed the paper was confiscated because of what was on pages 3 and 4. It said that they "create a danger within the context of the correctional facility." No notice was ever sent to the Militant  informing it of the prison officials' July 16 ban, which they are required to do by law.
The subscriber wrote to the Militant  that he is challenging the ban from inside the prison. "I'm fighting it in here. Please help me fight out there," he wrote.
We plan to do just that. Militant  attorney David Goldstein has informed state prison officials that the paper is preparing to file a challenge to overturn the impoundment by the prison.
Prison authorities only say they're impounding this issue because of those pages, but they don't say what they object to. So what's on those pages?
The main article on page 3 is a continuation of a front-page story covering nationwide protests against police brutality. It describes protests demanding the cops be prosecuted for the killing of Breonna Taylor in Louisville, Kentucky; Elijah McClain in Aurora, Colorado; and Ejaz Choudry in Mississauga, Ontario.
Two photographs show a June 27 protest by thousands in Aurora against the killing of McClain, and violinists playing music to honor him as cops confront the protesters. McClain played the violin to comfort animals at area shelters. Coverage of such marches and rallies has appeared in thousands of newspapers over the past couple of months.
Page 4 contains reporting on the Socialist Workers Party national election campaign and its program. Photos show Alyson Kennedy and Malcolm Jarrett, SWP candidates for president and vice president, on the picket line with striking shipyard workers in Bath, Maine. Also pictured is a banner of the SWP candidates in a New York protest calling for "Prosecute cops responsible for police brutality!" Millions have joined similar protests in cities and towns in the U.S. over the past few months. Reporting on such developments certainly doesn't create "a danger" in "the correctional facility." And it is impermissible for prison officials to suppress news they just don't like.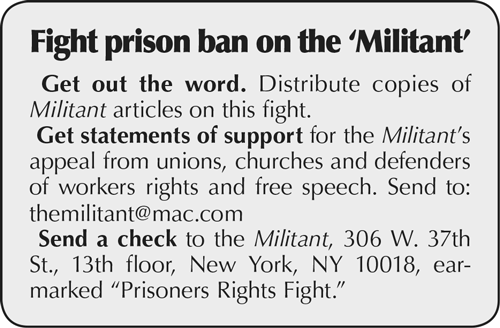 "We will be reaching out to supporters of political rights as we have done many times before to send letters to Pennsylvania prison authorities urging them to reverse this ban," Militant  editor John Studer said. "We're confident that this can be beaten back, as has been the case in most attempts to ban the Militant  from our subscribers behind prison walls — from Florida to Indiana, Washington to California."
Among those who have spoken out, some numerous times, against similar efforts to ban the Militant  are Amnesty International USA, National Lawyers Guild, PEN America, Reporters Committee for Freedom of the Press, American Civil Liberties Union of Florida, union officials and many others.
"At issue is the right to freedom of speech and of the press," continued Studer. "The millions of workers incarcerated in the U.S. must have the right to read and think for themselves, to form their own opinions about political developments in the U.S. and worldwide."
Pennsylvania authorities maintain a list of "denied publications," which shows every time a publication has been impounded and what the outcome was. The Militant  has never been put on this list before.
We ask readers and supporters of free speech to send letters protesting the impoundment of the Militant  to Diana Woodside, director of Policy, Grants and Legislative Affairs, Department of Corrections, 1920 Technology Parkway, Mechanicsburg, PA 17050 or Email: dwoodside@pa.gov.
Ban on books
Pennsylvania prison officials have previously targeted the right of inmates to read what they want. Two years ago officials in Pennsylvania severely restricted prisoners' access to books. Under pressure from defenders of prisoners' rights, they had to back off.
In September 2018 new rules were announced, backed by Democratic Gov. Tom Wolf, that prisoners could no longer order books directly from publishers. They also could no longer receive free books donated over the years by organizations like Books Through Bars in Philadelphia and Book 'Em in Pittsburgh.
Two months later these restrictions were dropped. Family and friends can now order books and inmates can place orders directly from a hard-copy catalog and order free books. But they all have to be screened at a "processing center" in Bellefonte, Pennsylvania, before prisoners can receive them.