Over 100,000 protesters marched in the Belarus capital of Minsk Oct. 4, demanding the resignation of Alexander Lukashenko, the autocratic president who has ruled for 26 years. Protests have rocked the country since he claimed to have won another term in flagrantly rigged elections Aug. 9. Many more lined the streets waving opposition flags in support. A central demand was the release of political prisoners as marchers defied rows of riot cops and water cannons fired from armored vehicles.
"Let them out," hundreds of people chanted as they succeeded in reaching the Okrestina detention center where numbers of protesters and some opposition figures are believed to be held. Some held pictures of prisoners inside the walls.
More than 13,000 people have been arrested, many of whom were later released as protests grew. In the regime's brutal attempt to crush the mass opposition, many were savagely beaten with at least five killed. A widespread, if short-lived, strike wave by workers at the country's largest factories and mines helped push back the regime's thugs.
The authorities "threaten us with their military vehicles and their brutality," but if the crowds are big enough "the masked men won't touch us," Julia Cimafiejeva, a poet, told the Oct. 1 Financial Times."We see that it is they who are most afraid." Around the fringes of the latest mass march, up to 160 were arrested.
Cimafiejeva noted how people sing folk songs and old patriotic tunes to express their collective protest when other means are barred. "A song is a dangerous weapon against those who hate culture and arts," she said. "There is no culture or arts without freedom of thinking and speech."
In an Oct. 3 article on the Open Democracy website, Konstantin Ostrogorsky reported on earlier workers' actions at the Belarus Steel Works in Zhlobin that "spooked local government leaders and plant management." After a meeting Aug. 17, workers marched into the large plant and got the three kilns shut down, stopping production.
Their demands were purely political — for "Lukashenko's resignation, the release of all detainees, an end to violence against peaceful citizens and the withdrawal of all riot squads and all nonlocal police from the city."
There, as in numerous other big state companies, the protesting workers have been forced back to work for now. But workers' support for the protests hasn't been stifled, despite the bosses' intimidation.
Working people in Belarus also face a deepening economic crisis. Along with greater competition from cheaper Chinese and Indian steel products, wages have fallen. The result is a steady trickle of growth in independent unions, which have sought to organize workers to resist attacks on wages and conditions.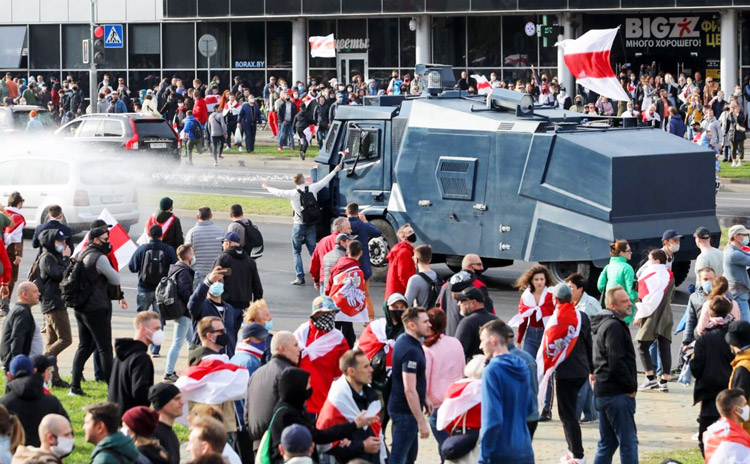 Lukashenko, a former collective farm boss, was elected president in 1994, three years after the implosion of the Soviet Union. He steered a course clear of the "shock therapy" of rapid privatization of state-owned industry that happened elsewhere in Eastern Europe and in Russia.
Instead, his government increasingly introduced capitalist methods into the state companies, including attacks on workers' rights and conditions. Profits and state resources were increasingly siphoned off into private hands. "All the institutions of power work for one criminal family," Vitaly Dyadyuk, a member of the strike committee at Belaruskali, the giant state potash mining company, told the Militant, with an entire network of companies "owned and controlled by Lukashenko's organized criminal gang."
Labor contracts
One of the regime's biggest attacks was in 1999, when Lukashenko introduced short-term contracts on workers at state enterprises of from one to five years, replacing what had been permanent jobs.
"For the slightest offense," Dyadyuk said, employers "simply will not renew your contract." In addition, they increased "the bonus component of the salary to 50%," which intensified exploitation and "put a noose around the worker's neck."
Key figures in the bourgeois opposition advocate even more extensive use of capitalist measures. As a presidential candidate, Viktar Babaryka, the ex-head of Belgazprombank, one of the country's largest banks, promised to carry out a massive privatization of state property.
In an effort to win the election, Lukashenko had Babaryka and other opposition candidates imprisoned on frame-up charges.
The International Monetary Fund has demanded major state-owned enterprises in Belarus be privatized as a precondition for new credit lines. Loans by Moscow are similarly conditional on increasing the economic hold of the capitalist rulers in Russia. They seek to bring Belarus into increasing economic and political integration with Russia, while trying to prevent another uprising like took place with the 2014 Maidan revolution in Ukraine.
The Russian rulers view the mass protests and strikes in Belarus today as a serious threat. At the same time, they are not confident in the reliability of Lukashenko. So far, they have decided not to use the troops they have based in Belarus to intervene, fearing a deeper explosion.
Adding to their problems is the turmoil in Kyrgyzstan, a former Soviet republic in Central Asia, also over disputed elections. Along with the war between Azerbaijan and Armenia and the crisis in Belarus, instability is growing in Moscow's "near abroad."