UNION CITY, N.J. — Over two dozen supporters of the Socialist Workers Party campaigns of Joanne Kuniansky and Candace Wagner, for New Jersey governor and lieutenant governor, began a spirited six-week effort March 6 to place the party's ticket on the ballot. By the following evening 307 signatures were in hand, a solid start toward the goal of 1,500, nearly double the 800 the state requires.
Campaign teams talked to workers on their doorsteps in nine cities and towns across New Jersey. Kuniansky, a Walmart deli worker, knocked on the door of David Roldan in Carteret, who is on medical leave from his job at an Amazon warehouse. Amazon bosses don't provide sufficient training to forklift drivers. "So, of course, there's accidents all the time. They always come up with ways to blame the worker," Roldan said.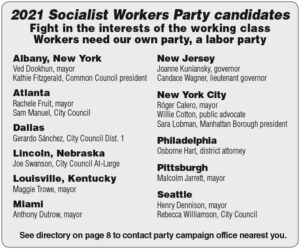 "Workers need to control production in the factories and the warehouses where we work," Kuniansky said. "We're the only ones who will prioritize our safety and the safety of the communities nearby, over the profits of the bosses."
Roldan had heard about the efforts of workers at the Amazon distribution center in Bessemer, Alabama, to establish a union. "I used to work at a grocery store with a union," he said. "So I know how much better that can be, even if the union isn't perfect."
When Kuniansky said that it would boost the union drive in Bessemer to get support from Amazon workers in New Jersey, Roldan said he would talk to some of his co-workers about sending support. He bought a copy of the Militant and signed to get Kuniansky on the ballot.
Schoolteacher Miguel Fernandez told SWP campaigner Terry Evans that "safety should be the number one concern for all workers" and that "schools should not be reopened," when Evans knocked on his door in Belleville.
"The only way to fight effectively for safer working conditions in schools or any workplace is by organizing together with fellow workers to stand up to the bosses," Evans replied. "To do that workers need to be at work." Fernandez didn't agree, but signed the petition.
A highlight of the weekend was a March 6 campaign rally attended by 39 people. John Studer, the party's national campaign director, introduced Kuniansky, Wagner and the party's candidates in New York City: Róger Calero for mayor, Willie Cotton for public advocate and Sara Lobman for Manhattan Borough president.
"Our candidates take our campaign to struggles by working people, building support for them," Studer said. "We explain the stakes in the Amazon union drive, the lockout at Marathon Petroleum in Minnesota and the fight by Steelworkers for a new contract with Allegheny Technologies." Workers were locked out by ATI for seven months in 2015-16 as they fought boss attacks on wages and working conditions. Now they're fighting for another agreement, in the midst of company moves to shut down some union-organized plants and expand nonunion plants in North Carolina.
"The party has run in every presidential race since 1948 and fights to be on the ballot everywhere we can," Studer said. "We've already been certified for the ballot this year for City Council elections in Dallas and Lincoln, Nebraska. Getting on the ballot helps to get the party known among larger numbers of workers, as well as winning some protection against government interference."
Studer pointed to the ruling in the SWP's successful lawsuit in the 1970s against FBI spying and disruption of the party. "Federal Judge Thomas Griesa noted the serious efforts the party makes to get on the ballot," Studer said.
The launching of the New Jersey campaign has already received coverage in Insider NJ and the New Jersey Globe news websites.
Kuniansky read a message that Tetri Boodhoo, one of her Walmart co-workers, sent to Amazon workers in Bessemer.
"We work at Walmart in Secaucus, New Jersey, and are with you all the way," Boodhoo wrote. "From my husband, who works at Amazon here, I hear they treat you like a robot. He works 10-hour shifts with only 30 minutes for lunch and two 15-minute breaks. We also need a union at Walmart. That is why I want to say with all my heart that I want you to win!"
Profit drive causes Texas disaster
Kuniansky was an oil worker in Houston in 1987 when there was a leak of hydrofluoric acid at the Marathon oil refinery in Texas City, Texas. Thousands were evacuated and over 800 treated at local hospitals. This is a key safety issue in the Marathon bosses' lockout of refinery workers in Minnesota today. It was members of the Oil, Chemical and Atomic Workers union at the refinery who spoke out against the bosses' lies.
"That experience stuck with me," Kuniansky said. "It showed why workers need to fight to wrest control of production out of the hands of the bosses.
"No one can deny that the catastrophe facing working people in Texas and nearby states today is man-made," Wagner told the rally, referring to the refusal of power companies to sacrifice profits to install protection against subfreezing temperatures.
"While the politicians on different sides of the climate-change debate point fingers at each other, the truth is that wind and solar or coal, gas and nuclear power are produced under capitalism with one thing in mind — the profits of big business."
The SWP calls for workers and our unions to "fight for an immediate massive public works program," she said, to put millions back to work at union-scale wages, repairing damaged houses and replacing worn-out power systems and other infrastructure. We also need to fight to nationalize the energy industry under workers control, Wagner said. "Such a course points toward the kind of struggles necessary to lead millions to replace capitalist rule with a workers and farmers government."
"Nine days ago President Joseph Biden bombed Syria," New York mayoral candidate Róger Calero told the meeting. "Biden's objective was the same as Donald Trump's, to defend the U.S. capitalist ruling families. The Democrats and Republicans both say their policies are for our country," Calero said, "but countries don't have foreign policies, classes do."
Workers need our own policies on every question, at home and abroad, Calero said, based on support for the struggles of working people.
Some $2,000 was raised in contributions at the rally for the campaign. To join campaign teams in New Jersey or other states where the party campaigns, contact the nearest SWP branch.