For 25 years the United Nations has hosted periodic conferences on climate change, where rival government leaders pose as self-righteous defenders of the environment. These capitalist regimes compete ruthlessly to advance their interests while perpetuating the fraud their goal is to protect the planet for future generations. The Conference Of the Parties summit (COP26) in Glasgow, Scotland, beginning Oct. 31 will be no different.
More than 100 heads of state are expected to attend. Some, like Chinese President Xi Jinping, say they probably won't. None will provide a scientific explanation for the causes of environmental destruction, expose the hysteria that surrounds most commentary on it, nor address related questions that are critical for the working class. This includes the unmet energy needs facing millions of the world's people who live without electrical power.
Alok Sharma, the summit's president-designate, a former investment banker and U.K. secretary of state for business, energy and industrial strategy, says, "We must change the way we look after our land and seas."
But there is no common "we." There are two contending classes: the handful of ruling capitalist families and their middle-class hangers-on that exploit and oppress working people; and the billions of workers and farmers who toil for a living. The capitalist rulers drive to maximize profits at our expense through life-threatening speedup on the job and assaults on our wages and conditions, with complete disregard for how their organization of production also degrades the earth, skies and oceans.
"How social labor is organized to transform nature — to whose benefit, to what social and economic ends — depends on the class relations of production. It depends on which class rules, which class holds state power," explains the Socialist Workers Party resolution, "The Stewardship of Nature Also Falls to the Working Class: In Defense of Land and Labor," available in New International no. 14.
"If we translate everything commonly thought of as an environmental issue into how to advance the protection of the working class, and how the working class can extend that protection to all, then we can hardly ever go wrong," SWP National Secretary Jack Barnes writes. "With that approach, we will increase the possibilities for concrete solidarity in fighting against ecological abuses and outrages."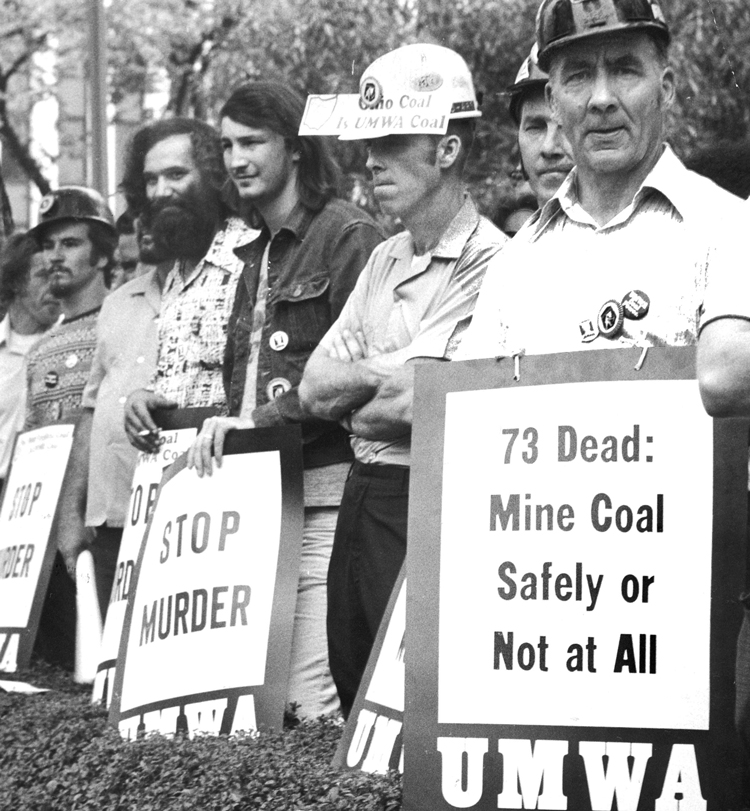 As workers and our unions fight to wrest control of production from the bosses, we will be able to enforce safety on the job, in surrounding communities, and in the products we produce. With control over production, workers can begin to end the havoc the bosses have wreaked on the environment. Such a course is only possible as workers build a fighting labor movement, a prospect brought closer by the growing number of union battles taking place today.
Dumping of carbon emissions in the earth's atmosphere contributes to the gradual rise in the earth's temperature, all other factors being equal. Despite various promises by capitalist rulers worldwide to cut emissions, these hit a new high worldwide in 2019, the U.N. reports.
President Joseph Biden plans to attend the summit, to tout his claims that his policies will cut U.S. carbon emissions by up to 52% by 2030, over their 2005 levels. Even if this goal was met, U.S. emissions would still be greater at that time than any of the world's largest polluters.
Biden predicts the U.S. will reach "net-zero" in carbon emissions by 2050. That doesn't mean U.S. bosses will stop poisoning the atmosphere. The widespread and profitable trade in so-called carbon credits or "offsets" instituted at previous U.N. summits is a scam that lets the rulers of the most developed capitalist countries purchase the right to pollute — while claiming that they don't — if they just pay workers in less developed semicolonial countries to plant trees.
Giant oil companies purchase offsets at a fraction of the price it would cost them to actually take steps to cut the pollution created by the for-profit-at-all-costs priorities the bosses set. For example, the French energy group Total claimed a shipment of liquid natural gas it drilled and transported from Australia to China last year was "carbon neutral." Its new "carbon neutral" status came from paying villagers in Zimbabwe a pittance to take measures that contribute to preventing forest fires.
Just prior to the summit, British business Group EY proclaimed it was in fact now "carbon negative," as a result of buying offsets in a slew of unspecified reforestation projects. When the Financial Times inquired why the company gave little detail about how this miraculous feat was achieved, the company derisively replied that its statement was "the length of press release we think journalists can absorb."
Biden stokes climate hysteria
"The existential threat to humanity is climate change," Biden said on CNN Oct. 21. Fever-pitched predictions of imminent doom will be trumpeted throughout the conference. Even more prophesies of the imminent destruction of the planet come from middle-class radical groups worldwide.
Such hysteria campaigns are both endemic to and necessary for the maintenance of capitalist social relations. Their aim is to instill fear and paralysis among working people.
Liberal media and capitalist politicians of all stripes frequently blame climate change for social crises that accompany natural disasters like hurricanes and flooding. But changes in the weather had nothing to do with why scores were killed in the U.S. during and after Hurricane Ida last month. That was a consequence of the policies of the bosses and their government — scant flood prevention, outdated drainage, lack of generators and storm shelters, and no evacuation plans. Working people were left to fend for themselves.
Advancing the working class
Many who say stopping climate change must take precedence over all questions, regardless of class divisions, insist there can be no significant future development in the semicolonial world. The power consumption required would destroy the world. Working people there must do without.
While the number of people without access to electricity dropped from 1.2 billion in 2010 to 759 million by 2019, the number of people without electricity in sub-Saharan Africa rose during the same period. Only 7% of the population of South Sudan have access to electricity. Percentages are barely higher in Chad, Burundi and Malawi. Intermittent electrical supplies mean COVID-19 vaccination doses that require cold storage can't be delivered to 70% of hospitals in sub-Saharan Africa.
Extending access to electrical power to all of the world's 7.9 billion people is critical to developing modern industry and cultural and political life, and for accelerating scientific advances that can deal with some of the effects of capitalist production and distribution, as well as challenges attributed to climate change.
The real question we have to face is a class question. Whether we face a future of continuing disasters, pandemics, wars and deprivation under capitalist anarchy and brutality depends on the organization and mobilization of the working classes. We are the only force capable of leading a fight to change society, to protect the land, water and air, to utilize scientific and technological advances for the benefit of all — as we fight to take political power into our own hands.