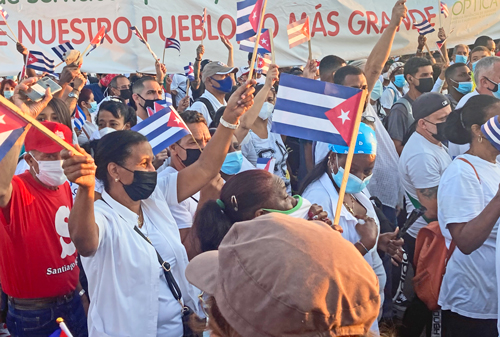 HAVANA — More than 600,000 working people marched here May 1, International Workers Day, and hundreds of thousands more paraded through other cities and towns, big and small, across Cuba.
It was a massive, celebratory expression by Cuba's working people of pride in their socialist revolution and their ability to resist the intensified U.S. economic war they have withstood for more than six decades. Workers brought banners identifying their workplaces, schools and unions, as well as thousands of handmade signs.
A major source of pride was how, despite shortages of medicine and raw materials, largely due to U.S. sanctions, some 90% of the island's population has been inoculated against COVID with effective vaccines developed and produced here. Cuban health care volunteers have also responded to appeals from governments in other countries to help combat the pandemic there. In recognition of that feat, more than 50,000 health care workers formed the lead contingent.

There were also large contingents from unions affiliated to the Central Organization of Cuban Workers (CTC), from construction workers and teachers to airport employees and food workers. Also marching were groups of students, artists, musicians, and a delegation from Havana's Jewish community, as well as thousands who came on their own.
A few days before the action, Idia Ruiz Rodríguez, a member of the national leadership of the National Association of Small Farmers, told the Militant, "On May Day, farmers and workers will march together. We'll show the world the alliance of workers and farmers, who are the foundation, the real face of the revolution." The photo on this page captures that contingent, marching behind a banner declaring, "Long live the worker-farmer alliance."
Many workers marching on May Day told the Militant, "Yes, of course, we face a lot of problems today. But here we are, look at all of us!"
Herminio Fernández, director of a small CTC-run hotel for union members, said the massive turnout was a blow to the U.S. government's propaganda campaign to discredit the Cuban Revolution. "We gave the imperialists a galleta, a slap in the face," he said with a big smile.