NEW YORK — Working people joined together in protests in more than 35 cities across the U.S. on International Workers Day May 1. Many of the actions — which ranged from a couple hundred to a few thousand — drew the connection between the fight to strengthen unions and organize the unorganized and the fight to protect immigrant workers from deportation.
A march of 800 people starting from New York's Washington Square, initiated by Laborers' union Local 79, which organizes construction workers, drew contingents from Teamsters-organized UPS workers; Retail, Wholesale and Department Store Union; Communications Workers of America; and the newly formed Amazon Labor Union. There were a dozen immigrant rights organizations, including Make the Road and New Immigrant Community Empowerment.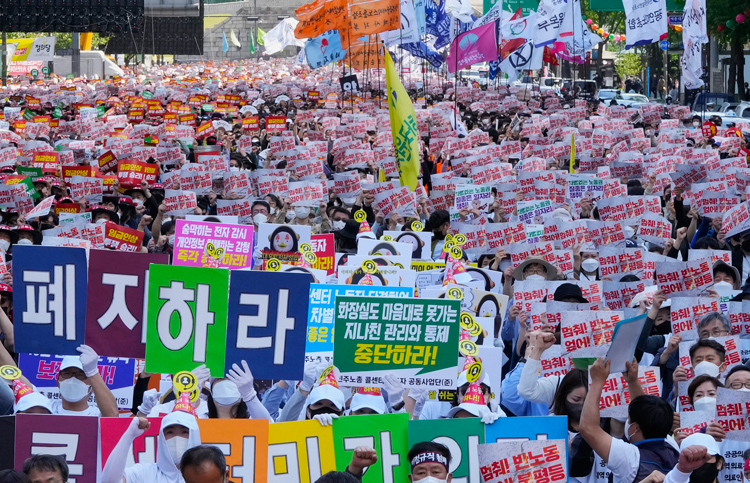 At a rally before the march started, Christine Culpepper, a leader of Local 79, welcomed the crowd, noting that "throughout history workers have united to demand safe conditions and better wages," while the state has been used "to crush workers' struggles."
"International Workers Day is a day to remember those struggles for dignity and justice at work," she said. "The fight to improve the life of all workers continues today."
Angelika Maldonado, a longtime Amazon worker who is helping to lead the union-organizing effort at the company's Staten Island warehouses, addressed the ending rally in Foley Square. Although workers at the JFK8 warehouse voted overwhelmingly for the union, Amazon bosses are challenging the election and refusing to negotiate a contract.
Amazon pressures workers to meet intense production quotas "even when a woman is pregnant, or disabled or didn't get proper training," she said, adding that workers there feel pressure to go to work sick, or when their children are sick, because they fear losing their job.
"There is no reason why people who work for Amazon, immigrant or not, should be scared to fight to get better benefits and a better place to work," she said. "We should have a union, we should have a better raise, better time off. People over profit!"
Diana Moreno, executive director of New Immigrant Community Empowerment, told the rally, "Immigrants and citizens all see ourselves in solidarity with each other." Several speakers pointed to the importance of backing organizing drives from Amazon to Starbucks, where workers at over 20 stores have voted for union representation.
Farmworkers: 'Water, shade, rest!'
Farmworkers were prominent at several actions. A march of more than 400 in Miami was led by a contingent of farmworkers marching behind a banner in Spanish demanding, "Water, shade, and rest."
In Skagit County, Washington, hundreds of farmworkers and others carried signs saying, "Farmworkers feed you" and "Migrants and workers of the world unite," at a march initiated by Familias Unidas por la Justicia, a farmworkers union.
Workers for app-based taxi services joined many of the marches. Lyft driver Stephen Hoth, a member of the Drivers Union, told the press at the May Day march of 200 in Seattle, "We're tired of living under the constant threat of losing our jobs." He moved to Kent, Washington, after Uber abruptly deactivated his account in Nebraska. "Imagine Uber is your only source of income and they just get rid of you," he said, "just like that."
"We have no benefits and no sick days," Uber driver Luz Laguna told the Militant, when asked why she was at the march of more than 1,000 in Los Angeles, which included contingents from at least 10 unions.
Abel Cortinas, an organizer with SMART Local 105, which organizes metalworkers, said at the Los Angeles march that for members of his local "safety is a big concern. Equality of jobs for women also."
Among the largest actions were those in Milwaukee and Washington, D.C., each of which had several thousand participants.
The mostly immigrant action in Washington, D.C., attracted sizable contingents from Maryland, Massachusetts, New York, New Jersey and Virginia, along with some who came from Colorado and California. Many carried handmade signs in English and Spanish, saying, "Justice for Immigrants," "Papers yes, crumbs no," and calling for the right to apply for citizenship.
"I'm here to support my sisters and brothers who don't have the 'right' papers," Antonio Gonzalez from Brockton, Massachusetts, told the Militant. "I'm against the deportations. I'm for immigrants having driver's licenses." Pointing to the White House he said, "President Biden hasn't done anything to support immigrants."
Among the many union contingents at the May Day march and rally in San Francisco were hotel workers, members of UNITE HERE Local 2. Many hotels laid off large numbers of workers during the pandemic. To avoid calling them all back, the bosses have encouraged hotel guests to say they don't need their rooms cleaned every day. "Don't believe what they say — that this is about climate or the pandemic," Tiffany Yu, a housekeeper at a Hilton Hotel, told the Militant. "It's all about their profits and cutting our jobs."
Among the speakers at the rally was B.K. White, vice president of United Steelworkers Local 5, which is on strike at the Chevron refinery in Richmond, California.
"What happens at Chevron has an effect on all of us," Safeway grocery worker Kelly Kick, a member of the United Food and Commercial Workers union, told the Militant. "They need solidarity."
Workers also marched and rallied around the world — in Sri Lanka, where they're fighting to bring down the government; in Paris, Istanbul and in Athens; Brazil and South Korea. Many called for steps to defend workers from the scourge of soaring inflation. The largest march was in Cuba, where Cuban workers and farmers celebrated their socialist revolution.
Deborah Liatos in Los Angeles; Betsey Stone in Oakland, California; Steve Warshell in Miami; and Omari Musa in Washington, D.C., contributed to this article.