The April 30-May 8 target week to boost the drive to expand the readership of the Militant, get out books by revolutionary working-class leaders and win contributions to the Militant Fighting Fund has gotten off to a good start.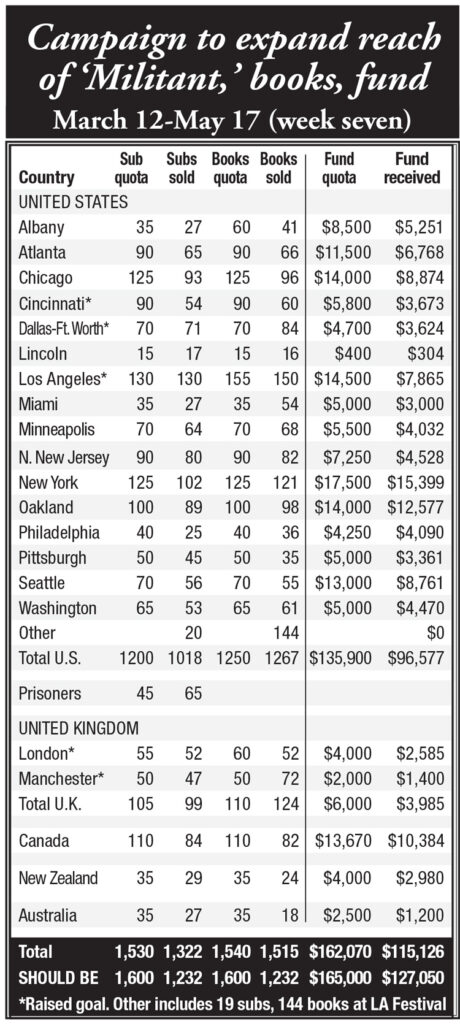 Socialist Workers Party members participating in May Day activities found widespread interest in discussing how workers can defend themselves against boss attacks today and the stakes for working people in defeating Moscow's invasion of Ukraine.
During the target week, party branches are taking additional steps to reach and go over their goals. The international drive ends May 17.
At a May Day event sponsored by the Dallas AFL-CIO, SWP members set up a campaign table and sold 12 subscriptions and 30 Pathfinder books.
Gerardo Sánchez, SWP candidate for Congress in Texas, asked Ken Beckhusen what he thought about Moscow's war. "It's a disaster," replied Beckhusen, an artist studying to be a painting teacher. "It has been decades in the making, going back to George Bush." Washington's expansion of its NATO military alliance, he said, "provoked Russia to invade Ukraine."
"Russian President Vladimir Putin didn't invade because of NATO expansion," Sánchez said. Putin says he wants to eliminate Ukraine as a country and take it and its resources for Moscow. "My party supports the independence and sovereignty of Ukraine and demands Moscow's troops get out." The SWP also demands the U.S. rulers get their troops and nuclear missiles out of Europe.
"The SWP doesn't support Washington's sanctions against Russia," Alyson Kennedy, SWP candidate for governor of Texas, said, joining the discussion. "Regardless of their 'target,' they hit the working class hardest."
Beckhusen decided to get a Militant  subscription and purchased Thomas Sankara Speaks and New Internationals  no. 7 and 11.
Kennedy addressed the crowd, defending Ukraine's independence. She pointed to "what is taking place in the labor movement today. We should celebrate the victory of Amazon workers winning a union in Staten Island, New York, and back the fight by United Mine Workers on strike for over a year against Warrior Met Coal's drive to break the union in Alabama."
M.P. Britt, a small rancher from Decatur, Texas, also came to the event. "Prices for everything have gone up," Britt told Kennedy, "especially for tractors and hay balers. You can't afford new equipment and can't find parts for old equipment. And we've had a drought for over a year."
Kennedy explained what was accomplished when workers and farmers in Cuba forged an alliance, made a revolution and took political power into their own hands. The revolutionary government nationalized the land, providing it to those who wanted to till it and preventing land being used as a commodity to be bought and sold at a profit.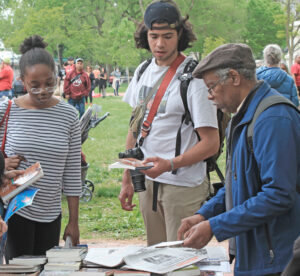 On April 30, Kennedy campaigned in a working-class neighborhood in Ft. Worth, where she met Manuel Hernandez, a 37-year-old roofer, and they discussed how to win control over safety on the job. "I saw a worker killed when he fell 25 stories off a roof in downtown Dallas," Hernandez said. "The worker's safety harness broke."
"Our party says no worker has to die on the job," Kennedy said. "I worked in a mine that was very dangerous. The Mine Safety and Health Administration just worked with the company and they got away with safety violations."
She described the mass movement of miners and their families in the early 1970s that "won a stronger union and the right to withdraw from unsafe working conditions."
"The rich companies pay the inspectors off," Hernandez said.
He asked Kennedy to stop by later in the week when he will get a Militant  subscription and some books by Socialist Workers Party leaders.
In Minneapolis, teacher Liz Therkildsen was glad to meet SWP members at the May Day festivities. "You folks were at our rallies and pickets and wrote about our fight in your newspaper," she told SWP member Edwin Fruit, referring to the strike by the Minneapolis Federation of Teachers in March. "I know you had asked me to subscribe to the Militant  and I think it is time to do so now." Fruit told her about plans to collect signatures May 17-31 to place the party's candidates on the ballot in Minnesota.
'Amnesty for all immigrants in U.S.'
Naomi Craine, SWP candidate for Illinois governor, spoke with construction worker Mario Jimenez at the May Day action in Chicago, attended by about 200 people. "We want legal permission to work in this country," he said. "And we want rights on the job. There's a lot of abuse and discrimination against immigrant workers."
"The SWP campaigns for amnesty for all immigrants who live and work in this country," Craine said. "Unions need to back this fight to strengthen the unity and solidarity of the entire working class." Jimenez picked up a copy of the Militant.
At the May Day march and festival in Manchester, England, four people got Militant  subscriptions and 31 books were sold by members and supporters of the Communist League. A student who wanted to know more about communists' defense of the rights of oppressed nations to self-determination got a copy of Lenin's Final Fight  and Leon Trotsky's The History of the Russian Revolution.
In Philadelphia, Osborne Hart, SWP candidate for U.S. Senate in Pennsylvania, met construction worker Adrian Andrade at an immigrant rights march and celebration of more than 300 people. "My co-workers and I work really hard for very little pay," he told Hart. "There is a lot of work, but they always want us to hurry up the construction — on to the next house, the next building."
"Workers can find jobs, but there is a lot of speedup, wages are low and everything costs more because of inflation," Hart said. Andrade got a Militant  subscription to learn more about what workers can do together to defend ourselves from the bosses' assaults.
At a number of these actions individuals who purchased subscriptions and picked up books by SWP leaders and other revolutionaries also made contributions toward the $165,000 Militant Fighting Fund. The Militant  depends on donations from working people to cover production expenses and take advantage of opportunities to reach out with the paper more broadly.
To help expand the reach of the Militant, contact the SWP nearest you. To contribute to the Militant Fighting Fund, make out a check to the Militant  and send it to 306 W. 37th St., 13th floor, New York, NY 10018, or donate online at themilitant.com.
Josefina Otero in Dallas-Ft. Worth contributed to this article.