Determined to conquer Ukraine and crush its existence as an independent nation, Russian President Vladimir Putin ordered his forces to resume their offensive in the east July 16. This cut short a 10-day-old pause aimed at replenishing their depleted and demoralized ranks following losses from defeats earlier in the conflict. 
Putin aims to gain full control of Ukraine's Donbas industrial heartland as unease about the war grows at home, but his forces continue to confront dogged Ukrainian resistance. 
Ukrainian troops repelled Russian advances on Sloviansk, a key eastern stronghold in Donetsk, July 17. Behind artillery barrages, Moscow's forces have made fitful progress but also suffered losses. They occupy almost all of neighboring Luhansk, but a couple of Ukrainian-held villages are still tying them up. 
Putin believes Moscow's forces — which are disproportionately made up of non-ethnic Russian troops — can continue to sustain heavier losses than those it is inflicting on Ukrainian forces. 
As the biggest land war in Europe since the second imperialist world war drags on, Putin anticipates that military and financial backing from Washington and other imperialist powers to Ukraine will weaken. Divisions among them over the course of the war are  increasingly evident. 
The Russian military is using its artillery superiority to bombard towns in its path with up to 50,000 shells a day. 
Long-range precision artillery from imperialist powers has begun to help Ukrainian forces cut into Moscow's huge advantages. A string of Russian ammunition depots and command centers deep behind the front lines have been hit with new longer-range mobile rocket launchers supplied by the Pentagon. 
Russian Defense Minister Sergei Shoigu ordered July 18 that these new weapons be found and destroyed. Shipments entering Ukraine via its western borders are also being targeted.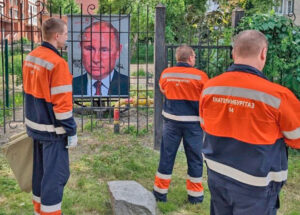 Putin visited Tehran July 19 for a summit with Ebrahim Raisi and Recep Tayyip Erdogan, his Iranian and Turkish counterparts. Erdogan is seeking to mediate talks to get the Russian naval blockade on shipping lanes in the Black Sea lifted so grain can be shipped out of Ukraine. Moscow is seeking hundreds of Iranian armed drones to use in Ukraine. 
Moscow's attempts to consolidate control over the areas it occupies are stoking resistance to its rule. 
"The Russian occupation administrations in the Kherson and Zaporizhzhia oblasts are threatening residents with eviction from their homes and expulsion from the area for what they term 'extremist activities,'" Halya Coynash wrote in the July 18 Kharkiv Human Rights Protection Group online newsletter. "By 'extremists' are meant Ukrainians expressing support for Ukraine" and telling the truth about "Russia's invasion and the crimes it is committing on Ukrainian territory." 
Where Moscow tries to prevent Ukrainian from being spoken in schools, it runs up "against opposition from teachers and parents," she said. 
The group's July 14 report noted the occupied Kherson region has "the highest number of enforced disappearances and illegal detention among civilians," with 412 victims identified. 
Buryatia soldiers refuse to fight
Some 150 Russian soldiers from Buryatia, a region in eastern Siberia, refused to fight in Ukraine in June. They were threatened with prosecution on the spot. After their wives filmed a video appeal demanding their return home, they were sent back July 9-10.  
Buryats are an ethnic group that fought oppression by the Russian czars for centuries. Under the leadership of V.I. Lenin, the workers and farmers government that came to power in 1917 exposed abuses of the Buryats, punished offenders and established an autonomous Buryat region in 1923. Buryats fiercely resisted the forced collectivization of their land during the Stalin-led counterrevolution in 1929 that crushed advances made by the Buryat people. 
Today Buryatia is one of the most impoverished areas of Russia. For many young men there, joining the Russian army is the only way to earn a living. Only soldiers from Dagestan in the North Caucasus have had a higher death toll than those from Buryatia in the current war. 
"When Ukrainians talk about the Russian troops, they always mention Buryats and Chechens," Alexandra Garmazhapova, told the Moscow Times. "We don't want this reputation." Garmazhapova, based in Prague, Czech Republic, is a leader of the Free Buryatia Foundation, an anti-war group founded shortly after Moscow's invasion.